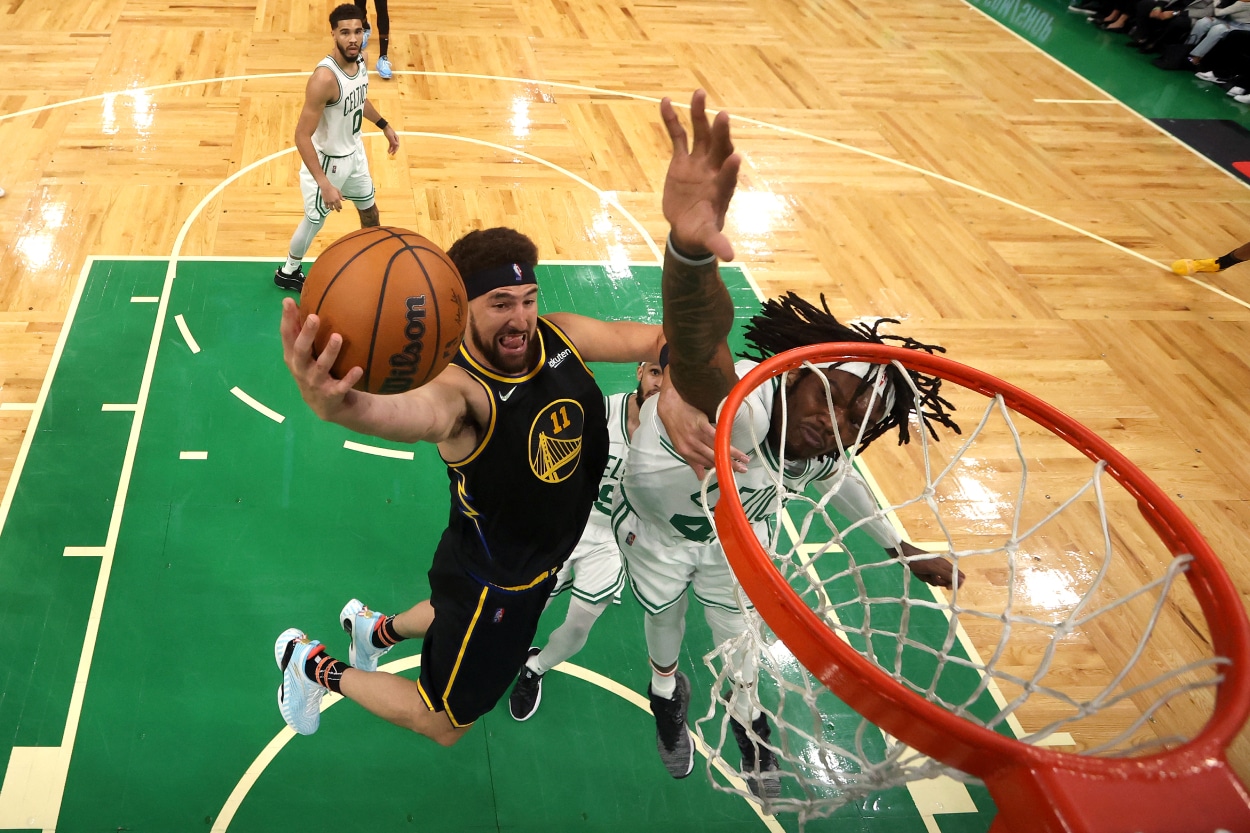 Klay Thompson Blasts 'Classy' Celtics Fans for F-Bombs, While Draymond Green Berates Reporter, Swears in Front of His Own Kid
Klay Thompson blasts "classy" Boston Celtics fans, while Draymond Green swears in front of his young son at a press conference.
The Golden State Warriors are just as soft off the court as they are on it. Three days after Draymond Green antagonized his way through a Game 2 victory over the Boston Celtics, he heard it from the hyped-up Celtics crowd Wednesday night in Game 3.
Green talks a good game but doesn't usually play a good one. Celtics fans didn't forget his antics from Game 2 as they were all over the Warriors forward Wednesday with chants of "f*** you Draymond" tossed at him during the game. Warriors guard Klay Thompson blasted the Celtics fans for their actions, saying how inappropriate the chants were with children in attendance.
Meanwhile, Green, who finished with as many personal fouls as points and rebounds combined in Boston's 116-100 win, blasted a reporter during his postgame press conference. He also added a swear of his own, all with his young son right by his side.
Klay Thompson rips Celtics fans for their behavior during Game 3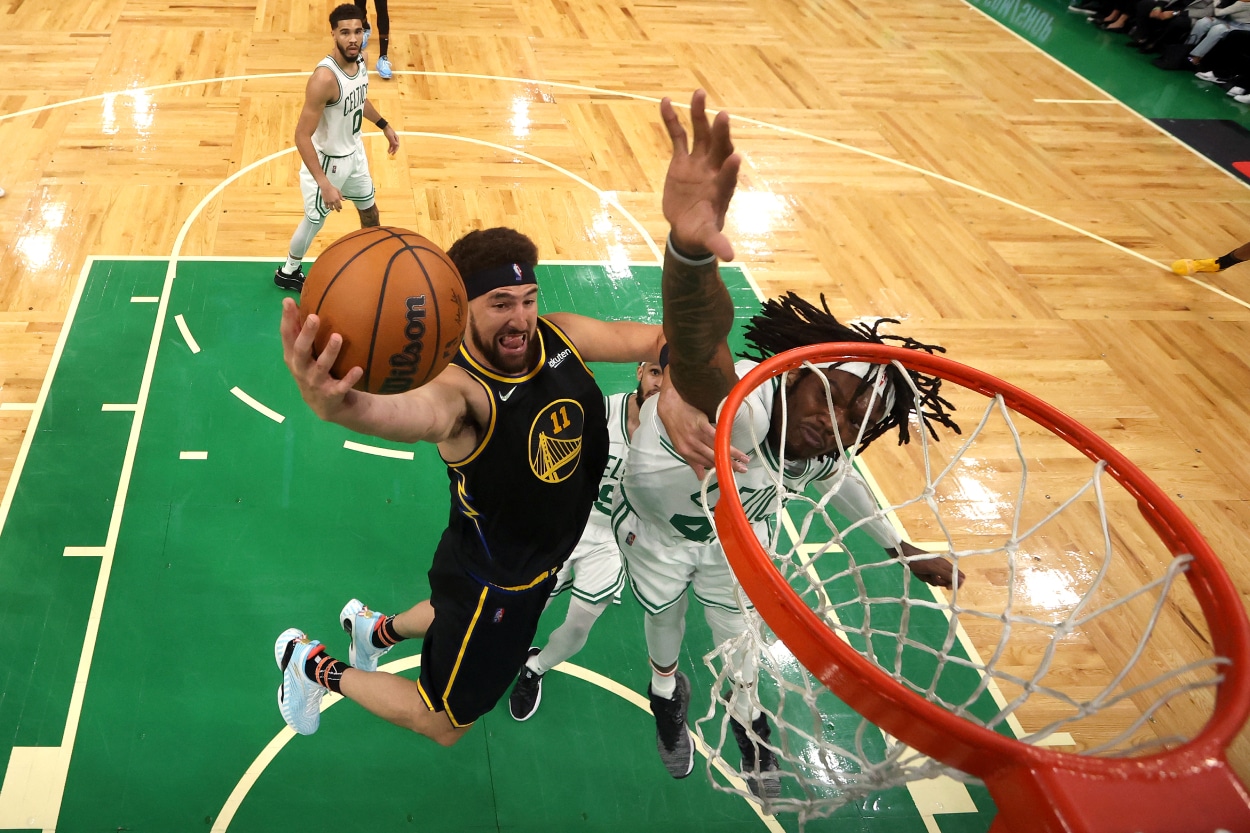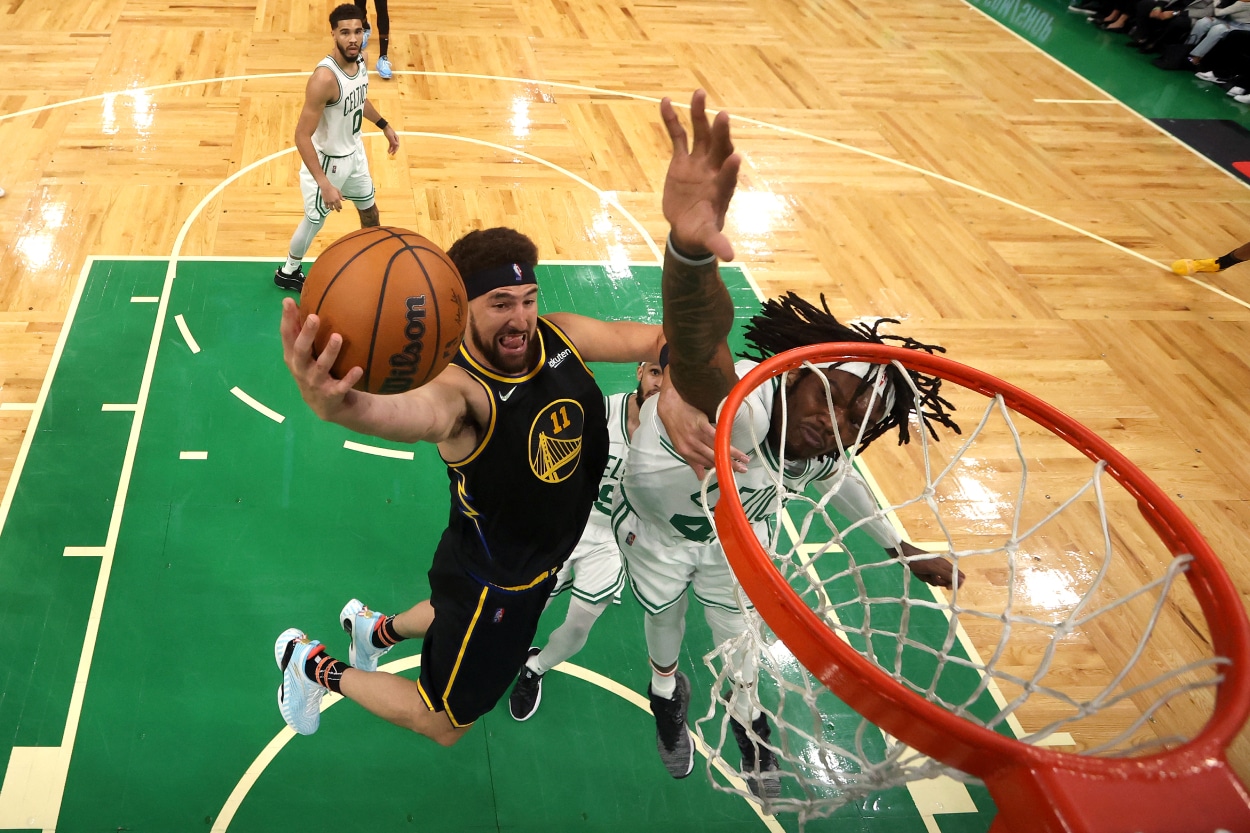 The one thing about Celtics fans is they'll get behind their team no matter what. They may get a little vulgar in doing so, but it's been going on for years. Just ask Kyrie Irving.
Green had it coming. The Warriors forward, who has put up a whopping 15 total points in three games, made a fool of himself during Game 2 with his antics that clearly were meant to try and throw Boston players off their game. He got in the face of Jaylen Brown, Marcus Smart, Jayson Tatum, Grant Williams, and Derrick White on different occasions.
Green fell on Brown after fouling him on a three-point attempt and made no initial attempt to get off him. Instead, he left his legs draped over Brown, who pushed them aside in order to get up. Green even tried to pull down Brown's shorts on the play. Players resort to antics like this when they know they don't have the talent to compete on the floor.
Celtics fans didn't forget.
They booed Green from the get-go. Then they chanted "f*** you Draymond" at times during the game. That seemed to bother Thompson, who addressed it during his postgame press conference.
"We've played in front of rude people before," Thompson said. "Dropping F-bombs with children in the crowd… Real Classy. Good job, Boston."
If the Warriors have any chance of winning this series, they need to toughen up both on and off the court.
Green rips reporter, swears in front of his own son during his press conference
Green had another tough game. He's been awful in this series, which is likely the reason he's turned to his antagonistic style of play.
He finished with two points, four rebounds, six fouls, and two turnovers in 35 minutes as the Celtics took a 2-1 series advantage. Maybe Celtics fans antagonized him this time. Maybe they got under his skin.
After the game, he held a press conference. He brought his young son to the podium. He likely needed someone he outscored to sit with him.
Green didn't like one particular question about his podcast and mocked the reporter. After fielding another question, Green went back to berate the previous reporter, saying, "Maybe that's the IQ level over this way."
Green was awful on the court and just as bad at the podium.
One reporter asked Green how he felt he played. With his young son right beside him, Green quickly responded, "Like s***."
Real classy. Good job, Draymond.
Like Sportscasting on Facebook. Follow us on Twitter @sportscasting19 and subscribe to our YouTube channel.