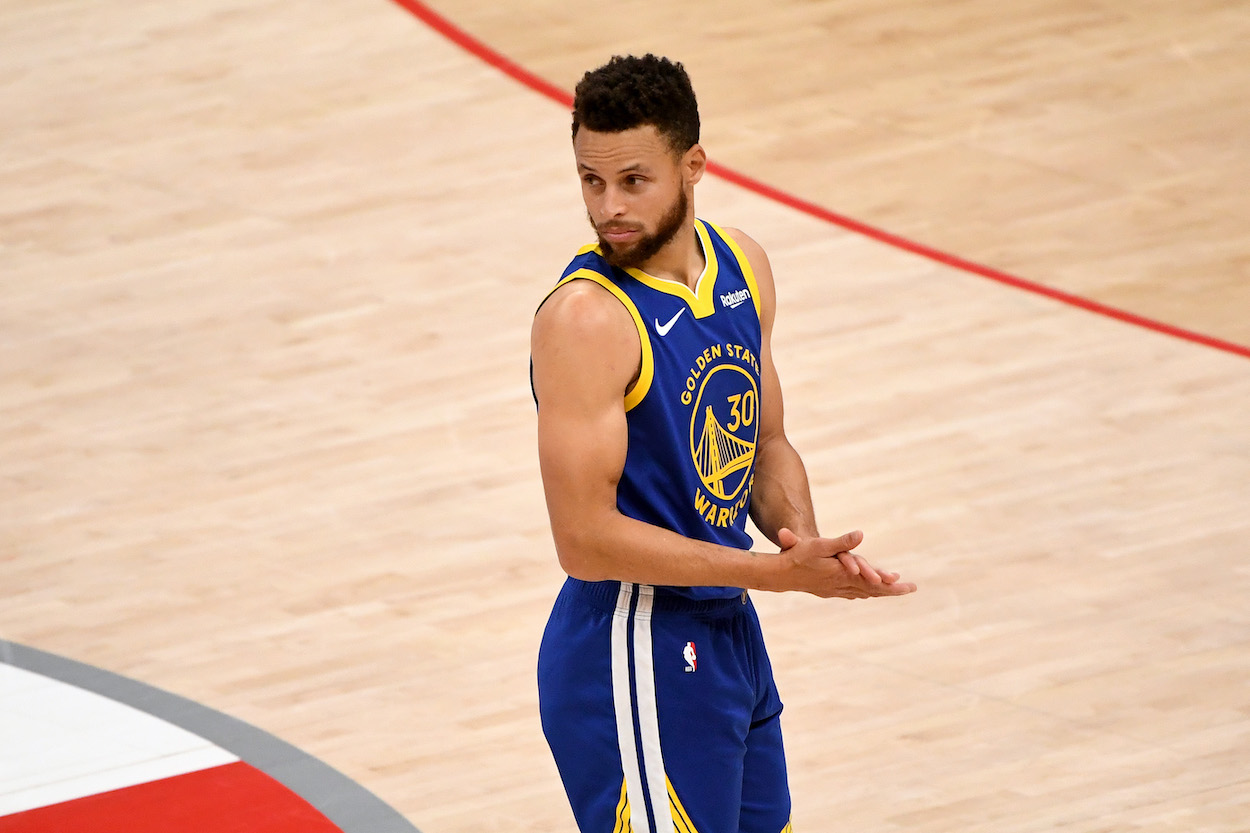 Stephen Curry's Legacy Was Just Incorrectly Altered by an NBA Legend: 'He's Not a Point Guard'
Stephen Curry will go down as one of the greatest point guards in NBA history, but Hall of Famer Gary Payton doesn't even see him as a PG.
Stephen Curry is already considered one of the greatest point guards in NBA history. The Golden State Warriors superstar kickstarts the offense and will most likely finish his career with more than 6,000 assists. But one NBA legend is trying to alter Curry's legacy by reclassifying him as a shooting guard instead. Gary Payton, who's a Hall-of-Fame point guard in his own right, recently showed his age by claiming Curry isn't even a point guard and shouldn't be considered one of the best PGs to ever play.
Stephen Curry is the best modern-day point guard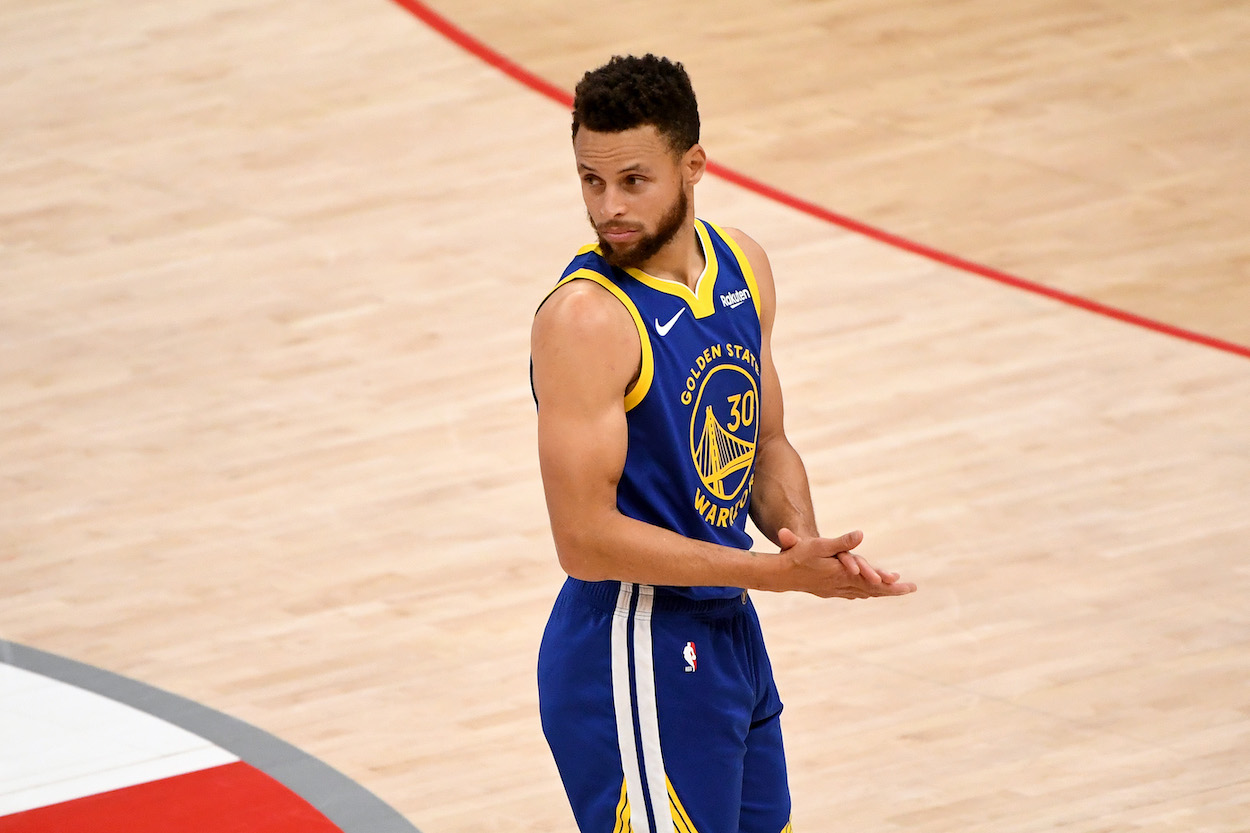 The point guard of yesteryear is a dying breed. No longer do the NBA's top point guards initiate the offense with a pick-and-roll, average more than 10 assists per game, and only shoot when they luck into a wide-open look. The PGs of today can shoot it just as well as they can pass it, and Curry is the perfect example of the perfect modern-day point guard.
Yes, the smooth-stroking guard is a shoot-first player, but he's still one of the best passers in the league when he wants to be unselfish. Curry has recorded 4,929 assists in 752 games played, which is good for 69th in NBA history. He recently passed Guy Rogers to become the all-time leading assist man in Warriors history.
Sure sounds like a record a point guard might hold, no?
NBA legend Gary Payton doesn't believe Curry is a point guard
There are countless debates to be had in the world of pro sports today. Curry being a shooting guard instead of a point guard is not one of them.
But that didn't stop Payton from giving his bold take on the latest episode of the Dubs Talk podcast with NBC Sports Bay Area's Dorell Wright this week.
"So with Curry, I really don't think Curry is a point guard," Payton said on the pod. "You gotta understand that. To me, he's not a point guard. He's a shooting guard. He's a scorer.
"Is he going to be in all-time assists, top 10, top five or whatever? I don't think so. I really don't. Does Curry handle the ball all the time for the Warriors? No, he doesn't. He doesn't handle the ball all the time. He's coming off screens. Draymond Green handles the ball for [the Warriors] most of the time to get [Curry] off and to get [Curry] shots off."
Maybe Payton just felt like being edgy on that particular day. And maybe he wants to reclassify Curry as a shooting guard so that he has a higher place on the list of best point guards in NBA history. Either way, the hot takes didn't stop there.
"It's like with [Russell] Westbrook. He's a two-guard. Now you gotta understand, to me, these guys are two-guards," Payton continued. "If you want to talk about point guards, that's Chris Paul, that's [Rajon] Rondo. They are point guards. I just don't see him as a point guard, I see him as a two-guard. Now if you want to consider him as a two-guard, yeah, I think he's going to be one of the greatest scoring guards in the history of the game because he can score that thing. As a shooter, the same way."
Payton admitted Curry is changing the NBA for good
The NBA today is far different from the NBA of 30, 20, or even 10 years ago. Payton, who last played in the pros in 2007, never played in the league when point guards were a threat to pull up from 40 feet on any given possession.
But guess what? They do now. And Curry just happens to be the best of the bunch.
Later in the same interview, Payton admitted that Curry is a generational talent who's changing the game for the better.
"The game has evolved and changed and Curry is changing the game with the way he shoots the ball, the way he makes shots, and the range. We watched his daddy, we watched Dale Ellis, we watched Glen Rice, we watched a lot of guys, but this dude right here is an incredible shooter and he makes shots."
All sats courtesy of Basketball Reference