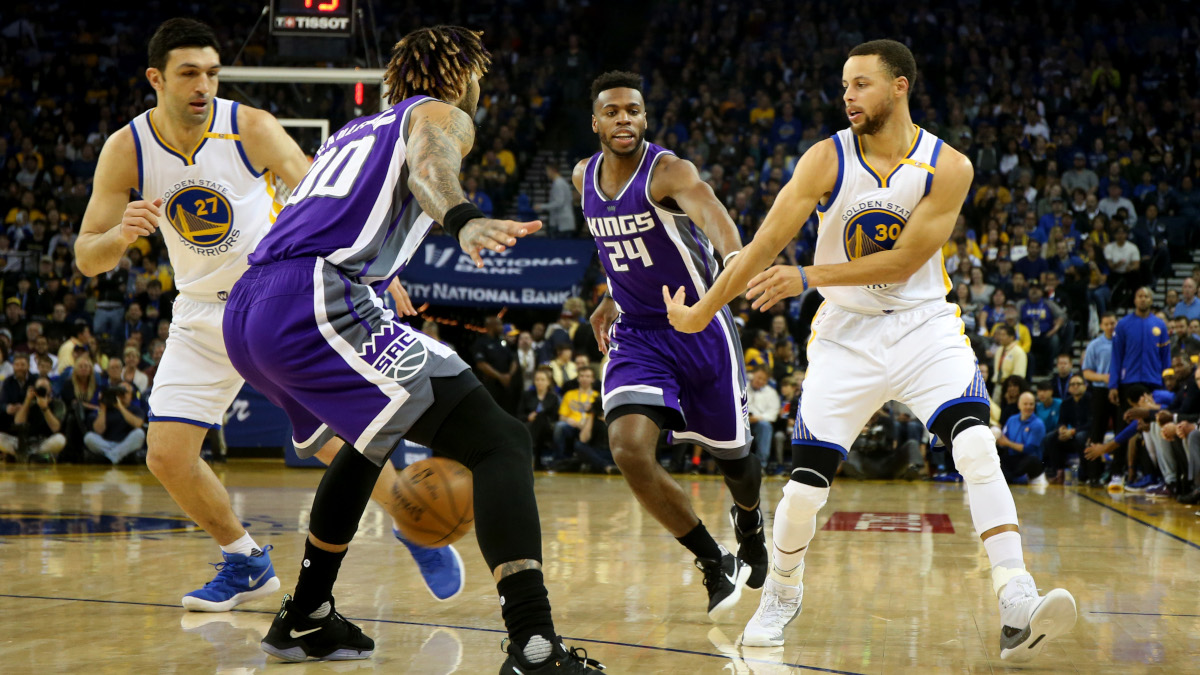 Stephen Curry-Warriors Formula Can't Be Duplicated, Says Former Dub Champ Zaza Pachulia
Zaza Pachulia spent two seasons screening for Stephen Curry and the retired 16-year veteran thinks other organizations are wrong to try and copy the Warriors
In two years as the starting center for the Golden State Warriors, Zaza Pachulia got to see the greatness of Stephen Curry up close and personal. The native of Georgia spent 16 years in the NBA and got two rings while setting the picks to spring Steph. And he's not sure the rest of the league has the right idea when it comes to keeping up with the Warriors.
Pachulia retired in 2019 and works as a consultant for the Golden State front office. The 38-year-old said he spotted some things during the NBA All-Star Game that made him realize two things. One is that Curry changed the NBA. The second? No one else is Steph.
Stephen Curry is a game-changer at a league-wide level
Zaza Pachulia appeared on 95.7 The Game's The Morning Roast to talk about the Warriors. And one can't discuss Golden State without the topic quickly changing to Stephen Curry and his impact on the game.
"He changed the game; he really did," Pachulia said. "Even seeing the guys during the warmups and seeing the guys shooting from halfcourt during warmups, that's because of Steph. There were so many players trying to shoot threes like Steph behind the three-point line."
It was a style that was foreign to the 6-foot-11 Georgian. In 16 seasons, Pachulia attempted 31 threes. Of that total, 18 were heaves in late-clock situations. He never made one.
On the other hand, Curry is the all-time leader in threes, becoming the first player to make more than 3,000. He broke Ray Allen's record on Dec. 14 and earned All-Star MVP honors with an epic performance that included a record of 16 threes and 50 points.
Pachulia believes it is a blueprint no other franchise can duplicate.
Zaca Pachulia says teams mimicking the Warriors are making a mistake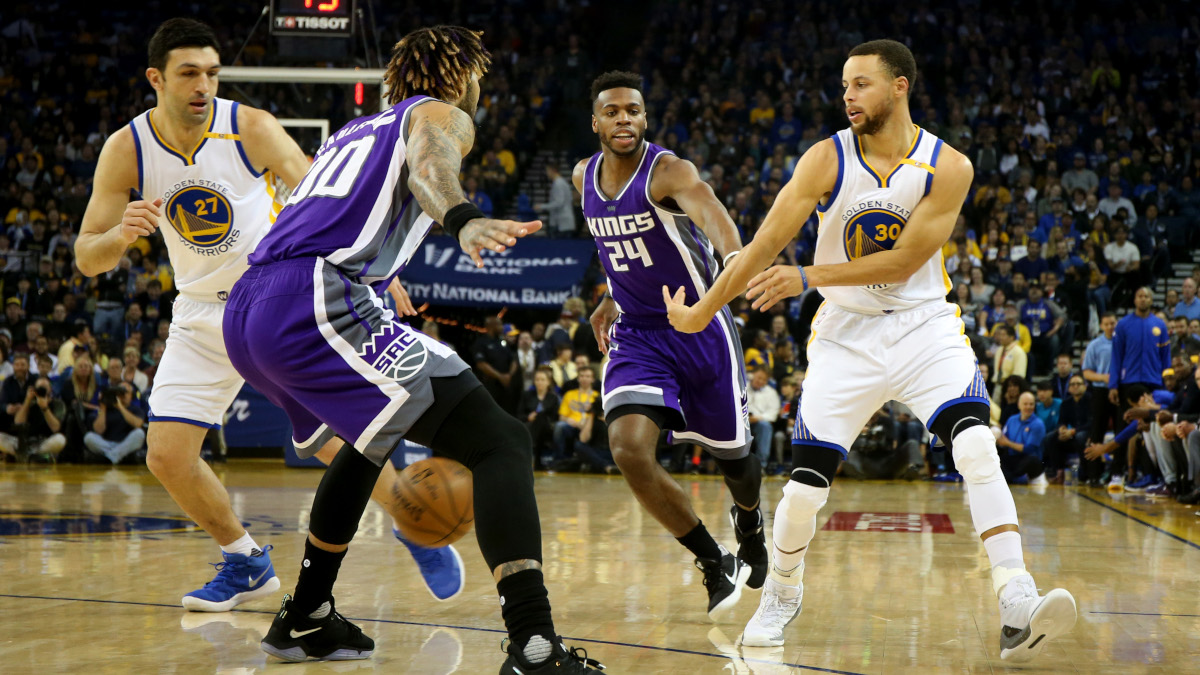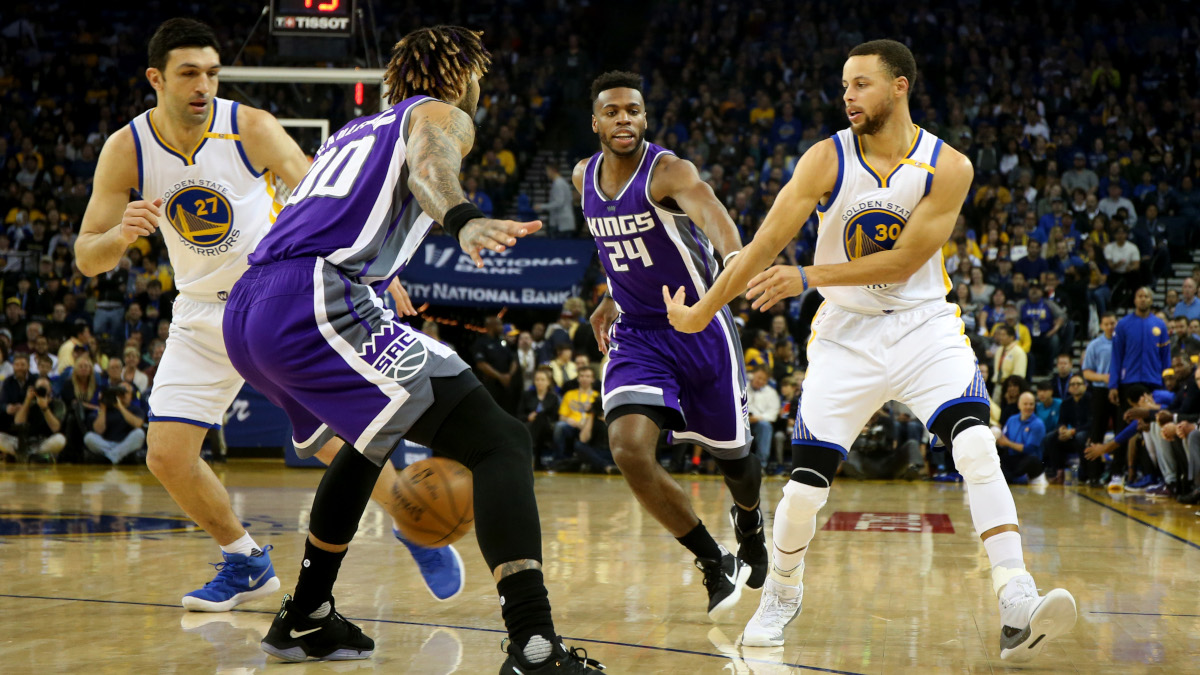 Over 16 years with six teams, Zaza Pachulia saw many play styles. He transitioned from the grind-it-out NBA of the early 21st century to the pace-and-space era that's dominated much of the last decade.
But he never caught the bug so much that he tried to change his game. More than half of his career attempts were in the restricted area, and a little more than 25% came from mid-range. Beyond the arc was foreign soil (or hardwood, as the case may be).
He knew who he was and what his limitations were. And that, Pachulia reasons, is why teams attempting to copy the Warriors are making a mistake. It starts with Stephen Curry.
"Even the teams when they try and assemble their teams, they try and assemble a Warriors team," Pachulia said. "This is so wrong in my opinion because you don't have a Steph Curry, you don't have a Klay Thompson, you don't have a Draymond Green. And you're trying to put pressure on the player to play like them? It's just impossible.
"I don't see that as realistic to build a team like the Golden State Warriors because you don't have those personalities. You have to build a team according to the personalities you have, not to try and mimic and copy somebody else."
What do you mean, Zaza? Are you claiming there's no one else that can make nearly 43% from deep while launching almost nine threes a game over 13 years?
OK, he has a point.
Zaza Pachulia spotted the copycats during Stephen Curry's virtuoso All-Star performance
While it's not an official NBA record, Stephen Curry's 16 three-pointers in the All-Star Game are two better than Thompson's mark of 14 set in October 2018.
And Curry wasn't just toeing the arc. Five of his makes were from beyond 30 feet. While watching the game, Zaza Pachulia saw that even the game's biggest stars couldn't resist trying to copy Chef Curry.
"It was so glaring; it was so obvious during the All-Star Game," Pachulia said. "I'm not going to say names, but there were guys — especially when Steph got hot and made a couple of threes in a row — there were other players trying to start shooting threes from halfcourt.
"The difference was that Steph was making them and other players were not. If just looked bad. Maybe coming from a professional standpoint, I noticed that, but it was so glaring."
The Warriors entered the All-Star break at 42–17, the second-best record in the NBA and 6.5 games behind the Phoenix Suns in the Western Conference. That's already more than their 39 victories from last season. Golden State is on pace for 58 wins, which would be their most since the club was 58–24 in 2017–18.
Stephen Curry, now 33, is generally acknowledged as the greatest shooter the NBA has ever seen. Zaza Pachulia might be onto something when he cautions other organizations from attempting to duplicate a one-of-a-kind sensation.
Statistics courtesy of Basketball Reference and Stathead.