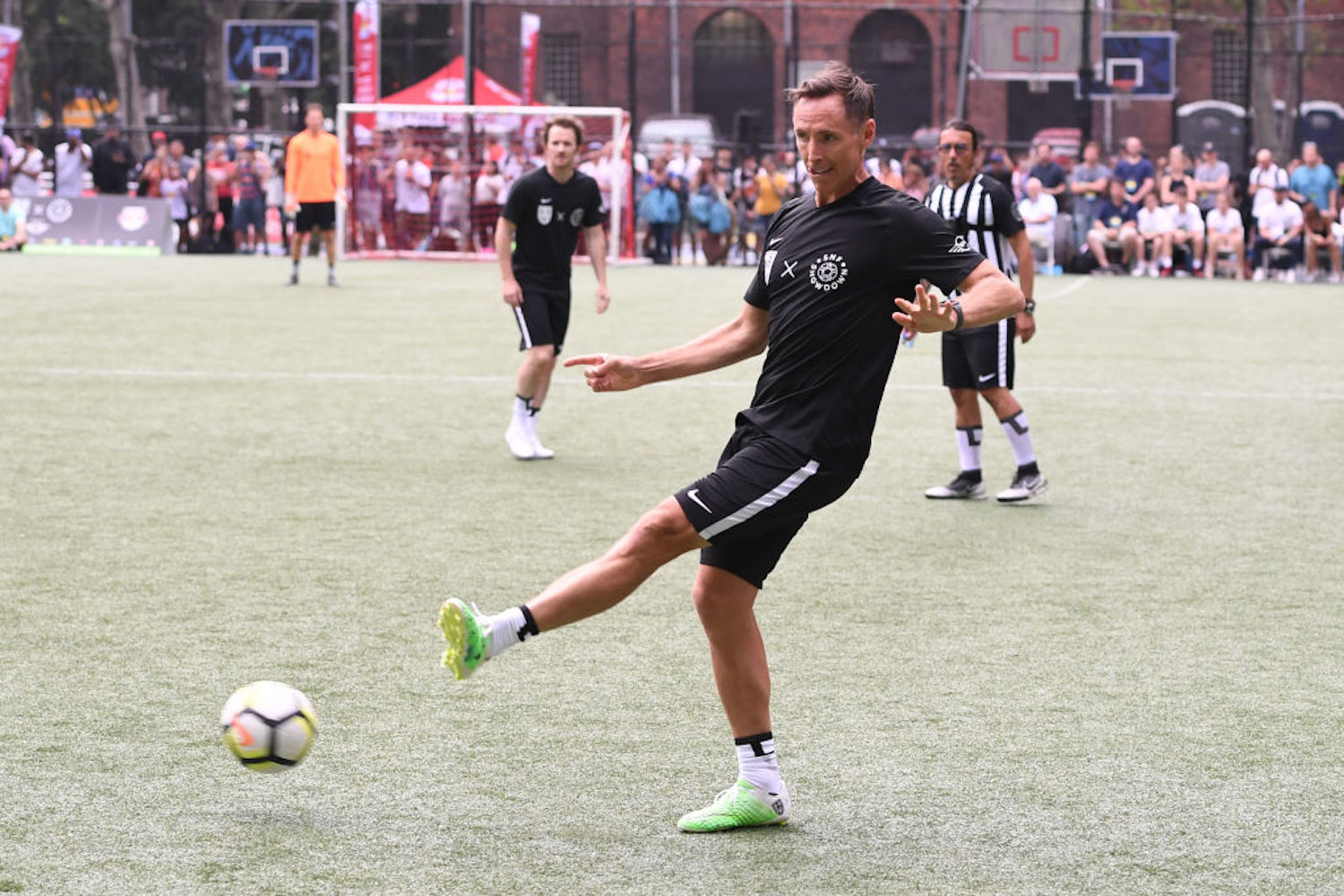 Steve Nash Would've Quit Basketball to Play Soccer If It Wasn't for Michael Jordan and Spike Lee
Steve Nash was a talented soccer player growing up, and he almost bailed on basketball to pursue a professional career on the pitch.
Steve Nash might be the only NBA Hall of Famer whose favorite sport isn't even basketball.
Nash grew up in a soccer-loving family in Canada, and he first had dreams of becoming a professional athlete on the pitch instead of the court. When he realized he had a special talent for basketball as a teenager, Nash had a choice to make. Move to London and pursue a life in soccer or continue his basketball career at an American college. Eventually, Michael Jordan and Spike Lee swayed him into what turned out to be the best decision of his life.
Steve Nash grew up in a family of soccer fanatics
Children usually take after their parents early in life, and that's exactly what Nash did growing up. His father was a professional soccer player overseas, so Nash spent his childhood traveling around Africa and Europe watching his dad play and learning about the game.
The Nash family eventually found a permanent home in Victoria, British Columbia, and Nash started playing soccer and hockey regularly. Soccer was Nash's favorite sport growing up in Canada, though, until he discovered a ball and a hoop.
Nash started playing basketball when he was a teenager, and he immediately had a knack for the sport. His in-depth knowledge of soccer — the ultimate team sport — helped him to thrive as a point guard. Nash could've played either soccer or basketball at the next level, so he had a tough decision to make after high school.
Nash chose basketball over soccer because of his love for Michael Jordan and Spike Lee
When Nash was growing up, his favorite soccer team was Tottenham Hotspur F.C. out of the English Premier League. Tottenham plays in London, England, so Nash's father said he could go to London to pursue a soccer career if he was serious about the sport.
Just like he was a fan of Tottenham, Nash also idolized Michael Jordan and Spike Lee growing up in the 1980s and 1990s. Eventually, they swayed his decision, and Nash decided to quit soccer and pursue a professional basketball career.
It turned out Nash made the right decision
It must've been tough for Nash to give up his favorite childhood sport to switch to basketball full-time, but it sure worked out for the Hall of Famer.
Nash went on to play at Santa Clara University, and he quickly became one of the best college basketball players in the country. The Phoenix Suns selected Nash with the 15th overall pick in the 1995 NBA draft, and he ended up playing 10 total seasons with the team.
Nash finished his NBA career with eight All-Star appearances, seven All-NBA selections, and two MVP awards. He was inducted into the Naismith Memorial Hall of Fame in 2018.
Today, he's considered one of the greatest point guards to ever play the sport, but he might've never even reached the NBA if it weren't for Michael Jordan and Spike Lee.
All stats courtesy of Basketball Reference