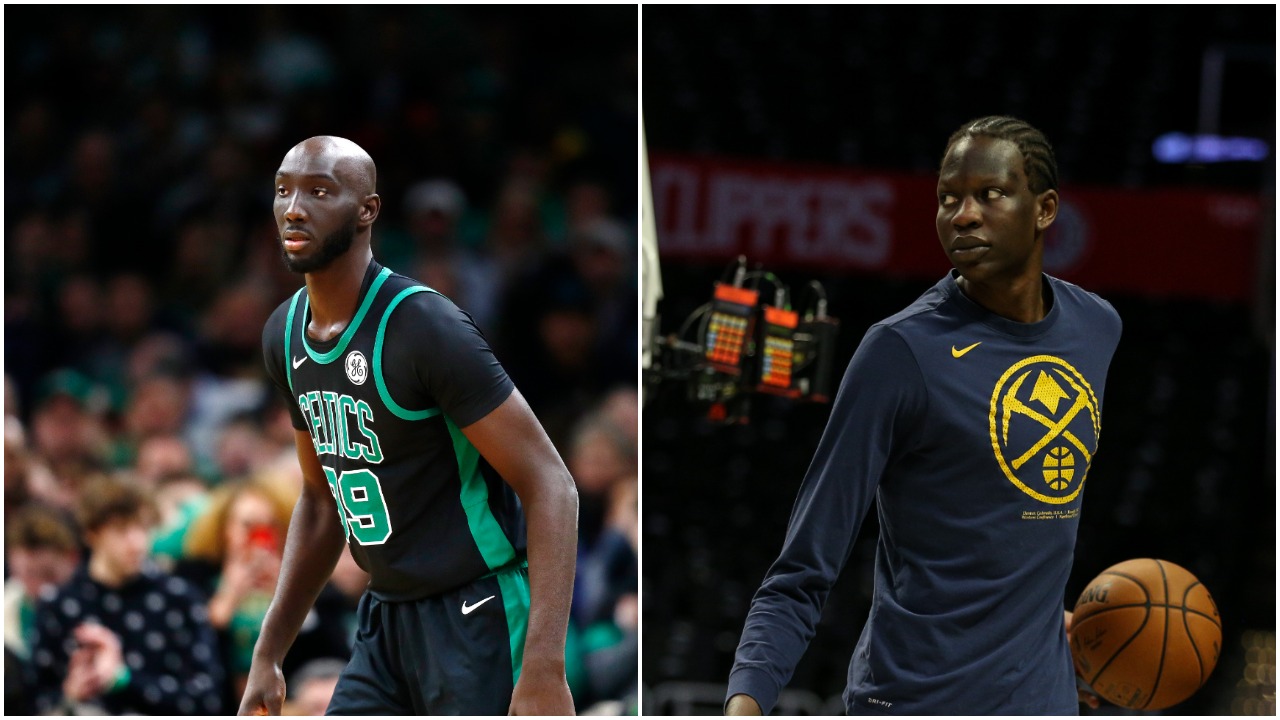 Tacko Fall vs. Bol Bol: Who Is Taller and Has the Bigger Wingspan?
A look at the career paths of NBA stars Tacko Fall and Bol Bol, including a comparison of the two in height, wingspan, and standing reach.
While everything seems to be going very smoothly in the NBA bubble in Orlando, there is one big problem. How did the schedule makers not match up the Denver Nuggets and Boston Celtics in one of the seeding games? Sure, they already played their two scheduled games against one another before COVID-19 shut down the league back in March but things are different now. Tacko Fall and Bol Bol are both on rosters now and NBA fans are clamoring to see the two giants on the court together.
Despite both being so young and inexperienced, Tacko Fall and Bol Bol have become NBA legends, at least that's what social media would have you believe. Call them legends or folk heroes or whatever but NBA fans love them both and seem to love pretty much everything they do simply because of their size.
But who is actually taller and who has the bigger wingspan?
The legend of Tacko Fall
Born and raised in Senegal, Tacko Fall originally had no interest in playing basketball as he was more into soccer. But as he continued to grow, he picked up the game and moved to the U.S. at the age of 16 to continue his basketball training.
Fall first attended high school in Houston and trained with Hall of Famer Hakeem Olajuwon. Naturally, he was heavily recruited due to his size and got even more attention when he led Jamie's House Charter School to a state title. Fall played his senior year in Florida for Liberty Christian Prep in Tavares and averaged 20 points, 15 rebounds, and 5.1 blocks. With approximately 40 schools scouting him, Tacko Fall chose to play his college ball at the University of Central Florida.
Fall played 115 games for the Knights, averaging 10.1 points, 7.7 rebounds, and 2.4 blocks in 23 minutes per game. He was named the 2017 AAC Defensive Player of the Year and was an All-AAC Third-Team selection in his senior season in 2018-2019.
Fall wasn't selected in the 2019 NBA draft but joined the Boston Celtics for the Summer League, where he averaged 7.2 points, four rebounds, and 1.4 blocks. He shot 77% from the floor and the Celtics signed him to an official two-way contract. He spent most of his time in the G League and played well, averaging 12.9 points and 11.1 rebounds for the Maine Red Claws. Fall also averaged nearly three blocks per game and was an All-Defensive selection.
Bol Bol is the son of former NBA star Manute Bol
As most know, Denver Nuggets center Bol Bol is the son of former NBA star Manute Bol, who played for four teams in 10 seasons and was somewhat of a folk hero as his son has become.
Bol Bol was born in Sudan but spent the majority of his youth in Kansas before attending high schools in California and Nevada. Much more mobile than his father was, he was one of the top recruits in the high school class of 2018 and was named a McDonald's All-American, averaging 20.4 points, 8.2 rebounds, and 2.4 blocks per game for Findlay Prep.
Bol chose to play his college ball at the University of Oregon but played just nine games for the Ducks before injuring his foot, which cost him the rest of the season. But he was certainly impressive in those nine games. Bol averaged 21 points, 9.6 rebounds, and 2.7 blocks before the injury. He declared for the 2019 NBA draft was selected with the 44th overall pick by the Miami Heat, who soon after traded him to the Denver Nuggets.
He signed a two-way contract with the Nuggets and, up until his debut in the bubble, played for the Windy City Bulls in the G League, averaging 12 points and 5.5 rebounds in eight games.
Tacko Fall vs. Bol Bol: Who's taller and has the bigger wingspan?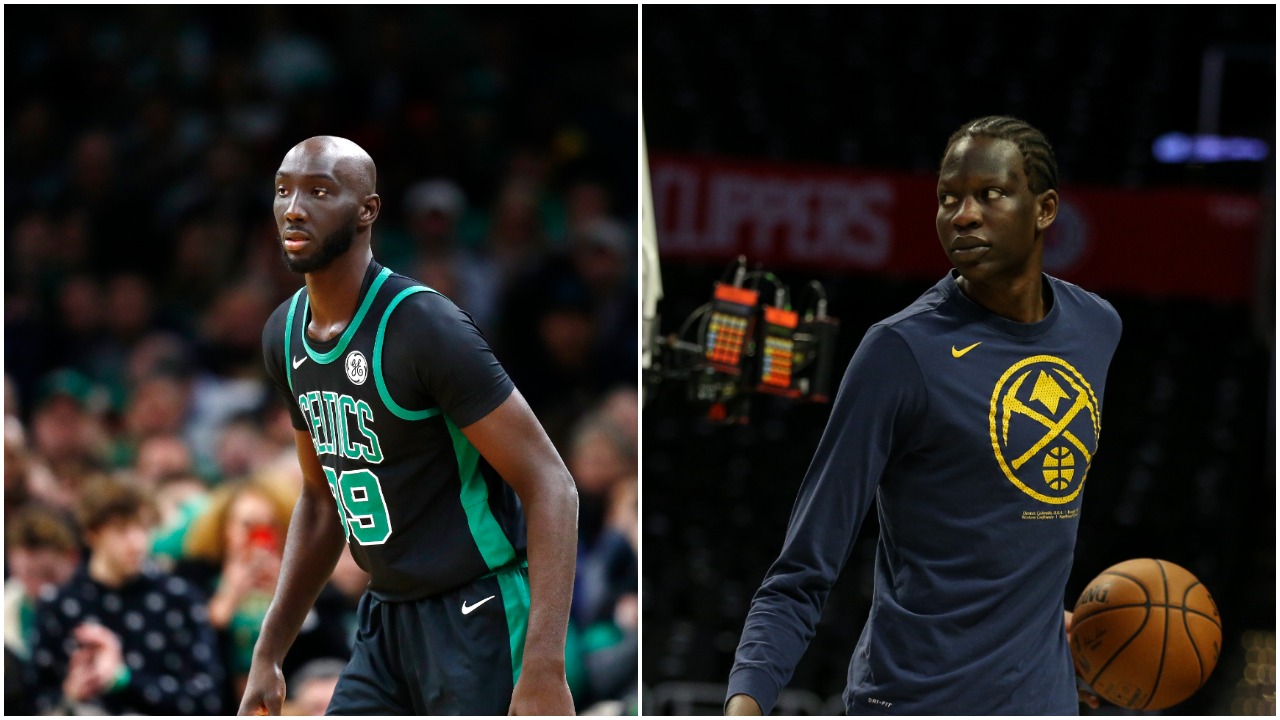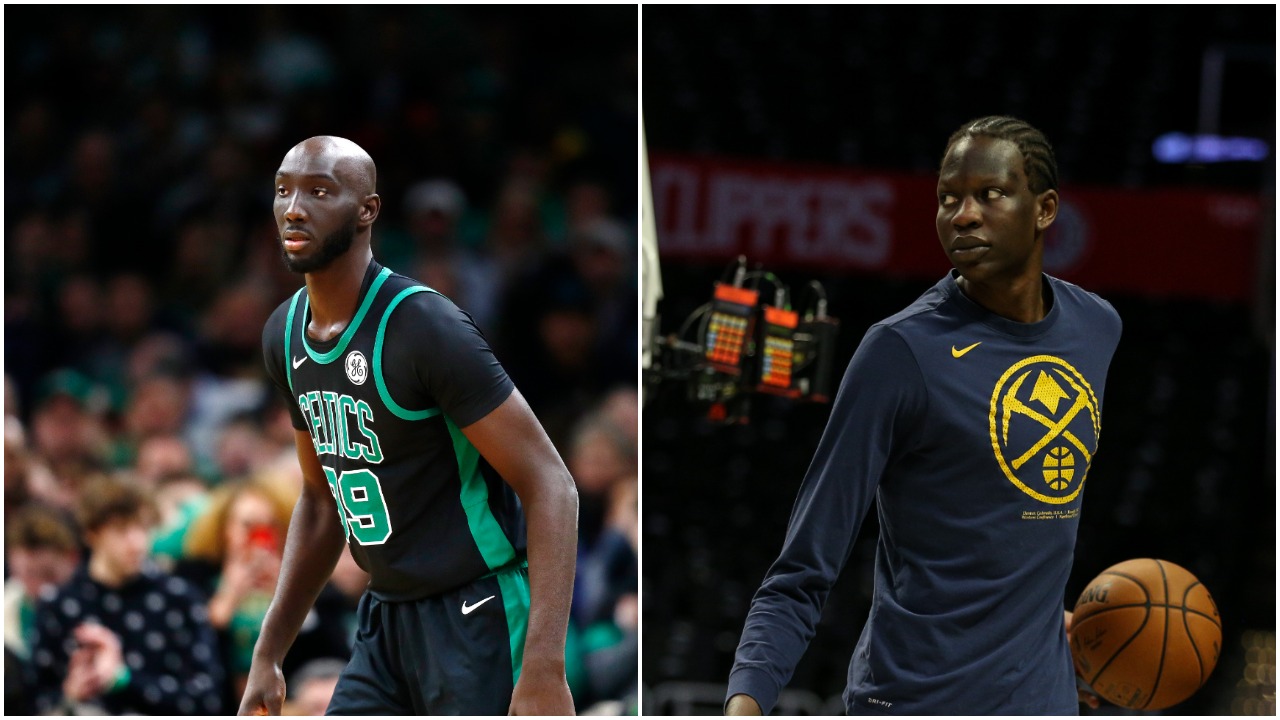 While most would likely agree that Bol Bol has more overall talent, the height and wingspan advantage goes to Tacko Fall.
Bol Bol is obviously still a very tall human being. He's currently listed at 7'2″, has a 7'8″ wingspan and a 9'7″ standing reach. Tacko Fall is listed at 7'5″, has an 8'4″ wingspan and a standing reach of 10'2″. His first points in the NBA came from a standing dunk against the New York Knicks.
All stats courtesy of Sports Reference