Washington QB Taylor Heinicke is Suddenly $125,000 Richer Thanks to a Giant Mistake and His Teammate's Right Leg
Despite putting together a terrific, turnover-free performance, Daniel Jones still watched another quarterback come out on top Thursday night.
Of course, even Taylor Heinicke would have to admit he needed a little bit of luck to notch his first win as a starter.
Ultimately, though, the Washington Football Team signal-caller earned a well-deserved victory, widespread respect, and a sizable chunk of change courtesy of his teammate's right leg and a costly mistake by the New York Giants. And if Ron Rivera wants to win the NFC East again, he may have to hand the keys to the offense to a player with far less experience than veteran journeyman Ryan Fitzpatrick.
Taylor Heinicke gave Washington Football Team fans plenty to cheer about Thursday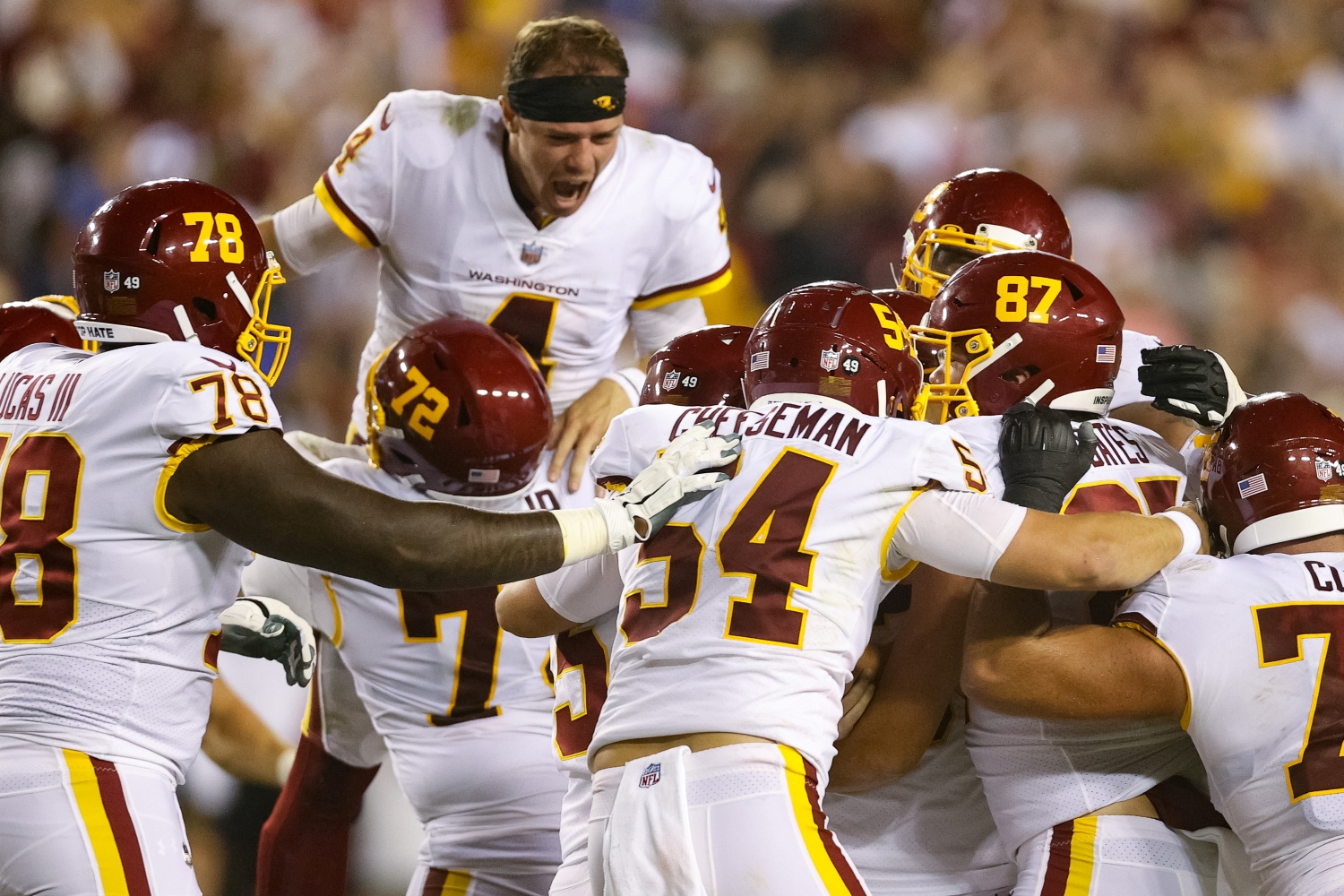 Already a fan favorite in Washington, Heinicke increased his stock even more with how he played in Thursday's win at FedEx Field. The 28-year-old former undrafted agent looked completely comfortable facing a Giants defense that ranked ninth in points allowed a year ago. His impressive performance included 34 completions on 46 attempts (73.9%), 336 yards, and two touchdowns.
Heinicke displayed excellent chemistry with top receiver Terry McLaurin, who hauled in 11-of-14 targets for 107 yards and a score. Plus, he relied upon versatile running back J.D. McKissic (five catches for 83 yards) to make plays in the passing game.
Unfortunately for the fourth-year pro, one of his fourth-quarter passes ended up in the hands of Giants cornerback James Bradberry. Heinicke's poorly-timed interception allowed Joe Judge's team to convert a 35-yard field goal to take a 29-27 lead with only two minutes remaining.
Luckily for the reigning NFC East champions, their 6-foot-1, 210-pound quarterback rose to the occasion and made up for his costly error. Heinicke marched the offense down the field and put Dustin Hopkins in a position to win the game on a field goal.
While the veteran kicker did send the Giants home with their second loss of the season, it took a stroke of good fortune for everyone in Washington to enjoy a victory.
A costly mistake by the Giants helped Heinicke earn $125,000
Compared to Heinicke's interception, the mistake Giants defensive tackle Dexter Lawrence proved much more costly. After all, not only did it wipe away a victory, but it also led to the Washington Football Team having to pay their new starting quarterback an extra $125,000.
To the dismay of Giants fans, Lawrence inexcusably jumped offsides on Hopkins' first field-goal attempt. That negated a 48-yard miss that would have given New York a much-needed win. With the ball moved up 5 yards, Hopkins made the Giants pay for giving him a second chance to clinch the game.
And by nailing a 43-yarder to seal a one-point victory, he helped stuff some more money in his teammate's pocket, too.
According to a tweet from ESPN's Field Yates, Hopkins' game-winning kick allowed Heinicke to earn a $125,000 incentive in his contract. The 28-year-old has an opportunity to substantially boost his bank account as the season progresses.
"As @FieldYates noted, Taylor Heinicke earned an extra $125,000 for this win. His contract includes a "club game win bonus" that gives him $125K each for up to 12 wins in which he plays at least 60% of Washington's offensive snaps," tweeted Nicki Jhabvala of the Washington Post.
Considering Heinicke signed a two-year, $4.75 million deal with just $1.5 million guaranteed, he certainly deserves to get rewarded for stepping up in place of Fitzpatrick. But if he continues to rack up $125,000 bonuses over the ensuing weeks, could that cause a quarterback controversy in Washington?
Should Ron Rivera go back to Ryan Fitzpatrick when he's healthy?
If Washington keeps handing out bonuses to Heinicke, that obviously bodes well for their chances of making the playoffs. However, it also means Rivera will have to decide whether to give Fitzpatrick his job back when he recovers from his hip injury or stick with someone with less experience but more upside.
If Heinicke continues to play well, it would make more sense to keep a good thing going. Why risk ruining chemistry and continuity midway through the season? Fitzpatrick has been around the league long enough to understand the importance of momentum, so he shouldn't force the issue if Washington has a winning record by the time he can return to action.
On the other hand, if Heinicke shows some slip-ups in the coming weeks, Rivera may have no choice but to go in a different direction. The NFC East remains totally up for grabs, and there's no reason to jeopardize a playoff berth for the sake of optics or pleasing fans.
Needless to say, Taylor Heinicke has quite a bit of pressure on his shoulders moving forward.
But if finds a way to win consistently, he will have a bunch of $125,000 checks coming his way.
All statistics courtesy of Pro Football Reference. All contract data courtesy of Spotrac.