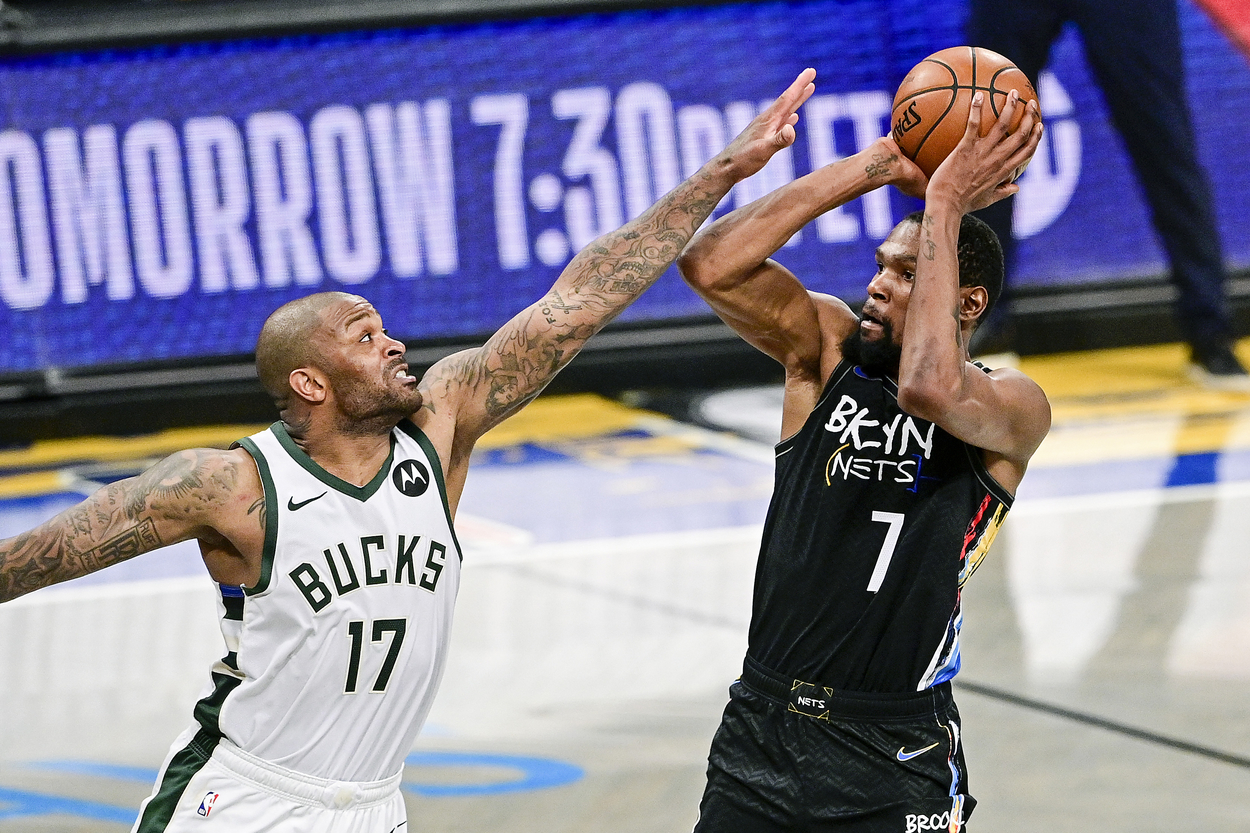 A Teenage Kevin Durant Dominated His Future College Team and Convinced 1 NBA Champion of His Inevitable Greatness: 'It Was Like a Video Game'
P.J. Tucker shared an incredible story about the time Kevin Durant dominated the Texas Longhorns as a high schooler.
In hindsight, all of us should have known this Kevin Durant fellow would end up being pretty good.
The Brooklyn Nets superstar is a no-doubt selection for the Hall of Fame whenever he decides to hang it up. But before KD's professional career started, a recruiting visit to the University of Texas had one future NBA champion convinced he was witnessing a future great.
Kevin Durant is one of the most unique players in NBA history
From the second Durant stepped onto an NBA court, most basketball fans could tell he was different. Mostly because he looked different than anything the game had previously seen.
With shoes, KD measured just a tick above 6-foot-10 at the 2007 NBA Draft Combine. But he was as slender as they come, weighing just 215 lbs with limited muscle mass. The real kicker was his wingspan, which was the second-longest in the draft class at 7-foot-4 and three-quarters.
KD's body was unique, to say the least. But it's even more incredible when you consider how he uses his body. Instead of utilizing his near seven-foot height in the post, Durant is one of the game's all-time great shooters. Starting in his third year, the Durantula hasn't attempted fewer than four 3-pointers in a season, knocking down 38.4% of triples across 14 seasons.
The NBA hadn't exactly seen many rail-thin players with the height of a center and an unguardable jumper. Neither had the college ranks, evident by a story P.J. Tucker told about the time a high-school-age Durant visited the Texas campus.
P.J. Tucker shared a story about Durant's visit to Texas
As a Maryland high schooler, Durant was making the recruiting rounds to different schools across the nation. One of those schools was Texas, where he would eventually attend for a year before making the jump to the NBA.
At the time, the Longhorns were one of the top teams in the country. Future pros Tucker, LaMarcus Aldridge, and Daniel Gibson were all on the team when Durant joined a practice.
Speaking to JJ Redick on The Old Man and the Three, Tucker talked about how impressive KD was as a high schooler taking on some of college basketball's best players.
"That day, I was like, 'Why is he coming here? He has no business stepping foot on this campus.' … We're one of the two best teams in the country, [and] this kid's coming in."

"Everything he's doing right now, he was doing then. He's passing half-court and I remember LaMarcus staring. [Durant's] feet are on the 3-point line, then hesitation, pull-up. There was so much distance [between him and the defender]. … Driving by guys, it was crazy. It was like a video game. Nobody could guard him."

P.J. Tucker
Tucker never got to play with Durant at Texas, leaving for the NBA just before the All-Star arrived on campus. But he had many more interactions with KD on the court, including in last season's second-round battle between the Nets and Milwaukee Bucks.
Kevin Durant has put together an elite career
Durant's jaw-dropping display as a high schooler had Tucker convinced he was special. Soon, the rest of the world would get to witness the Slim Reaper.
KD has averaged 20 or more points every season, and 25 or more in all except his rookie year. He is a four-time scoring champ, averaging as many as 32.0 points a night in the 2013-14 season, the year of his lone MVP. He is also a nine-time All-NBA selection, six of which have been on the first team.
For the longest time, Durant's career was defined by elite numbers but a lack of championships. However, once the Oklahoma City Thunder star infamously joined the Golden State Warriors, KD won back-to-back titles as well as a pair of Finals MVP awards. Now, even after a torn Achilles cost him the entire 2019-20 season, Durant looks as dominant as ever as he attempts to lead Brooklyn to a championship.
Love him or hate him, Durant is one of the best players in basketball history. And it was obvious before most of us knew his name.
All statistics courtesy of Basketball Reference.