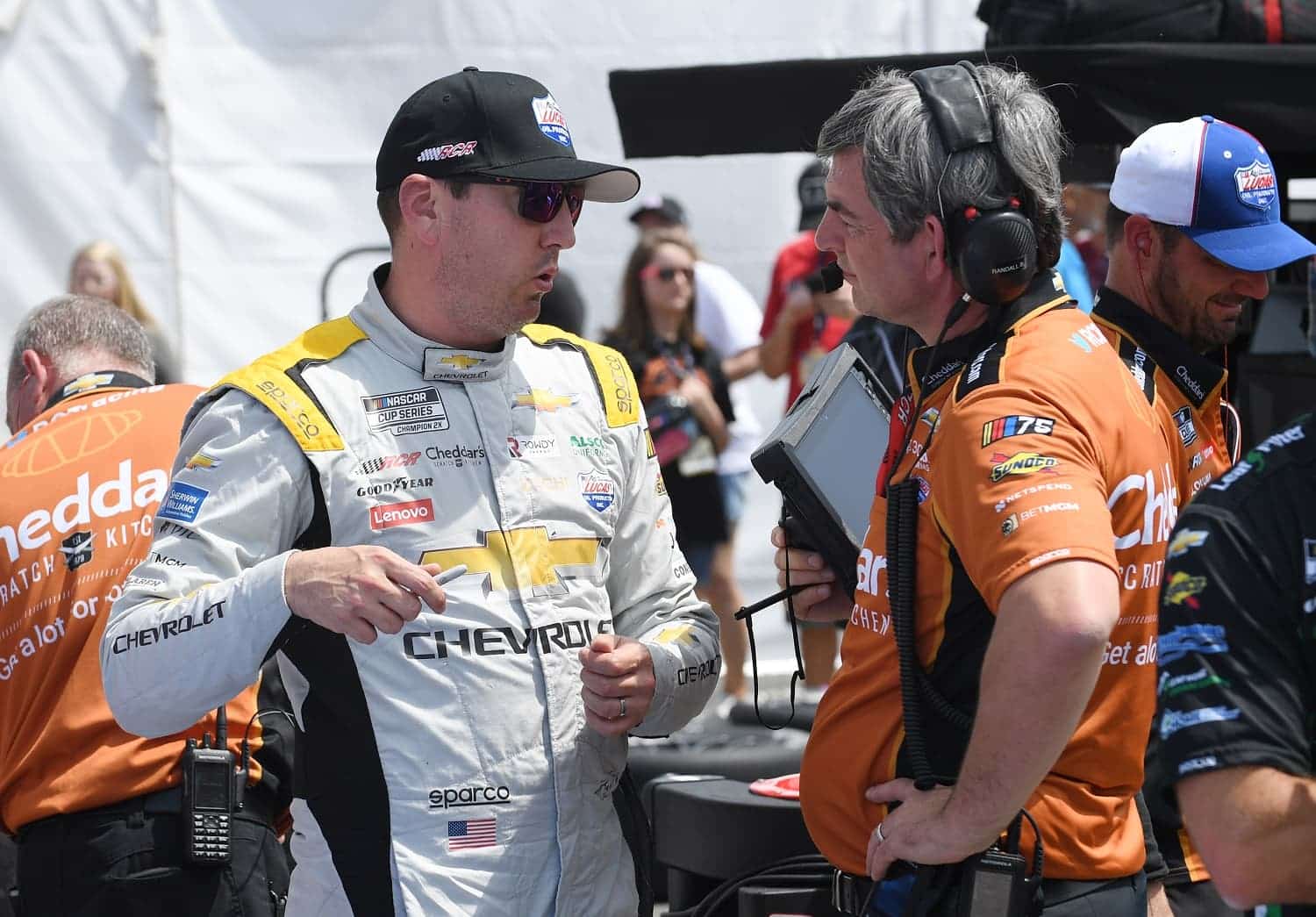 A Telling Kyle Busch Statistic Dispels a Likely Misperception About the 2-Time Champion
Kyle Busch has a history of clicking with new crew chiefs right off the bat, including in his first season at Richard Childress Racing.
The victory at Auto Club Speedway two weeks into the season suggested this could be a unique year for Kyle Busch as he started over at Richard Childress Racing. Interestingly, subsequent wins at Talladega and WWT Raceway have thrown that theory out the window.
It turns out Busch isn't doing anything out of the normal, at least not for him; the feat he just pulled off is rare for everyone except the driver of RCR's No. 8 Chevy.
Kyle Busch is going to be in the championship mix
The disappointing end of his tenure at Joe Gibbs Racing has been chronicled at length. Kyle Busch failed to win multiple races in 2022 for only the fourth time in a 15-season span. Stalled and ultimately failed negotiations on a new deal at JGR had to be a factor in a rough regular season, then his title hopes evaporated with engine failures in two of the first three playoff races.
Now, the future Hall of Fame driver is showing he is far from done as a top-tier performer in the NASCAR Cup Series. Busch and Hendrick Motorsports' William Byron are the only drivers with three wins apiece through 15 points races.
Though finishes outside the top 30 at Bristol and Kansas have cost him valuable points, the Las Vegas native is seventh in the standings with a real chance of finishing in the top three and going into the playoffs with 30 or more extra points after the reset for the 16 qualifiers.
That's the sort of cushion that could allow him to transfer to subsequent rounds without victories even if he has an off day along the way. And that could translate into a championship to go along with those he earned in 2015 and '19.
A telling Kyle Busch statistic dispels a major misperception
Part of the narrative that went along with Kyle Busch's tumultuous final season was that his at-times sarcastic dealings with the media and criticism of NASCAR officials made it difficult for Joe Gibbs Racing to line up new sponsors after Mars, Inc., bowed out. That was also supposedly going to limit his options as a free agent.
It may have also led to conjecture that Busch might be a handful for his new crew chief and team wherever he handed. History suggests there was little to no basis for that, considering two of the four changes in crew chiefs coincided with Busch moving to new teams rather than some sort of falling out. The results heading toward the middle of the 2023 season back that up.
NBC Sports noted this week that only four times since 2008 has a new driver/crew chief combination won three of the first 15 races in a Cup Series season. Incredibly, Busch has been the driver in three of those instances. The only other driver to do so in the last 15 years was Mark Martin in 2009 with Alan Gustafson.
Busch won three of the first 15 races in 2008 with Steve Addington after leaving Hendrick Motorsports for Joe Gibbs Racing. He repeated the feat in 2015 with Adam Stevens and went on to his first series championship.
This season, Busch is partnered with Randall Burnett, who was on the No. 8 Chevy last season when Tyler Reddick scored his first three career victories.
The latest quick start bodes well for his title hopes
Given the way his first seasons started with crew chiefs Steve Addington and Adam Stevens, Kyle Busch should be positively giddy about how 2023 might play out.
In 2008, Busch bagged his hat trick in his first 11 starts and proceeded to win five of the next 11 races as well. That season fizzled out once Busch finished 34th at Loudon, 43rd at Dover, and 28th at Kansas to kick off the playoffs. Last year's fiasco aside, that's not likely to reoccur this fall.
In 2015, he missed the first 11 races because of injuries suffered in the Xfinity Series race at Daytona but returned with a vengeance by winning four of his first nine appearances. There would be just one more victory, but it was the one that mattered most, as Busch topped the field at Homestead-Miami to win the Championship 4 and his second series title.
Got a question or observation about racing? Sportscasting's John Moriello does a mailbag column each Friday. Write to him at [email protected].