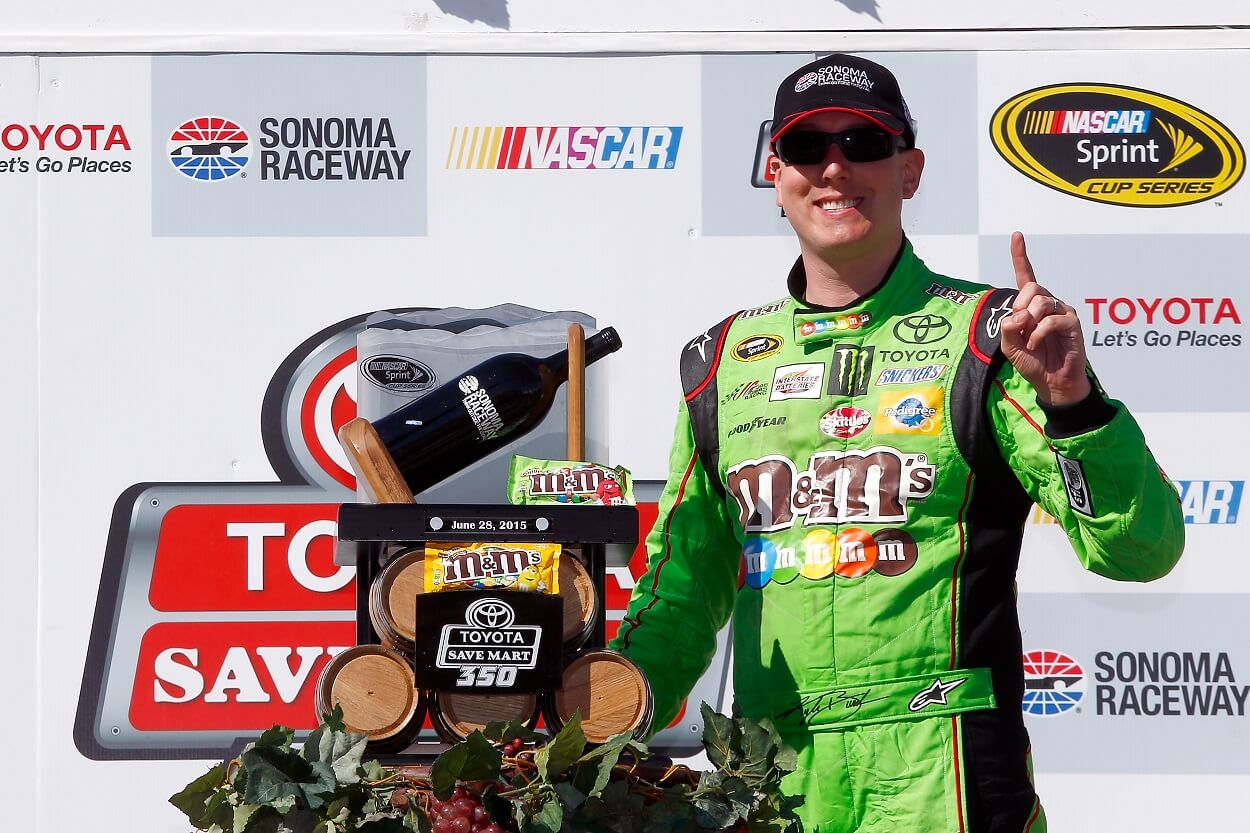 Kyle Busch Scored an Emotional Win Over His Brother at Sonoma Mere Months After an Accident He Thought Would End His Career
Kyle Busch's win at Sonoma in 2015 was special for a number of reasons.
Between the Truck Series, the Xfinity Series, and the Cup Series, no racer has recorded more NASCAR wins than Kyle Busch, who's taken 60 or more checkered flags in each.
Naturally, some victories stand out more than others, and one has to believe Busch would put his Cup Series victory at the 2015 Toyota/SaveMart 350 at Sonoma Raceway in that category.
Not only was it his first win on the way to his first Cup Series title, but it also marked a first for him and his older brother, Kurt Busch. But even beyond those two things, the fact that Kyle Busch was even able to race at all that season was a minor miracle, given the accident in which he was involved at Daytona during the campaign's opening weekend.
Kyle Busch sustained serious injuries in a wreck at Daytona in February 2015
The day before the 2015 Daytona 500, Kyle Busch, then with Joe Gibbs Racing, took part in the Xfinity Series race at Daytona International Speedway — because that's just what Kyle Busch does.
On Lap 112 of the 120-lap affair, Busch was involved in the second "Big One" of the day that collected several cars. And he certainly got the worst of it as his car exited the track altogether and slammed into the interior concrete wall at more than 90 miles per hour (he was thankfully braking while speeding toward the wall).
Busch would later say that he was initially worried that his racing career was over, given the pain he was in following the high-impact incident. The wreck pushed all the air out of his body, and the steering wheel in his No. 18 Toyota slammed into his helmet and chest.
While unquestionably lucky to survive, the impact on the lower driver compartment was so violent that Busch sustained a left mid-foot fracture and a compound fracture of his lower right leg. He was quickly attended to by medical personnel, taken out on a stretcher, and transported to a medical facility, where he underwent surgery that very night.
The accident kept Busch from running the first 11 races of the 2015 Cup Series season. But just five races into his return, he found himself in Victory Lane.
Busch came back to win at Sonoma Raceway a few months later and went on to win the 2015 Cup Series title
Upon returning to the Cup Series, Kyle Busch finished 11th at the Coca-Cola 600 at Charlotte Motor Speedway, which was phenomenal given what he'd just gone through with his recovery. He then finished 36th at Dover, ninth at Pocono, and 43rd at Michigan.
And then came the Toyota/SaveMart 350 on the road course at Sonoma Raceway, where he'd won in 2008 but hadn't finished in the top 10 since.
Starting from the 11th position, Busch ran a strong race throughout the day. And following the final restart with seven laps remaining, he swiftly moved from seventh place to the front of the pack. While all of the drivers in the top five remained on the 12-turn track during the final caution, Busch made his way to the pits and got some fresh tires, allowing him to easily pass those in front of him, the last driver being Jimmie Johnson, who'd led 45 laps but ultimately fell back to sixth.
Busch hung on for a .532-second victory while his brother, Kurt, crossed the line next, marking the first time ever that the Busch brothers finished 1-2 in a Cup Series race.
Kyle Busch returned to Daytona the following week, finishing 17th, and then went on a tear, winning the next three races at Kentucky, New Hampshire, and Indianapolis. He then won the season's final race at Homestead-Miami to clinch his first Cup Series championship.