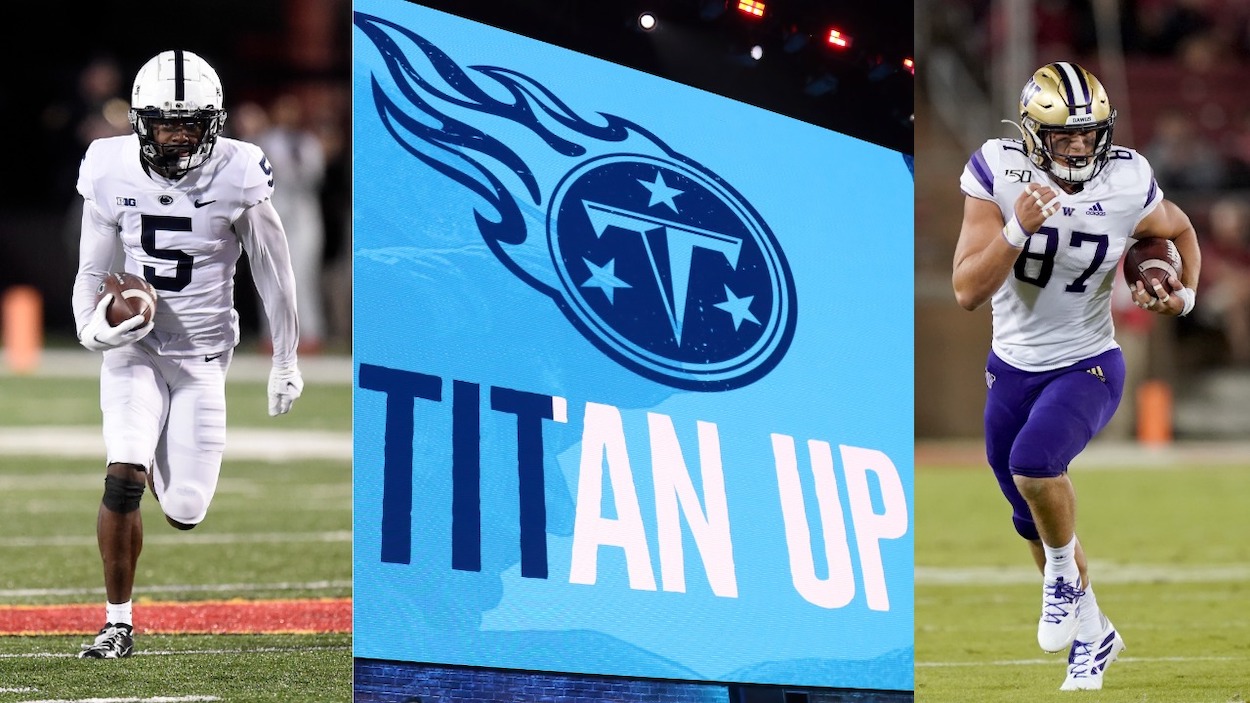 Tennessee Titans 4-Round Mock Draft 2.0
In this three-round Tennessee Titans mock draft 2.0, the team focuses solely on offense in order to make the best of QB Ryan Tannehill.
This four-round Tennessee Titans mock draft has the franchise going exclusively offensive players in its first four picks.
The Titans head into the NFL draft after somewhat miraculously winning the AFC regular-season crown last season without the team's best player, Derrick Henry, for much of the campaign. The way the squad got it done was with a Coach of the Year performance by Mike Vrabel, the league's sixth-best defense, and solid game management from quarterback Ryan Tannehill.
As good as this formula was in the regular season, it flopped in the playoffs. The Titans crashed out in their first game with a 19-16 loss to the Cincinnati Bengals. Tannehill threw three picks in that effort, and the offense managed just 220 passing yards.
That's why offense is key in this Tennessee Titans mock draft.
Tennessee Titans Mock Draft 1.0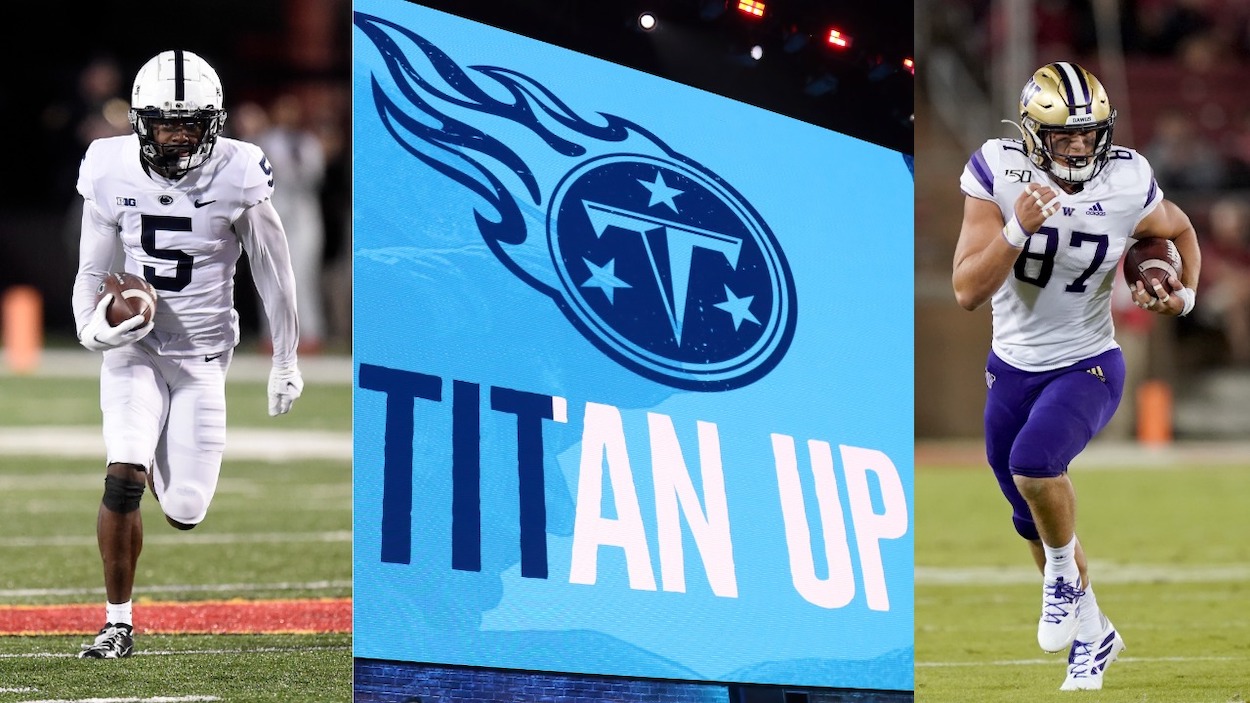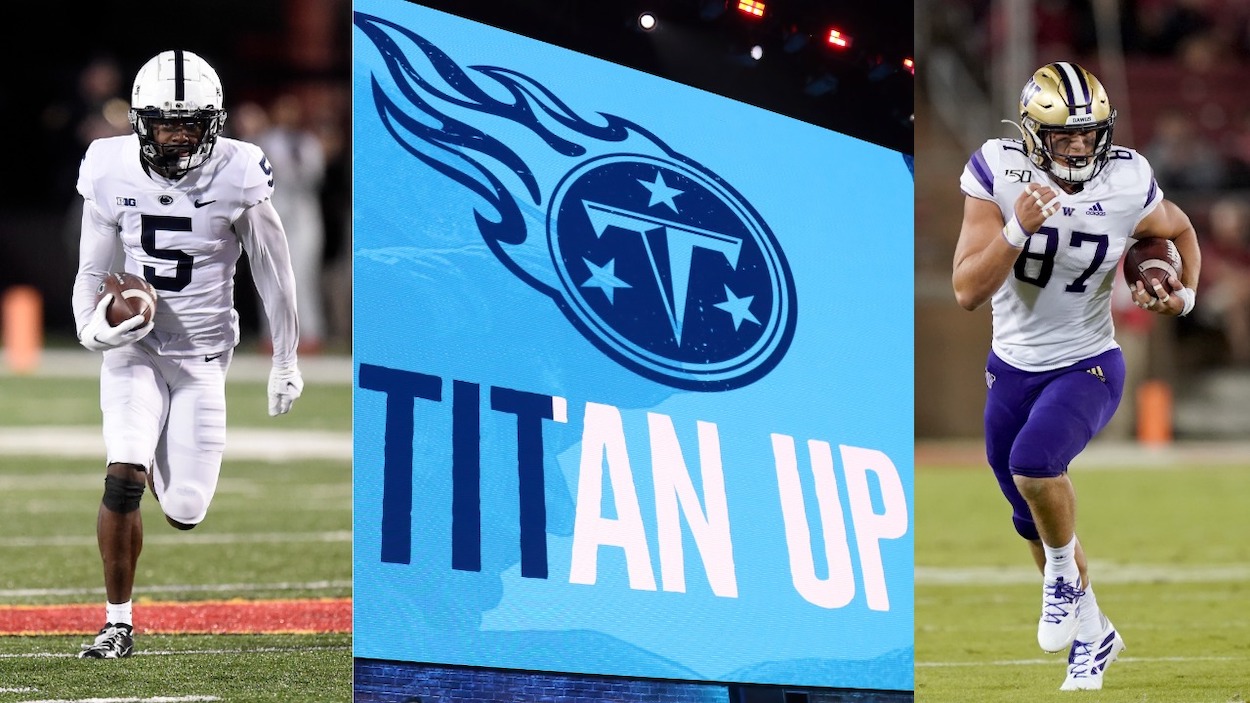 In Sportscasting.com's last Tennessee Titans mock draft, the team focused most of its energy on addressing its needs offense, but not all of it. That mock looked like this:
Round 1, No. 26 overall: Zion Johnson, OG, Boston College
Round 3, No. 90 overall: Trey McBride, TE, Colorado State
Round 4, No. 131 overall: Cordale Flott, CB, LSU
Round 4, No. 143 overall: Danny Gray, WR, SMU
With the 2022 NFL draft just a few days away, draft boards have changed since then. That means to get the best value, the organization needs to change things up a bit in this Tennessee Titans mock draft 2.0.
Round 1, No. 26 overall: Jahan Dotson, WR, Penn State
If either of the premier offensive guards — Zion Johnson or Kenyon Green — were available at No. 26 in this Tennessee Titans mock draft, the team would happily take them. Alas, that is not the case, so the Nashville squad goes with Penn State wide receiver Jahan Dotson. 
The AFC is an arms race these days, and the Titans need to figure out a way to keep up. They already have a top 10 WR in A.J. Brown and signed Robert Woods in the offseason. Woods is coming off an ACL injury, though, and who knows when he'll be ready. 
Dotson is an explosive playmaker at 5-foot-11, 178-pounds, and 4.43-second speed. He can play inside or out and is a home run threat on any play. Teams were able to scheme it up against Dotson in college, and he still produced 91 catches for 1,182 yards and 13 total touchdowns. Imagine what he can do when defenses have to worry about Brown and Woods, too. 
Round 3, No. 90 overall: Cade Otton, TE, Washington
The Titans don't have a second-round pick this year because of last season's Julio Jones deal. That means the team no longer has a shot at the top tight end, Trey McBride, in this Tennessee Titans mock draft. However, Washington's Cade Otton is a fine consolation prize. 
Otton is a 6-foot-5, 347-pounds who played four years for the Washington Huskies. He caught 91 balls for 1,026 yards and nine touchdowns in college. This isn't elite production, but after a solid sophomore season, the team struggled with QB issues this season. 
What Otton does have is all the physical tools needed to excel as an NFL TE. He's quick with good straight-line speed, an excellent route-runner, and has dependable hands. He's also a good blocker for the position, which the run-heavy Titans will appreciate. 
Round 4, No. 131 overall: Jamaree Salyer, OL, Georgia
In this Tennessee Titans mock draft, the team helps Ryan Tannehill out with weapons with its first two picks. With the next pair, it's time to help the embattled QB out with some added protection upfront. That starts with Georgia offensive lineman Jamaree Salyer. 
Salyer played tackle in college, but at 6-foot-3, 321-pounds, with 33 5/8-inch arms, he projects as a guard in the NFL. However, he could play right tackle at the next level as well, and, low and behold, the Titans have a need at both positions. 
Salyer is inconsistent, but he's a winning player with legit NFL size. At worst, he should be a high-end backup who can fill in at any OL position in a pinch. With the right development, he could be a solid starter. 
Round 4, No. 143 overall: Andrew Stueber, OL, Michigan
The offensive linemen keep on rolling in Round 4 of this Tennessee Titans mock draft as the team takes Michigan's Andrew Stueber here. The 6-foot-7, 325-pound Wolverine, like Jamaree Salyer, has a chance at either guard or right tackle at the next level. 
Stueber is a balanced run and pass blocker but can improve at both skills, especially when dealing with power rushers off the edge. However, his floor should also be as a good swing tackle or backup guard with his size and skill. 
With Tannehill in place for at least one more season, protecting him is critical, and drafting O-line depth with two fourth-round picks will be critical for the Titans' offense in the 2022 season. 
All stats courtesy of Sports Reference