Tennessee Titans All-Pro Safety Kevin Byard Touts Mike Vrabel for Coach of the Year and Explains How He's Exactly Like Bill Belichick: 'With That New England Mindset, It's Easy for Guys to Buy In'
The only team in the AFC with eight wins through 10 weeks is the Tennessee Titans. Head coach Mike Vrabel has guided the team through the season's storms — from losing to the New York Jets to losing their best player — with great skill. Some of these skills he picked up from his time with Bill Belichick according to Vrabel's All-Pro safety Kevin Byard. The defensive back also says the coach deserves an award for the masterful job he's doing in 2021.
The Tennessee Titans are the hottest team in the NFL right now
When the clock hit 0:00 in overtime of the Week 4 Tennessee Titans vs. New York Jets game, the scoreboard showed an unfathomable 27-24 loss to the lowly Jets. After a Week 1 beatdown by the Arizona Cardinals, that loss put the Tennessee Titans' record at a disappointing 2-2.
Since that day, the Titans have turned it on and never looked back.
Tennessee has won six in a row This includes victories against possible playoff teams like the Buffalo Bills, Kansas City Chiefs, Indianapolis Colts, Los Angeles Rams, and New Orleans Saints.
The last two wins against the Rams and Saints have come without their superstar running back Derrick Henry. The All-Pro back — who is still tied for the rushing yards lead even after missing two-plus games — will be out injured for what looks like at least the rest of the regular season.
Much of the credit for the Titans' ability to keep winning games in the face of adversity should go to the former Pittsburgh Steelers, New England Patriots, and Chiefs linebacker who is now the team's head coach, Mike Vrabel.
Vrabel is now in his fourth season at the helm in Tennessee, and he hasn't had a losing season yet. This is thanks, in part, to the lessons he learned from Bill Cowher and Bill Belichick. Vrabel built a team that plays to its strengths. The Titans run the ball, play defense, and allow journeyman quarterback Ryan Tannehill to manage the game.
The imposing 6-foot-4, 260-ish-pound former All-Pro has built the Titans into a perennial playoff team. And, this season, the Titans are a true Super Bowl contender.
He's also done it without the fanfare of the NFL's coaching darlings like Andy Reid, Sean McVay, and Sean Payton.
All-Pro safety Kevin Byard says Mike Vrabel should win Coach of the Year
Tennessee Titans safety Kevin Byard knows about being overlooked and underappreciated.
A third-round pick in 2016 out of Middle Tennessee State, Byard made the Pro Bowl and All-Pro team in 2017. Since then, he hasn't been back, despite being one of the best safeties in the league. This season, his 90.5 PFF grade makes him the best safety in the NFL.  
The quiet star joined the Rich Eisen Show following the Titans' 23-21 Week 10 victory over the Saints. Byard told the host that, as far as he's concerned, Mike Vrabel is the NFL's 2021 Coach of the Year:
This is my opinion. And he might be a little bit mad that I'm gonna say this, but I think he should be up for Coach of the Year. Just the job he's done this year with the injuries we've had, with all the different moving parts that we've had. To keep the team, keeping us all together, keeping us locked-in, he's got my vote for Coach of the Year for sure.

Kevin Byard on Mike Vrabel for Coach of the Year
Eisen agreed with Byard. The host told the safety that when he did his mid-season awards, he had Vrabel as the best coach in the NFL this season as well, despite the "national media that doesn't pay attention" to Vrabel, Byard, and the Titans.
Byard also shared that one of the things that got Vrabel in contention for this prestigious award is a style he stole directly from his former coach Bill Belichick's playbook.
Vrabel learned his approach to game-planning from Bill Belichick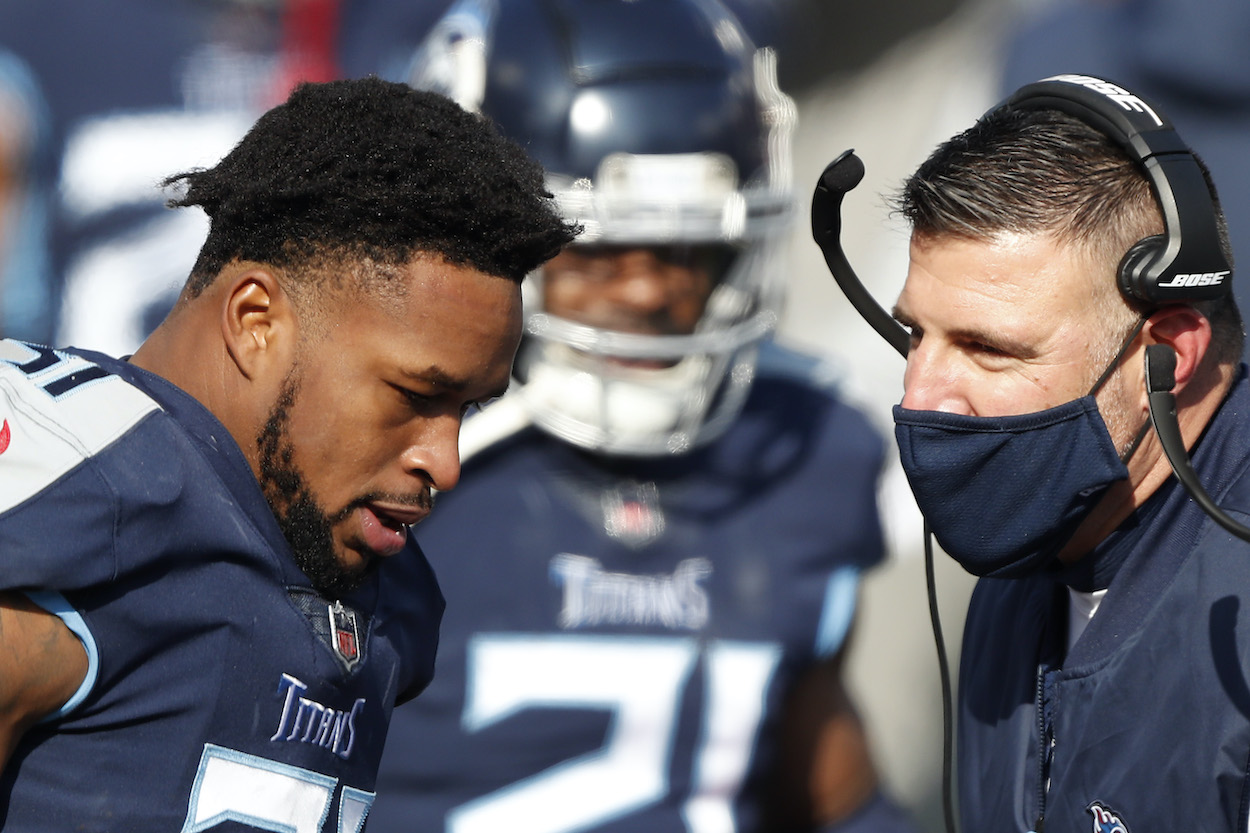 Mike Vrabel was a 1997 third-round pick out of Ohio State for the Pittsburgh Steelers. He started his career playing for Bill Cowher.
After 51 games and no starts, the linebacker signed with the New England Patriots in 2001. That's where he became a star.
Under Patriots head coach Bill Belichick, Vrabel played 125 games, starting 10 from 2001 to 2008. During this time, he produced 606 tackles, 48.0 sacks, 55 tackles for a loss, five fumble recoveries, and 11 interceptions. As a goal-line tight end/fullback, Vrabel even caught eight touchdowns for the Pats.
In 2007, Vrabel made the Pro Bowl and All-Pro teams. He also won three Super Bowls (2001, 2003, 2004) in New England.
During Kevin Byard's appearance with Rich Eisen, the star DB shared what Vrabel picked up from his accomplished mentor:
[Vrabel] coming up under Bill Belichick with that New England mindset, it's easy for guys to buy in. And he does a great job every single week. Like I said, he treats every single week differently. Obviously, we do have the similar same team messages, which is playing with great effort and all those types of things, but every week is different. He does a great job early in the week preparing us and getting out minds locked in for each opponent.

Kevin Byard on Mike Vrabel learning from Bill Belichick
Not sticking with a single scheme or a "my way or the highway" approach to game-planning is a Belichick hallmark. Now, Vrabel is carrying on that tradition as he looks to build a dynasty in Nashville just like his mentor did in Foxborough.
If you're someone who finds this type of teacher-student relationship between coaches fascinating, get ready for Week 11 when Vrabel and Belichick will face-off in a game in Massachusetts that will have major AFC playoff implications.
All stats courtesy of Pro Football Reference