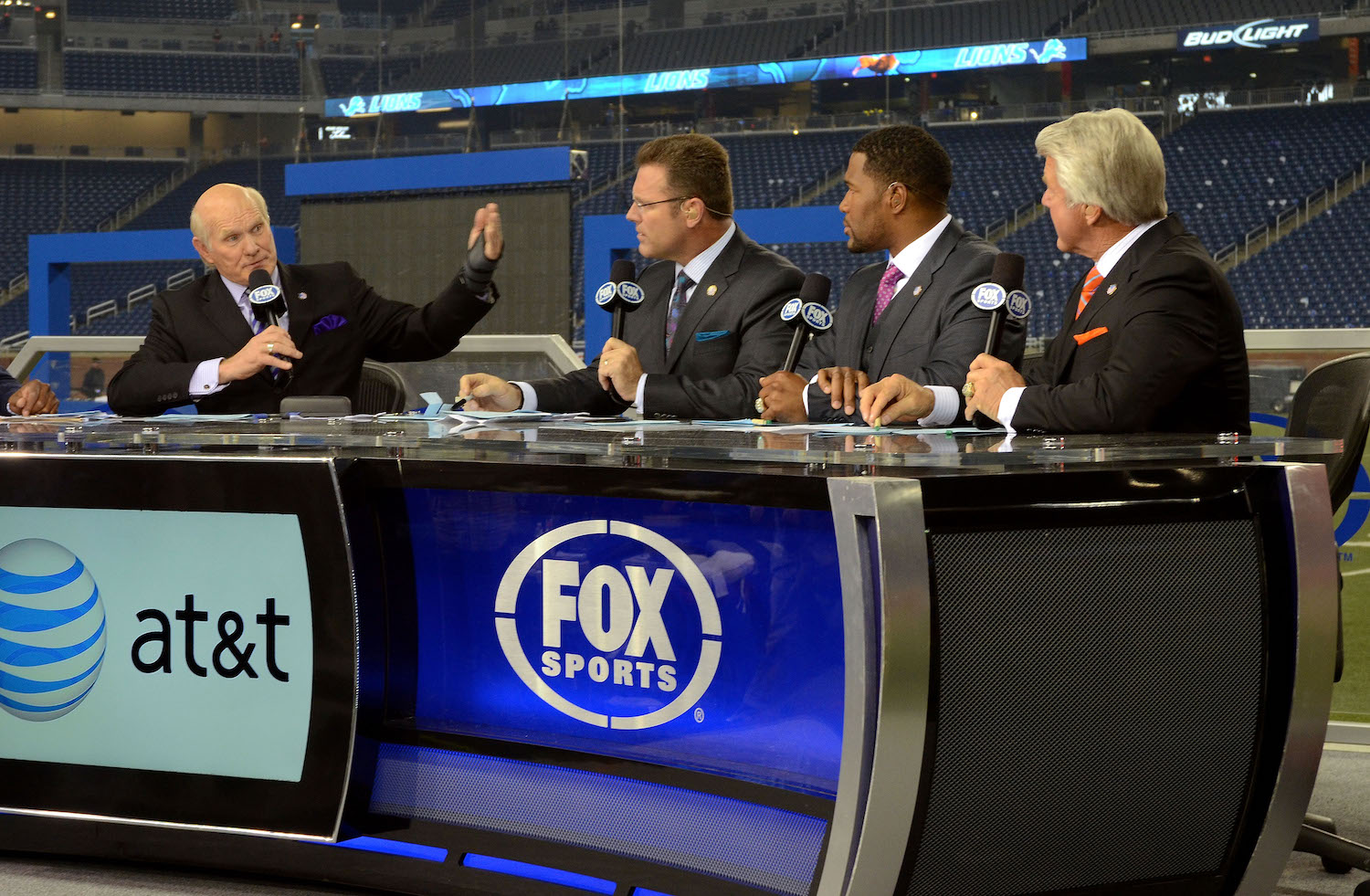 Terry Bradshaw Doesn't Hold Back and Calls Out Aaron Rodgers for Wanting More Involvement in Personnel Decisions: 'Just Play Football, Aaron'
Terry Bradshaw called out Aaron Rodgers on the Fox NFL pregame show, suggesting the quarterback should focus on doing his job better and not worry about personnel decisions.
Terry Bradshaw isn't one to shy away from sharing his opinion. That's what he gets paid to do on Fox Sports in the network's NFL coverage. During the first pregame show of the 2021 season, the Hall of Fame quarterback came out swinging, taking aim at future Hall of Fame quarterback Aaron Rodgers and calling him out for his desire to be involved in personnel decisions.  
Aaron Rodgers talks about wanting more influence in personnel decisions
After a tumultuous offseason in which Aaron Rodgers was rumored to be returning to Green Bay, retiring, or on the trading block, the defending NFL MVP sat down for an interview with Erin Andrews during the Fox NFL Sunday pregame show and addressed the past offseason and his future. 
Andrews mentioned that the last time she saw the quarterback at Lambeau was when the Packers lost in the NFC Championship to Tom Brady and his "recruited team of All-Stars." She pointedly asked Rodgers if Brady's successful recruitment of players to Tampa inspired him to voice his desire to do the same. 
"No, it's been years, a decade of having conversations and wanting to have a greater impact on what goes on here," Rodgers admitted. "My whole point was nobody knows the squad like I do. Nobody knows the locker room like I do. Nobody knows the way the guys respond in clutch situations on the field like I do. How about I have a greater opportunity to speak to some of those decisions?
"I didn't think for a guy who probably might have a name up here (Lambeau) at some point that that was maybe fair for what I've accomplished here. I don't care about credit or fears you might have around giving me more of a voice. I care about winning and about leaving this organization better than I found it. I wanted to make sure I was involved in those conversations moving forward if they wanted me here. So there's a lot of unknowns. I just want to be happy. That's why I'm going to enjoy this season." 
Terry Bradshaw calls out Aaron Rodgers
Following the Andrews interview with Rodgers, new Hall of Fame inductee and former Dallas Cowboys coach Jimmy Johnson offered his thoughts on the situation. He detailed how when he was in charge of the Cowboys, Troy Aikman sat down with Norv Turner before the organization hired him as the offensive coordinator. He said he also encouraged several of his players to contact San Francisco 49ers players when the team was pursuing Charles Haley. Johnson suggested that Rodgers should be consulted for personnel decisions.
Terry Bradshaw completely disagreed with Johnson and vehemently expressed why.  
"His job was to get a touchdown on third down last year in the NFC Championship Game," Bradshaw said. "His job is to play better. He's got them in the playoffs. Win those games. That's his job. They have a good football team. So just play football, Aaron. I don't agree. I don't think I could go to (Fox Sports executives) Bill Richards, or Eric Shanks, or anybody else at Fox and say, 'I want this. I want that.' My job is to do my job and do it better than I've ever done it before." 
"He was the MVP by the way," show host Curt Menefee interjected.
"I don't care what he was," Bradshaw sharply replied. 
"But you said play better. How much better can he play?" Menefee countered. 
"Well, he could have scored a touchdown on 3rd-and-8. That's what he could have done," Bradshaw said. 
Terry Bradshaw questions Tom Brady's greatness
Aaron Rodgers isn't the first and certainly won't be the last quarterback in Terry Bradshaw's crosshairs. Interestingly, the former Steelers great questioned Tom Brady's greatness during an interview with a Pittsburgh radio station last year. 
"I don't think he's the greatest quarterback of all time," Bradshaw said. "It's hard to say. He may be the best quarterback we've had in the last 30 years. Is he better than [Roger] Staubach? No. Is he better than Dan Fouts? No. Dan Marino? No. I'm talking talent-wise when you're putting all of it together.
"Does he have more Super Bowls than anybody? Yes. Therefore, he's the best. I absolutely have no problem saying it. If you've got the most Super Bowls, you can be in there, but I don't put anybody as the greatest of all time. Is he better than Montana? Not in my opinion. Is he better than Drew Brees? Yeah, maybe."
Terry Bradshaw will be remembered as one of the greatest quarterbacks in NFL history. He won't be remembered for his takes on the greatest quarterbacks in NFL history. 
Like Sportscasting on Facebook. Follow us on Twitter @sportscasting19.