Rodney Harrison Defends Former Teammate Tom Brady While Calling Out Current NBC Teammates Tony Dungy and Drew Brees During Pregame Show
Tom Brady is undeniably the GOAT. Early on during his ascension to the top, Rodney Harrison won a pair of Super Bowl titles with Brady before retiring and moving over to NBC's NFL coverage. On Thursday night during the pregame show before the 2021 NFL season opener with the Tampa Bay Buccaneers hosting the Dallas Cowboys, the former All-Pro safety went out of his way to defend his former signal-caller on the broadcast and called out his current NBC teammates Tony Dungy and Drew Brees in the process. 
Rodney Harrison won a pair of Super Bowls with Tom Brady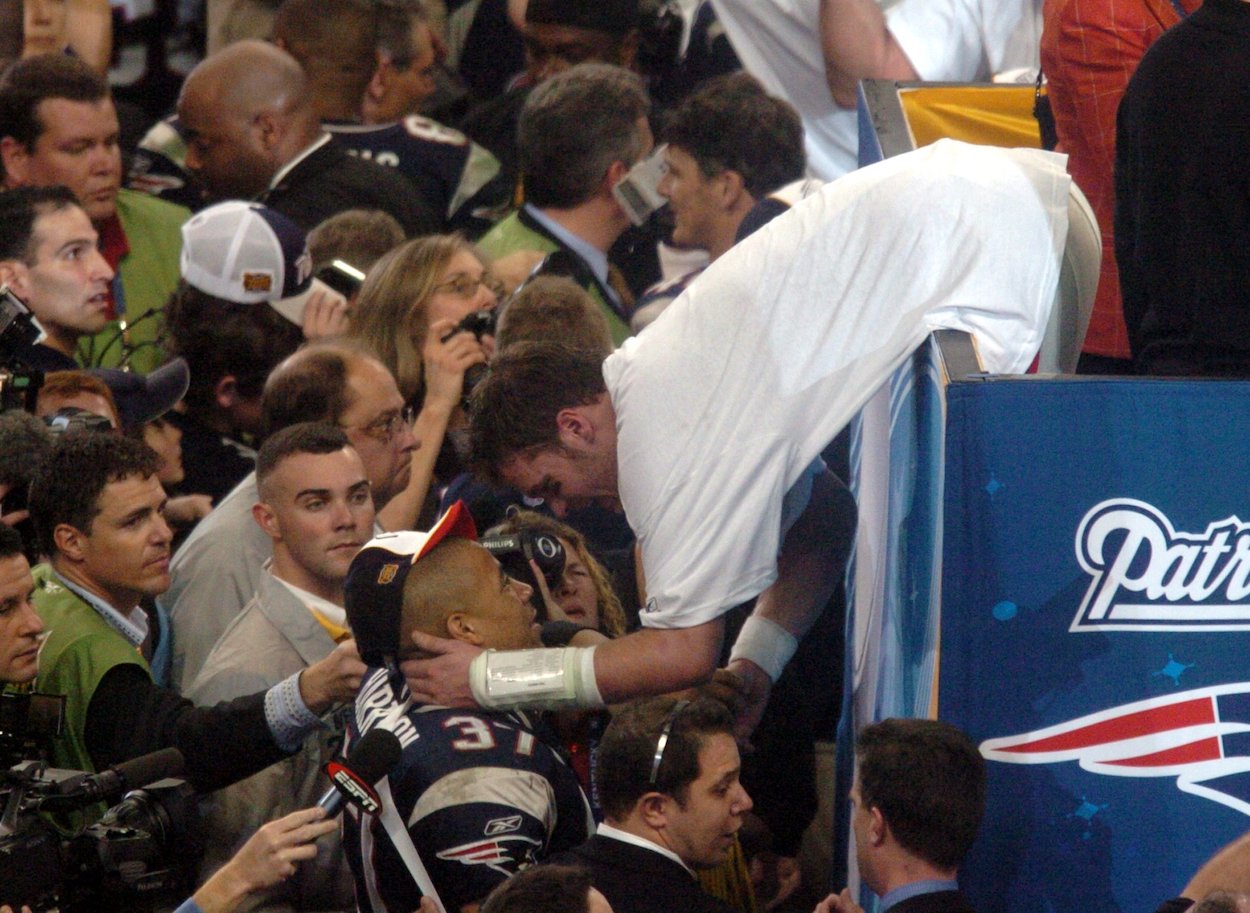 Rodney Harrison had one of the best years of his career in 2003 when he joined the New England Patriots and Tom Brady. The safety earned his second first-team All-Pro nomination and won his first Super Bowl title (Brady's second). 
Harrison earned second-team All-Pro honors the following season, and more importantly, he and Brady led their respective units back to the top and claimed back-to-back Vince Lombardi trophies. 
The safety remained with the Patriots for the next four seasons, but injuries limited his time and effectiveness. He retired after 2008 and joined NBC's NFL coverage the following season.   
Harrison defends Brady and calls out Drew Brees and Tony Dungy in the process  
On Thursday night during NBC's pregame show before the season opener featuring Tom Brady and the defending Super Bowl champion Tampa Bay Buccaneers hosting the Dallas Cowboys, Harrison talked about his relationship with Brady and recalled a recent conversation he had with the GOAT. 
"He is super competitive, and he's always looking for something to motivate him," Harrison said. "I'm at home chilling, minding my own business, and he calls me on Facetime while he's getting worked on. He's getting stretched and everything. He starts yelling and screaming at me, talking about, 'You didn't believe in me. You didn't believe me. You didn't pick me to win.' I'm like, 'Tom, what are you talking about? I did pick you to win. I won two Super Bowl rings with you. What are you talking about?' He's still yelling at me. And after a while, he shuts up. I look at him. He looks at me, and we just say we love each other. It doesn't matter if it's a former teammate, somebody in the media; he remembers if you say anything negative about him."
Then Harrison recalled an earlier conversation in the broadcast and called out two of his broadcast partners. 
"This dude is something else. I would never bet against Tom Brady," he said. "I'm not like Drew Brees and Tony Dungy saying that they're not going to repeat. I picked Tom to repeat. You hear it right now."
Tom Brady delivers against Dallas Cowboys
Rodney Harrison watched Thursday night's matchup in Tampa Bay with a smile on his face. That's because the former safety watched Brady do what he's done since 2000 — put up stellar numbers and win games. 
Against the Dallas Cowboys, the future Hall of Fame quarterback finished the night with a Brady-like stat line, completing 32 of 50 passes for 379 yards and four touchdowns. He also had a pair of interceptions, but neither were his fault, including a Hail Mary attempt to close out the first half. 
Harrison watched, along with the 65,000-plus in the stands and the millions at home, as Brady once again orchestrated a last-minute drive in the fourth quarter that ended with Ryan Succop kicking a 36-yard field goal with two seconds remaining to pull off the thrilling 31-29 victory.
Minutes after winning in the postgame interview, Brady talked about the victory and how the team had a lot of room for improvement. He's never satisfied and always looking for ways to motivate. Rodney Harrison experienced this firsthand as his teammate. And he knows that's why you never doubt Tom Brady.  
Like Sportscasting on Facebook. Follow us on Twitter @sportscasting19.