Rodney Harrison Surprised by the Patriots Cutting Cam Newton but Understands Why
Rodney Harrison spent the last six years of his 15 NFL seasons with the New England Patriots. The NBC Sports football analyst has gone from playing for Bill Belichick to scrutinizing him in the booth. Belichick had said during camp that Cam Newton was his starting quarterback, and rookie Mac Jones would be brought in if needed.
The Patriots cut Newton last week. Even Harrison, who said he believed Jones should start, was surprised by the move, although he recently said he understands why it happened.
Rodney Harrison has always believed Mac Jones was ready to be the starter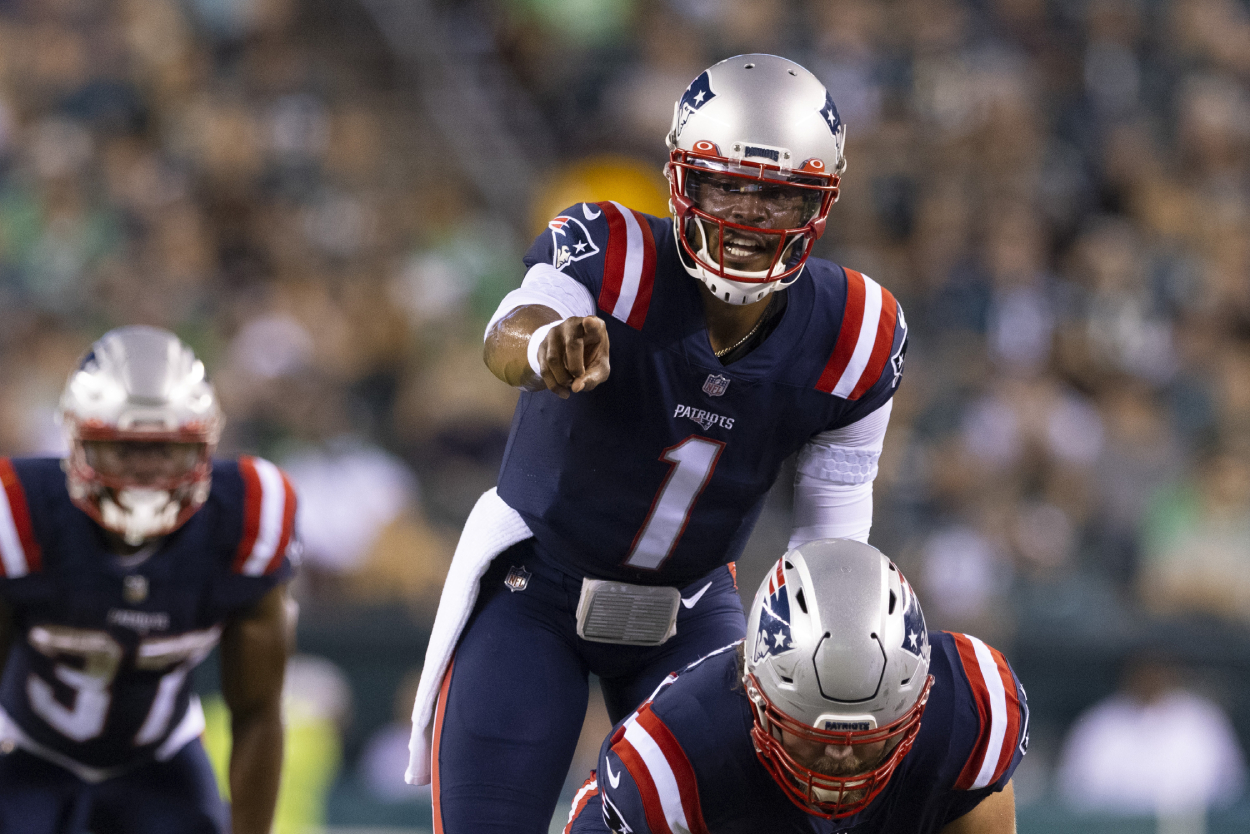 Newton faced pressure after a tough season a year ago when he took over for the departed Tom Brady. Combine that with the Patriots drafting Jones in the first round. Newton was on the hot seat, even though Belichick named him the starting quarterback during camp. That all changed last week when the Patriots unexpectedly released Newton.
Jones applied pressure throughout camp with strong outings. He outshined Newton in the final preseason game by completing 10 of 14 passes for 156 yards and a touchdown. Newton completed two of five passes for 10 yards. He also had an interception.
"I think first and foremost, I believe, and I said it the entire time, that I felt like Mac Jones was ready," Harrison said on an NBC conference this week, according to WEEI. "That he was everything that the Patriots wanted and needed as a quarterback."
Rodney Harrison said he understands why Cam Newton was released
Harrison admitted he was surprised when he found out the Patriots released the former NFL MVP. Despite the initial shock, he said he understood why the team made the move.
"Now, did I think that Cam was going to get cut? No, but I understand why," he said. "Number one, maybe it's because he wasn't vaccinated, and that has to be a concern with most teams, with all teams. If your leader, if your quarterback is not vaccinated, it's going to affect the dynamic of the team. But I thought Coach Belichick, everything that he preached as far as doing what's best for the team, making every guy earn his spot."
Whether or not vaccination, or lack of, played a role in Newton's release, the former Pro-Bowl defensive back said there was another reason that ultimately decided Newton's fate.
"When you have a young guy like Mac, you don't want a 10-year veteran or however many years Cam had played behind him looking over his shoulder, and I think that was ultimately what led to Cam's demise," he said. 'But Cam will be fine. He's made a lot of money. He's done some wonderful things in his career."
Harrison says Jones is Tom Brady-like
The Patriots re-signed Newton to be the bridge quarterback until Jones was ready. Apparently, Jones crossed that bridge with his performance in the Patriots' 22-20 win over the New York Giants last week. The Patriots clearly saw enough in Jones to make the decision to set Newton free.
Harrison said Jones reminded him a lot of Brady.
"I think when I watch him play, sometimes I sit back and say, 'What if that zero that's on his jersey was a 2?' he said. "Then he would look just like Tom Brady. He would look just like a young Tom Brady. The fact that they had so much trust in him early, to put him in a no-huddle, to give him different things, their offense was never limited with Mac Jones."
Harrison did say he was a bit surprised and disappointed in Belichick's decision in camp to crown Newton the starter.
"I was disappointed earlier with Coach Belichick when he said Cam Newton was going to be the starting quarterback," he said. "I didn't believe that because I believe everyone should compete, and that's exactly what he promised when I came in in 2003. He puts up a chart and says, hey, you make the depth chart. It's not about giving someone a job. It's about earning a job."