Micah Parsons Makes It Clear He's Not Happy With Dallas Cowboys Defensive Coordinator Dan Quinn in Debut Episode of HBO's 'Hard Knocks'
Dallas Cowboys first-round draft pick Micah Parsons made an impressive debut in limited action during the Hall of Fame Game on Thursday night. The first episode of HBO's Hard Knocks prominently featured Parsons, including his first action for the Pokes. That footage included an exchange between the rookie linebacker and new defensive coordinator Dan Quinn, where the youngster made it perfectly clear he was not happy with his coach's decision. 
Micah Parsons impressive in Dallas Cowboys debut
With HBO's Hard Knocks covering the Dallas Cowboys this preseason, it only made sense that the first episode would feature the No. 12 overall pick in the 2021 NFL Draft in linebacker Micah Parsons. And it did. 
Several minutes of footage showed Parsons running all over the field, making tackles, and disrupting the Pittsburgh Steelers offense. 
"Micah Parsons, the Cowboys' first-round draft pick, looks every bit a lion, ranging sideline to sideline," the narrator said. "There's no hype tonight, just hitting."
"Micah Parsons has been all over the place," Joe Buck said. 
"That young man is always around the ball," head coach Mike McCarthy said over the headset. 
For the night, in just a quarter of action, Parsons registered three tackles and recovered a fumble.
Parsons not happy with new defensive coordinator Dan Quinn
After showing Parsons on the field, the cameras followed him to the sideline, and shifted the focus up to the press box and new Cowboys defensive coordinator Dan Quinn, who communicated down to the sideline that he wanted to talk with his young linebacker.
When Parsons found the phone, the pair talked about a particular play and what the linebacker could have done differently. At the end of the conversation, the rookie asked a question of his coach.
"Can I get one more?" he asked, wanting to play one more series.
"Nope, that's it for tonight," Quinn responded, matter-of-factly.
"I'm just like getting warmed up, adjusted," he pleaded.
"Yeah, me too," the coach replied. "So, that's it. Alright." 
"That was not enough," Parsons countered. 
"I agree," Quinn affirmed. "But we get an extra one, so we get plenty next week."  
"Yeah," he said to his coach before disappointingly hanging up the phone. 
"This sucks," Parsons said as he sat on the bench next to Leighton Vander Esch. "I was just starting to feel comfortable."
"He wouldn't let you play anymore? Did you ask him?" Vander Esch questioned. 
Parsons shook his head, and Vander Esch let out a big laugh. 
Parsons could be a big reason for Cowboys turnaround in 2021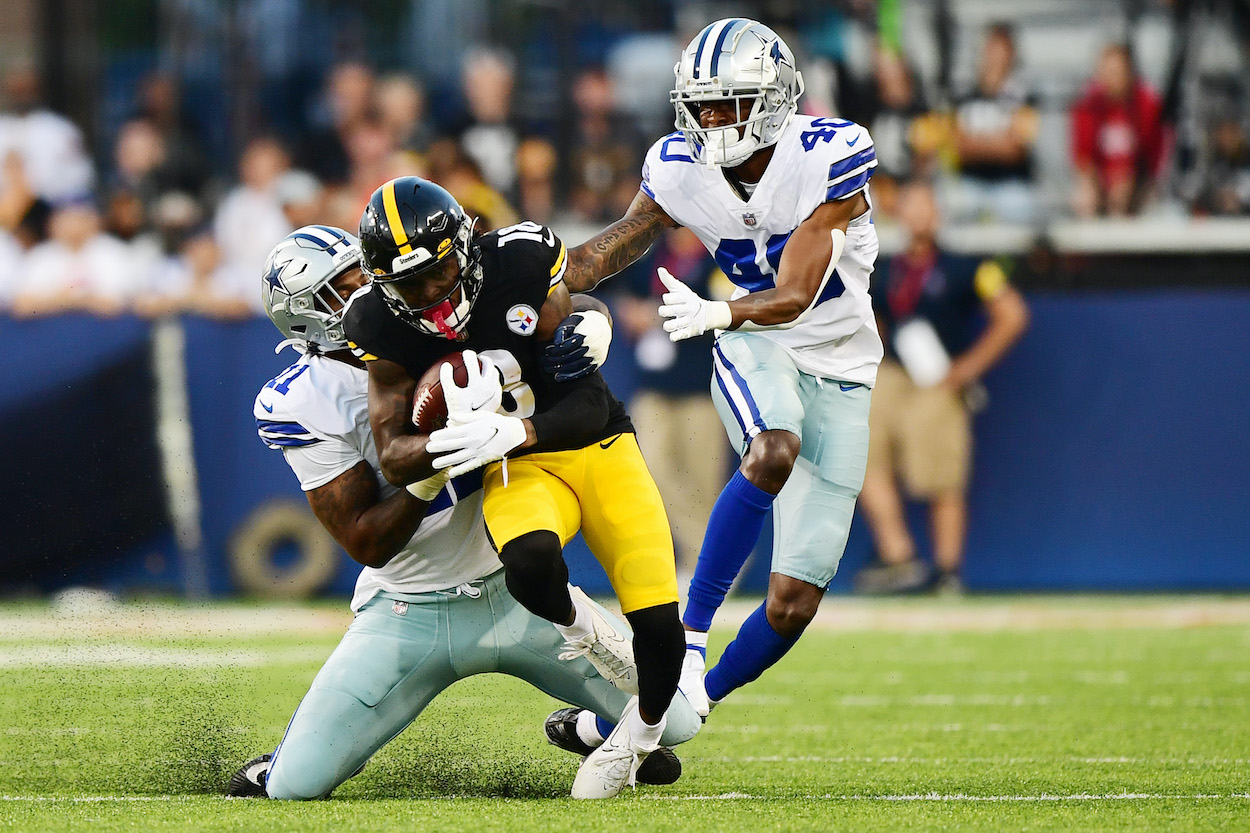 Dan Quinn knew his first-round draft pick was not happy. That burning desire of his new player made the veteran coach happy. Quinn understands that Parsons and the defense will be key to turning around the Cowboys in 2021. 
Last season, the defense was one of the league's worst, allowing 158.8 yards per ground (second worst) and surrendering 29.6 points per game (fifth worst). 
Those disastrous numbers and a 6-10 record are why Quinn was hired and the Cowboys took defensive players with their first six picks of the draft. 
If Parsons' mentality permeates into the rest of the Cowboys defensive unit, and Dak Prescott and the Dallas offense return to form, the Silver and Blue should contend for the NFC East and who knows how far they might go in the playoffs. 
Like Sportscasting on Facebook. Follow us on Twitter @sportscasting19.