Aaron Rodgers Gets Antagonized by Packers Front Office Again as They Cut Another Favorite Target
When Green Bay Packers quarterback Aaron Rodgers returned to Wisconsin after his summer of discontent, it seemed like everything would be OK. He jumped right into practice, and after airing his specific grievances in an epic press conference rant, he seemed ready to put his offseason issues behind him.
However, the QB's feud with the front office reared its ugly head once again on NFL cut-down day when the team cut a player Rodgers went out of his way to praise, just like they did in 2020 to ignite this entire mess.
Aaron Rodgers has beef with the Green Bay front office
When Aaron Rodgers finally reported for the 2021 NFL season after months of "will he or won't he" questions, one of the first things he did was get some things off his chest. The wayward QB stepped up to the mic at the Packers facility, and a reporter asked, "What was this all about, for you?"
The next 30 minutes were pure gold.
Among his issues with the Green Bay front office was that he wanted to be "more involved in conversations directly affecting my job." He also said the organization made "mistakes in the past" releasing "high character" players who Rodgers thinks should have stayed with the team.
Rodgers went into greater detail about exactly what he was upset about, but the main themes were the same. The front office didn't ask for or listen to his opinions enough, and general manager Brian Gutekunst and company got rid of players who could still help the team.
A perfect example of Rodgers' issues with the powers that be in Green Bay was the saga of Jake Kumerow. In a radio interview during training camp in 2020, Rodgers praised the former Division II wide receiver. He called him a "solid performer" and a "fantastic, steady player." Hours after the public praise, the Packers cut Kumerow in a move that reportedly seriously upset Rodgers.
After the press conference, Rodgers seemed to put his personal beef with Gutekunst behind him as he went back to work. He even laughed when a reporter made a joke about a young tight end named Bronson Kaufusi, who Rodgers liked, potentially ending up in Buffalo just like Kumerow did last season.
Then the Packers did the unthinkable.  
GM Brian Gutekunst once again cut a player Rodgers praised
Bronson Kaufusi started his career as a third-round draft pick of the Baltimore Ravens in 2016. At that time, he was a defensive end out of BYU. After several unproductive years rushing the passer with the Ravens and New York Jets, the 6-foot-6, 275-pound Utah native switched to tight end, per the Deseret News.  
The Packers signed Kaufusi at his new position, and in training camp, the converted defensive player caught Aaron Rodgers' eye:
For me to still be playing, to still have these relationships, to grow relationships with guys … Part of what I love is getting to know these other guys. Our tight end, Bronson Kaufusi, I love him.

Aaron Rodgers on Bronson Kaufusi
That's high praise from a guy like Rodgers, who obviously values character and chemistry as much as pure talent or fit. So to keep Rodgers happy during what might be his last season in Lambeau, Gutekunst made sure he kept Kaufusi, right?
Wrong.
The Packers announced Tuesday that they released Kaufusi, which Rodgers had to see as a direct slap in the face.
The team got lucky, and no one claimed the former Cougar. The Packers signed him for the practice squad. While this might seem like a silver lining, it actually makes the front office look even worse.
They clearly think the tight end is good enough to be involved in the organization. However, they couldn't just let Rodgers have him. Gutekunst had to expose him on waivers, and the team almost lost another favorite of its already unhappy QB.
The Packers are going to have a drama-filled 2021 season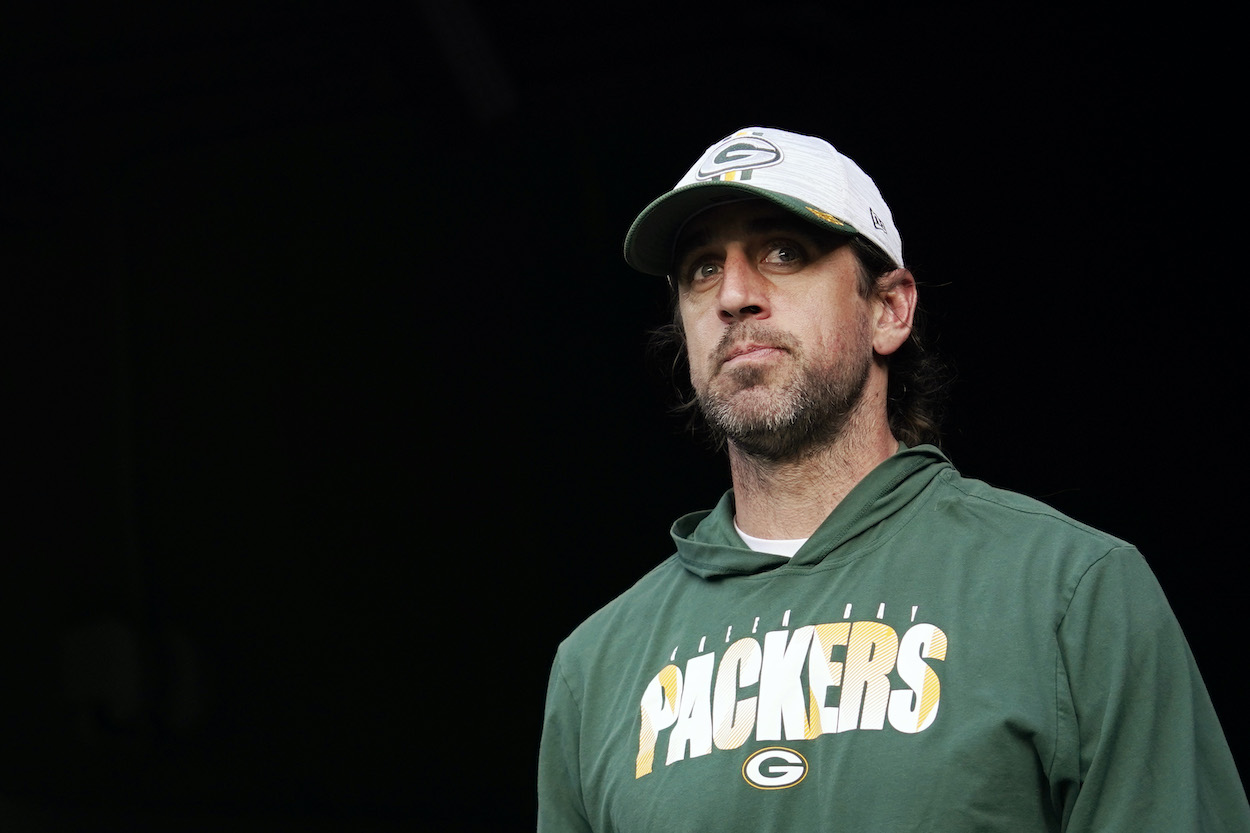 How a team will fare during an NFL season is one of the hardest things in the world to predict. What does look certain for the 2021 Green Bay Packers is that there will be more drama before the clock hits 0:00 on the coming season.
Both Aaron Rodgers and Brian Gutekunst have now clearly demonstrated a strong contempt for one another. The QB has said it with his words, and the GM has shown it with his actions.
There is little to no chance that this doesn't bleed into the season in some way. Whether this ongoing conflict manifests itself through a thinly veiled shot taken by Rodgers after a big win or Gutekunst failing to listen to a request from Rodgers at the trade deadline, it will come up again.
In other sports, this kind of tension can produce success. The Bronx Zoo Yankees and the Kobe Bryant/Shaquille O'Neal Los Angeles Lakers are perfect examples of this. However, in football, it's a different story. NFL teams live in fear of the dreaded "D-word": distractions.
The Rodgers/Gutekunst feud is a capital-D Distraction, and it will not turn out well for the 2021 Packers. Chances are, Rodgers' last season in the Green and Gold will be a messy one.
But it sure will be fun to watch!
Like Sportscasting on Facebook. Follow us on Twitter @sportscasting19