Aaron Rodgers Had Some Anxiety and Admits Returning to Packers Camp Felt Like the 'First Day of School'
There were admittedly some nerves for Aaron Rodgers when he reported to the Green Bay Packers after some offseason drama. Although he appeared calm and cool in front of the media, he had some flashbacks to his younger days. Rodgers, the reigning MVP of the NFL, recently said returning to the team felt like "the first day of school."
Aaron Rodgers back with the Green Bay Packers for at least another year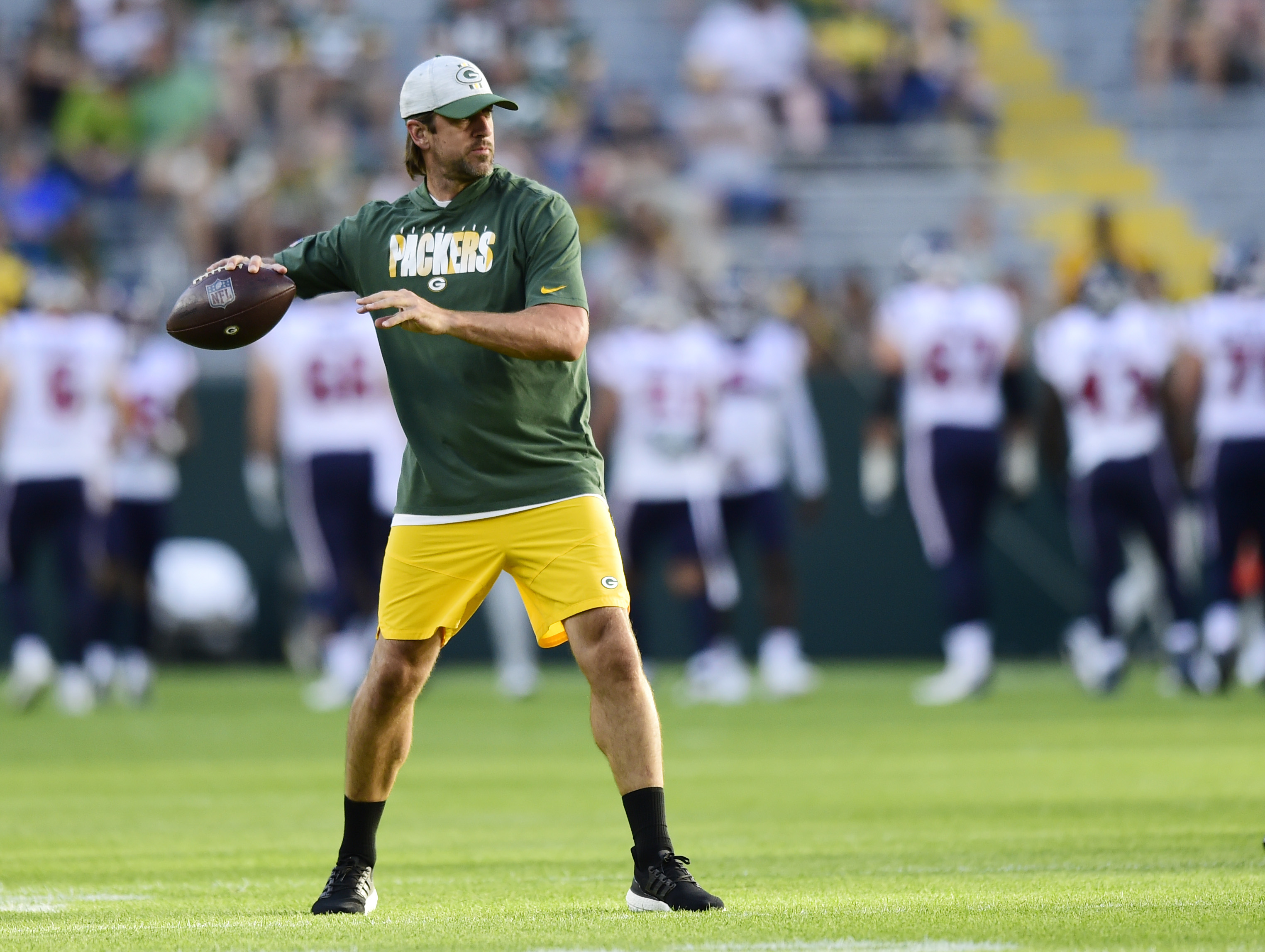 Rodgers made waves this offseason after Adam Schefter reported the quarterback had told some within the organization he did not want to return to the team. The first sign of problems between Rodgers and the team took place on draft day 2020 when GM Brian Gutekunst traded up to select Jordan Love in the first round. The pick was one of many front-office decisions that bothered the quarterback.
Rodgers went out and won his third MVP, but then Schefter's report began a dramatic offseason in Green Bay. For the first time in his career, he didn't show up for the team's offseason training activities. He remained quiet and away from the organization for months.
Rodgers attended mandatory training camp and is back with the team — at least for this year. Fox Sports' Jay Glazer reported the two sides have an agreement that if Rodgers wants out of Green Bay after the 2021 season, they'll trade him.
"They have about six months to try and repair that relationship," Glazer said. "If at the end of this year Aaron Rodgers decides he wants out, they have to trade Aaron Rodgers. They have agreed to it already."
Aaron Rodgers said returning to the Packers felt like 'the first day of school'
As cool as Rodgers seemed at his highly anticipated press conference upon returning to the Packers after an ugly offseason, he initially felt like an outsider. Once he saw his teammates, it felt like old times again.
"It was a little strange coming in," Rodgers told former teammate A.J. Hawk on the Pat McAfee Show. "I said yesterday to Jim Rome that it felt like the first day of school, kind of, in a new school. We moved a lot growing up. I went to, I think, seven or eight different schools through high school.
"You know that feeling. It's like, first day, you're almost feel like the new guy, the outsider. I felt a little bit like that walking into the locker room. But then I saw Preston (Smith) and Lucas Patrick and some of the other guys — Oren Burks, my locker buddy. All those nerves and anxiety went away, and I felt a lot better.
"It's different. When you're away from the team for six months, everything feels a little bit different. It's been good to be back with the guys. Everything is like normal again."
Rodgers was his old self when speaking to the media for the first time
Rodgers got six months of frustration out when he spoke with the media during his first press conference since returning to the Packers. He was honest and didn't hold back much, if anything. His main gripe was he wanted to be more involved in some of the team's decisions, especially the ones that directly affect him.
"I just want to be involved in conversations that affect my ability to do my job," Rodgers said.
He also named a few former teammates, including Charles Woodson, Jordy Nelson, and Randall Cobb, who he believed weren't treated fairly as their careers ended in Green Bay.
"I wanted to help the organization, maybe learn from some of the mistakes in the past … and about the way that some of the outgoing veterans were treated," Rodgers said. "And just the fact that we didn't retain a number of players that I felt like were core players to our foundation, to our locker room. High-character guys."
Rodgers is back with the Pack. The awkwardness is over, and he appears to be adjusting just fine.