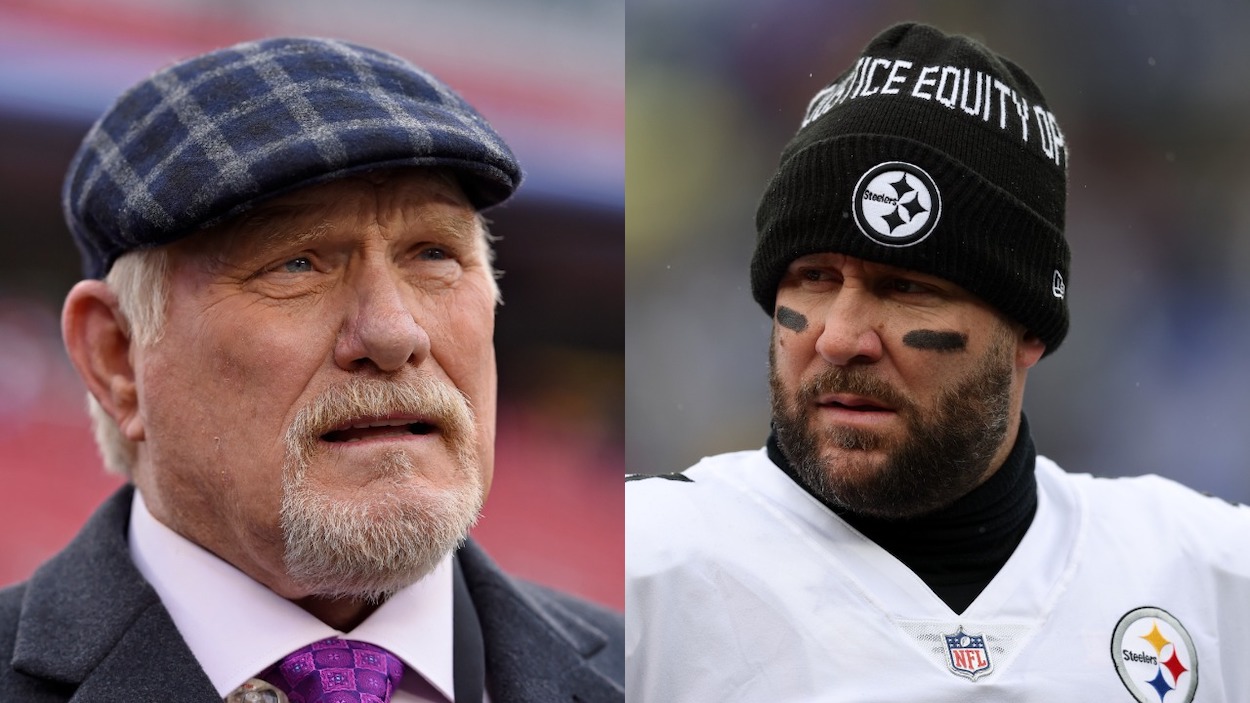 Terry Bradshaw Reveals He Still Doesn't Have a Relationship With Retiring Pittsburgh Steelers QB Ben Roethlisberger: 'I Didn't Lose Any Sleep Over It'
Ben Roethlisberger and Terry Bradshaw are the two best QBs in Pittsburgh Steelers history, but the two still don't have a great relationship.
Terry Bradshaw and Ben Roethlisberger are inarguably the two best quarterbacks in Pittsburgh Steelers history. The two have won Super Bowls, set franchise records, and Roethlisberger will inevitably join Bradshaw in the Pro Football Hall of Fame one day soon. With all those commonalities, it might be surprising to learn that the Steelers QB of the '70s and their QB of the new millennium don't have a good relationship. In fact, Bradshaw can't even get a text returned from Big Ben.
Pittsburgh Steelers legends Terry Bradshaw and Ben Roethlisberger don't have a good relationship
As the two best quarterbacks in the history of, arguably, the most storied franchise in the NFL, you'd think Terry Bradshaw and Ben Roethlisberger would be close, or at least have a respectful relationship.
That's not the case.
In 2017, on the Rich Eisen Show, Bradshaw explained the genesis of the Pittsburgh Steelers greats issues. The Hall of Fame passer told the host that, early in Roethlisberger's career, before he really knew him, he made comments imploring the young QB to stay off his motorcycle. This didn't go over well with Roethlisberger, which Bradshaw blames on the media stirring up trouble.
Bradshaw then talked about "the problems early in his career," referencing the sexual assault allegations against Roethlisberger. "I have two daughters," Bradshaw told Eisen. "Did not hesitate to let him know how I felt about that."
The FOX NFL Sunday analyst also said that, since those issues, the two have seen each other and done interviews, and neither has gone well. Bradshaw paints a picture of Roethlisberger as someone who won't talk much to him. But he will talk about him to the media and only addresses the four-time Super Bowl winner as "Mr. Bradshaw."
In 2020, Bradshaw appeared on The Herd with Colin Cowherd and gave an update on his relationship with Big Ben as the younger QB approached the end of his career.
Bradshaw told Cowherd that he and Roethlisberger had the best interview that year they've ever had together. He said the then-Steelers QB was "relaxed, jovial, fun to be with," despite the pair's issues in the past over "off the field stuff."
The older QB sounded incredibly optimistic at the time about the relationship between himself and Roethlisberger moving forward.
The Steelers QBs still don't have much of a relationship
With Ben Roethlisberger announcing his retirement following the end of the Pittsburgh Steelers 2021 season, Terry Bradshaw once again discussed his relationship with the younger QB on the Rich Eisen Show.
Bradshaw was incredibly complimentary of Big Ben on the field, as he's always been. He labeled Roethlisberger "a great player" with "an amazing career." However, the story gets more complicated when it comes to the pair's relationship.
The FOX analyst again brought up "some struggles off the field early in his career" but noted that he's "got his life turned around" now that he's married with children. Bradshaw then summarized the current state of their relationship for Eisen:
I don't know him, Rich. I don't know him well at all. I mean, I don't know him at all. I did text him a couple of times in the last year. Texted him once this year, congratulating him on his great career. That's it. I mean, that's pretty much it.

Terry Bradshaw on Ben Roethlisberger
The former Sportscenter anchor followed up, asking if he's heard back from Roethlisberger after the texts, to which Bradshaw responded, "no."
Although Bradshaw never got a reply text, he says he "didn't lose any sleep over it."
Sadly for Steelers fans, it seems like the relationship between Bradshaw and Roethlisberger will never be what they'd hope for between the organization's two greatest QBs. However, that doesn't mean these fans can't debate who was the greater Steelers signal-caller.
Was Ben Roethlisberger better than Terry Bradshaw?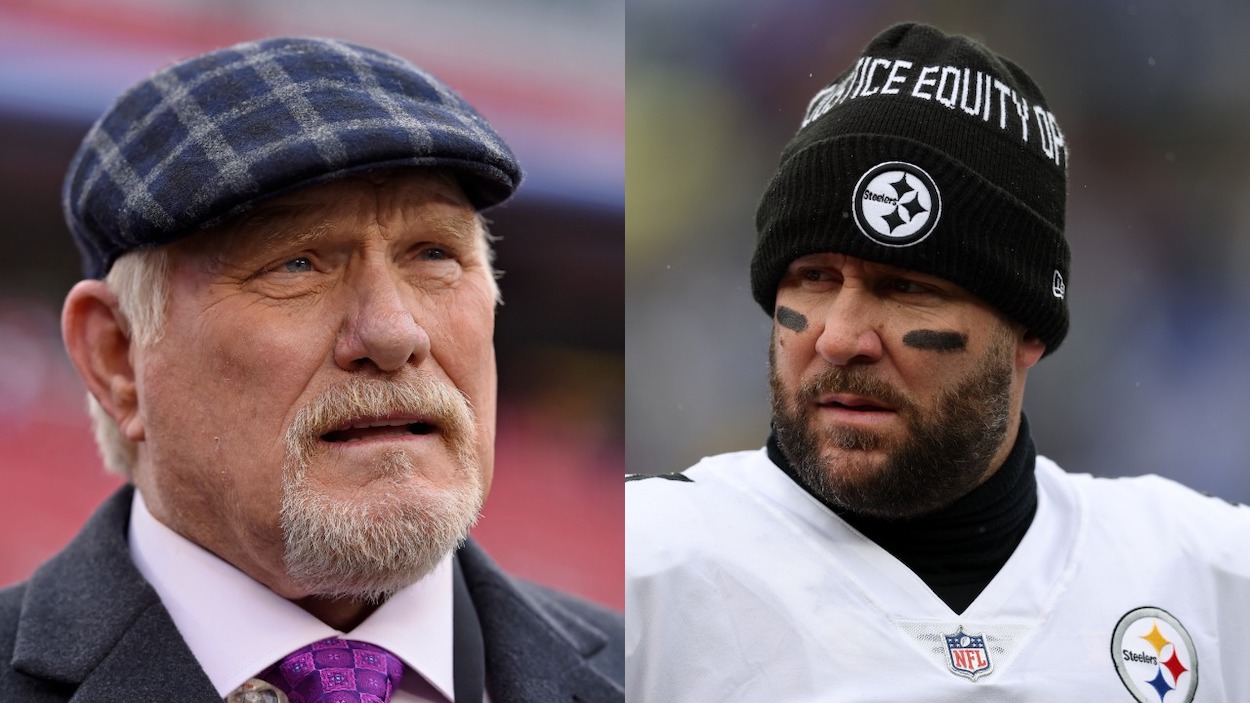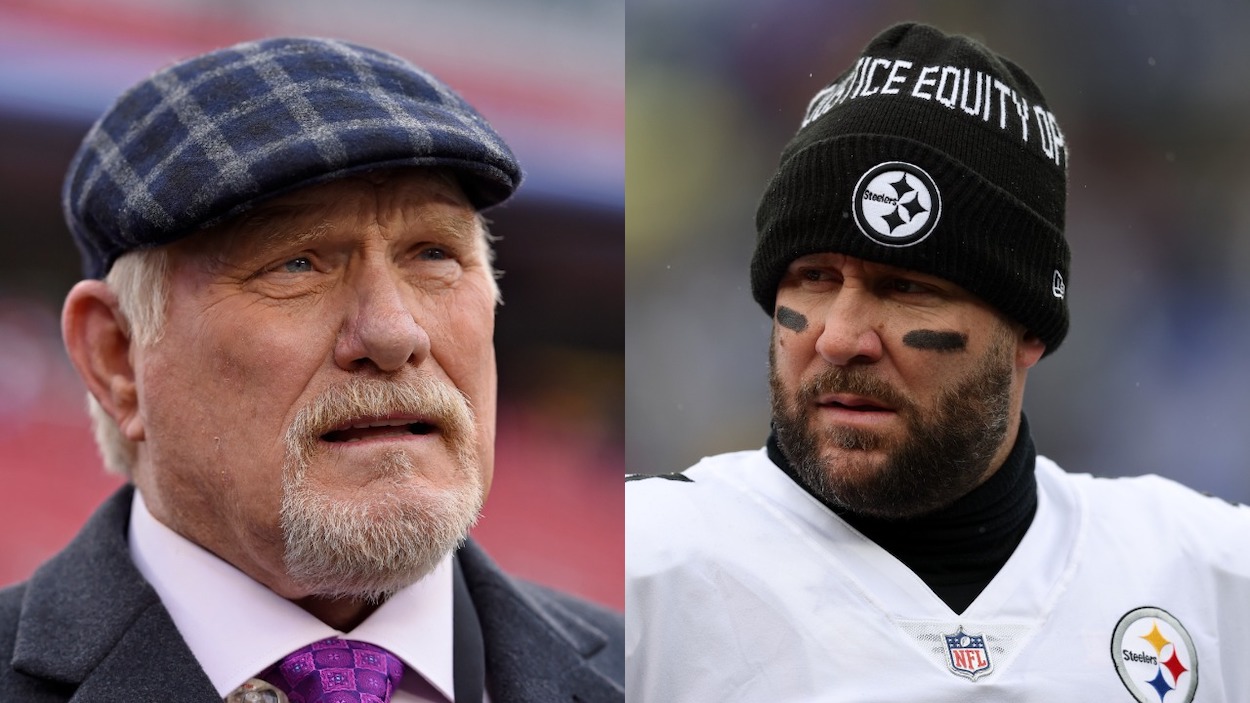 Now that Ben Roethlisberger has officially called it a career, let the great (unanswerable) debate begin throughout the Steel City. Who was the better Pittsburgh Steelers quarterback, Terry Bradshaw or Roethlisberger?
In one corner, you have Blonde Bomber, the leader of the Iron Curtain's offense, the thrower of the Immaculate Reception, Terry Paxton Bradshaw from Shreveport, Louisiana.
Bradshaw won four Super Bowls (1974, '75, '78,' 79), tying him with Joe Montana for second-most in NFL history behind Tom Brady's seven. He played 14 seasons in Pittsburgh, amassing a 107-51 record (14-5 in the postseason). He threw 2,025 completions for 27,989 yards and 212 touchdowns in his career on his way to three Pro Bowls, one All-Pro nod, and the 1978 NFL MVP Award.
In 1989, Bradshaw went into the Pro Football Hall of Fame on the first ballot.
Two decades after Bradshaw retired, the Steelers took "Big" Benjamin Todd Roethlisberger No. 11 overall in the star-studded 2004 NFL Draft. The 6-foot-5, 240-pound passer out of Miami (OH) made an immediate impact. He started 13 games his rookie season, winning all 13. That performance earned him Offensive Rookie of the Year over the likes of Eli Manning, Philip Rivers, and Larry Fitzgerald.
Roethlisberger won a Super Bowl in his second season with head coach Bill Cower. In 2008, he won another with head coach Mike Tomlin.
After the Kansas City Chiefs knocked the Steelers out of the 2021 playoffs, Roethlisberger announced his retirement. The Findlay, Ohio native walks away with six Pro Bowl appearances and a 165-81-1 record (13-10 in the postseason). He threw 5,440 completions for 64,088 yards and 418 TDs.
Whether Roethlisberger or Bradshaw was the better Steelers QB is an unwinnable argument. They played in different eras, which is why Roethlisberger has the numbers and Bradshaw has the trophies.
What does seem knowable — and unfortunate for Steelers fans — is that the two most iconic signal-callers in franchise history likely won't be appearing together at any Steelers' Legends Days any time soon.
All stats courtesy of Pro Football Reference