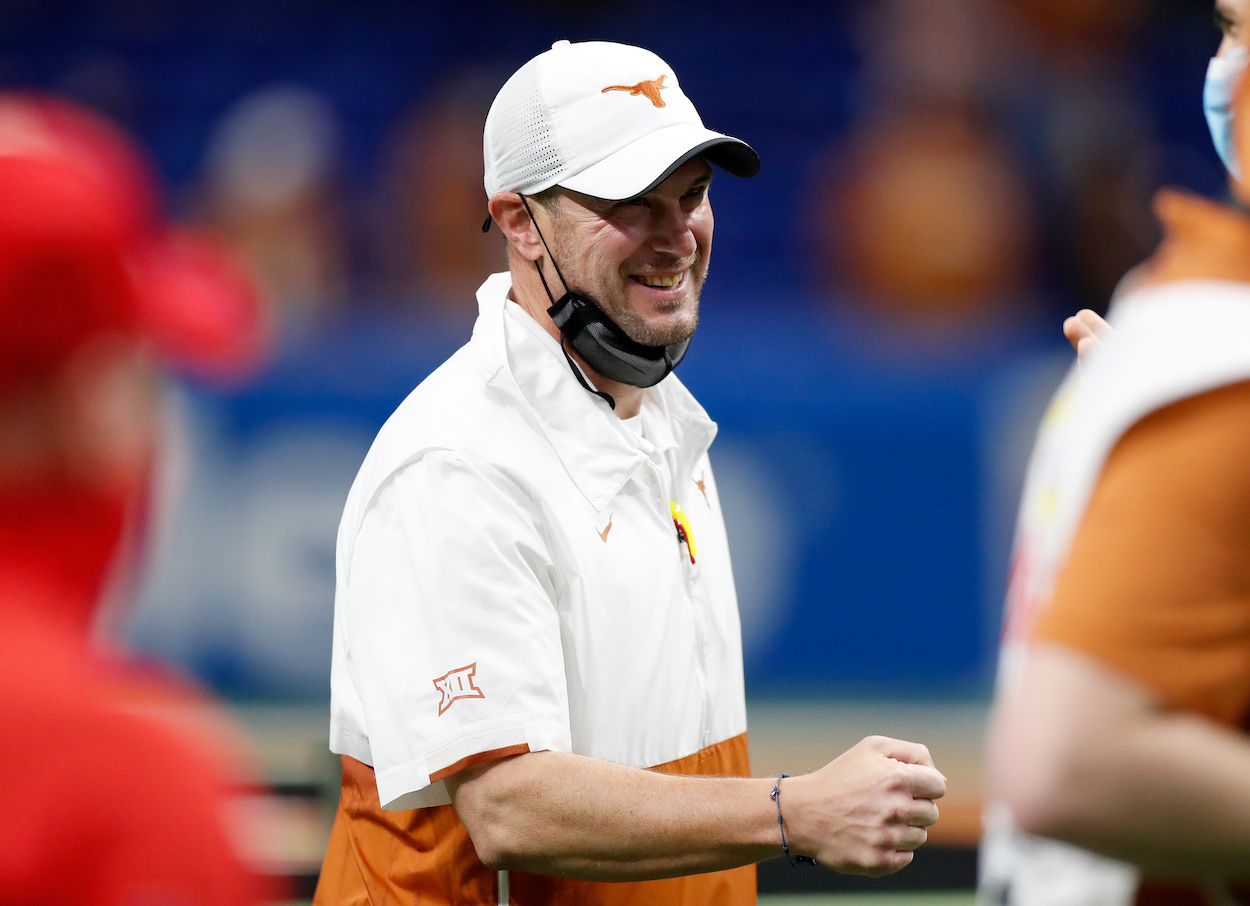 Texas Longhorns Senior Leader Takes Not-So-Veiled Shot at Former Coach Tom Herman
A Texas Longhorns senior leader on defense takes a shot at former coach Tom Herman.
Before the Texas Longhorns fired Tom Herman, there were obvious problems. From the losses, including another one to Oklahoma, to the Sam Ehlinger incident and singing the school song by himself at the Cotton Bowl, to the multiple star players opting out and missing games at the end of the season, Herman had lost control of the team. 
This week, Josh Thompson, one of the senior leaders for the Texas defense, talked about new head coach Steve Sarkisian and his style and took a shot at former coach Tom Herman in the process. 
Texas Longhorns bring in Steve Sarkisian to replace Tom Herman
The Texas Longhorns decided the new year was time for a new coach and fired Tom Herman on January 2. Herman never met expectations during his four seasons in Austin, compiling a 32-18 record that included four bowl wins but no Big 12 championships. 
The 2020 season summed up Herman's tenure with the Longhorns as the team played well at times but never with any consistency. Adding insult to injury, as the season wound down, there was clearly a disconnect between the coach and his players as multiple top players opted to skip the final regular-season games. 
The Longhorns wasted no time after firing Herman and announced Alabama offensive coordinator Steve Sarkisian as the team's next coach. While most Texas fans would have been much happier with Sarkisian's boss coming to Austin instead, the bottom line is it was time for Herman to move on and a new coach to come in and right the ship. 
Josh Thompson takes shot at Tom Herman
Since Steve Sarkisian arrived in Austin, he's said all the right things. He's given the team a catchy slogan — All Gas No Brakes — that appears everywhere from Texas social media to the football field at DKR when six inches of snow blanketed the turf. 
More importantly, the players appear to be buying into Sarkisian and his new philosophies and coaching style. One of those players is redshirt senior defensive back Josh Thompson, who started all 10 games in the 2020 season and recorded 28 tackles and one interception. When asked his thoughts on the new coach, Thompson answered and took a shot at Tom Herman in the process.  
"Coach Sark comes in with high energy every day," Thompson said. "He's accountable to his players. He listens to his players. Whatever we need, he'll give to us. And I really like that about him. He's leading us in the right way. It's just different; I don't really know how to explain it. But he brings high energy and just wants his players to be accountable and disciplined." 
Texas Longhorns hopeful for 2021 
If anyone has a read on Texas Longhorns coaches, it's Josh Thompson. He was initially recruited by Charlie Strong. He played for Herman under two different defensive coordinators, Chris Ash and Todd Orlando. Thompson will play for his third coordinator in five seasons under Pete Kwiatkowski. 
The new-look Texas Longhorns wrap up spring practice on April 24 with the annual Orange-White scrimmage. This will be the first opportunity for fans to see what Sarkisian's "All Gas No Brakes" philosophy looks like in action.
What fans can also expect to see is a more disciplined team with fewer mistakes that had become all-too-common during Herman's tenure. While that may feel like a small step, it's certainly one in the right direction and one Sarkisian brought with him from Alabama. And it's worked out pretty well there.     
Like Sportscasting on Facebook. Follow us on Twitter @sportscasting19.