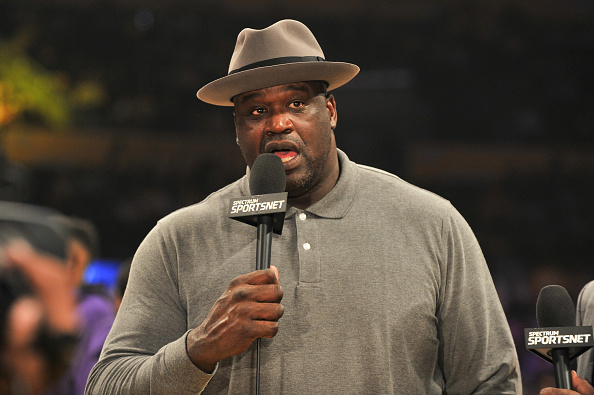 That Time When Chris Dudley Threw a Ball at Shaq After Getting Dunked On
Shaquille O'Neal dunked on Chris Dudley over twenty years ago and Dudley did not like to it. Dudley threw the ball at O'Neal after the dunk.
Shaquille O'Neal is arguably the most dominant center ever to play the game. During his time in the NBA, the 7-foot-1 athlete dominated on both ends of the court. The way he could move with his height and size was unreal. In his 19 years playing in the NBA, O'Neal produced many highlights, especially with his dunks.
One dunk that people tend to remember was on former NBA player Chris Dudley. The New York Knicks player did not take it lightly as he threw the ball at O'Neal, resulting in an ejection. Shaq's dunk is still a hot commodity 21 years later.
How Shaquille O'Neal's dunk happened
On March 28, 1999, the Lakers played the New York Knicks. In the fourth quarter, LA had the lead and the ball on offense. Kobe Bryant passed the ball to O'Neal, who was on the block, and Dudley defended him. When O'Neal got the ball, he backed Dudley down and then dunked over him, as The LA Times reports. After the dunk, O'Neal pushed Dudley off of him, and that's when Dudley launched the ball at O'Neal.
That dunk immediately ignited O'Neal's teammates as well as the fans. Dudley had no chance against Shaq on that possession. The Lakers went on to win the game 99-91, but everyone was talking about that monstrous dunk by O'Neal.
Chris Dudley was a big guy too. At 6-foot-11, 236 pounds, Dudley had a significant presence on the court. But that did not stop one of the best big men in the game's history from doing what he did. In response to pushing Dudley, O'Neal said, "He just grabbed me; he was under me. I had to get him off me." O'Neal was fined $3,500 for the push against Dudley.
Shaquille O'Neal and Chris Dudley had a past
What some people may not know is that both players have a history. During the 1997 playoff series between the Lakers and Portland Trail Blazers, Dudley complained about how O'Neal got his way on the offensive end. In Game 3, Dudley committed a flagrant foul on O'Neal.
Most of the Lakers team thought it was a dirty play. Former teammate Eddie Jones called the play "a cheap shot." A few years later, O'Neal got his revenge on Dudley with that dunk.
One of the best dunks in NBA history
O'Neal's dunk over Dudley is still being talked about all over social media to this day. O'Neal cemented himself as one of the best players in the game, and he has many highlight videos that feature his top plays and performances.
Dudley may have never got the exposure he has gained over the past few years if this dunk never occurred on him over twenty years ago. He will always be connected with O'Neal from the poster he did on him. A dunk like that does not come too often.