Shaquille O'Neal Wanted to Fight Gary Payton Until His Mother Intervened
Whether you're remembering his playing career or focusing on his time with TV, Shaquille O'Neal seems like a pretty happy-go-lucky guy. And while there is an element of truth to that — the Diesel certainly nurtures his inner child — he still warrants plenty of respect. Crossing a former professional athlete who clocked in at 7-foot-1 and 325 pounds isn't the wisest idea. Just ask Gary Payton about that.
As NBA fans know, the Glove was a lethal trash-talker and had no problem needling any opponent. On one occasion, it seems like his verbal assault got under Shaq's skin to the point that the center wanted to get even after the game. At that point, though, Payton's mother intervened.
Sound unbelievable? Well, let's hear what O'Neal has to say about the game in question.
Shaquille O'Neal was so annoyed by Gary Payton's trash talk that he wanted to fight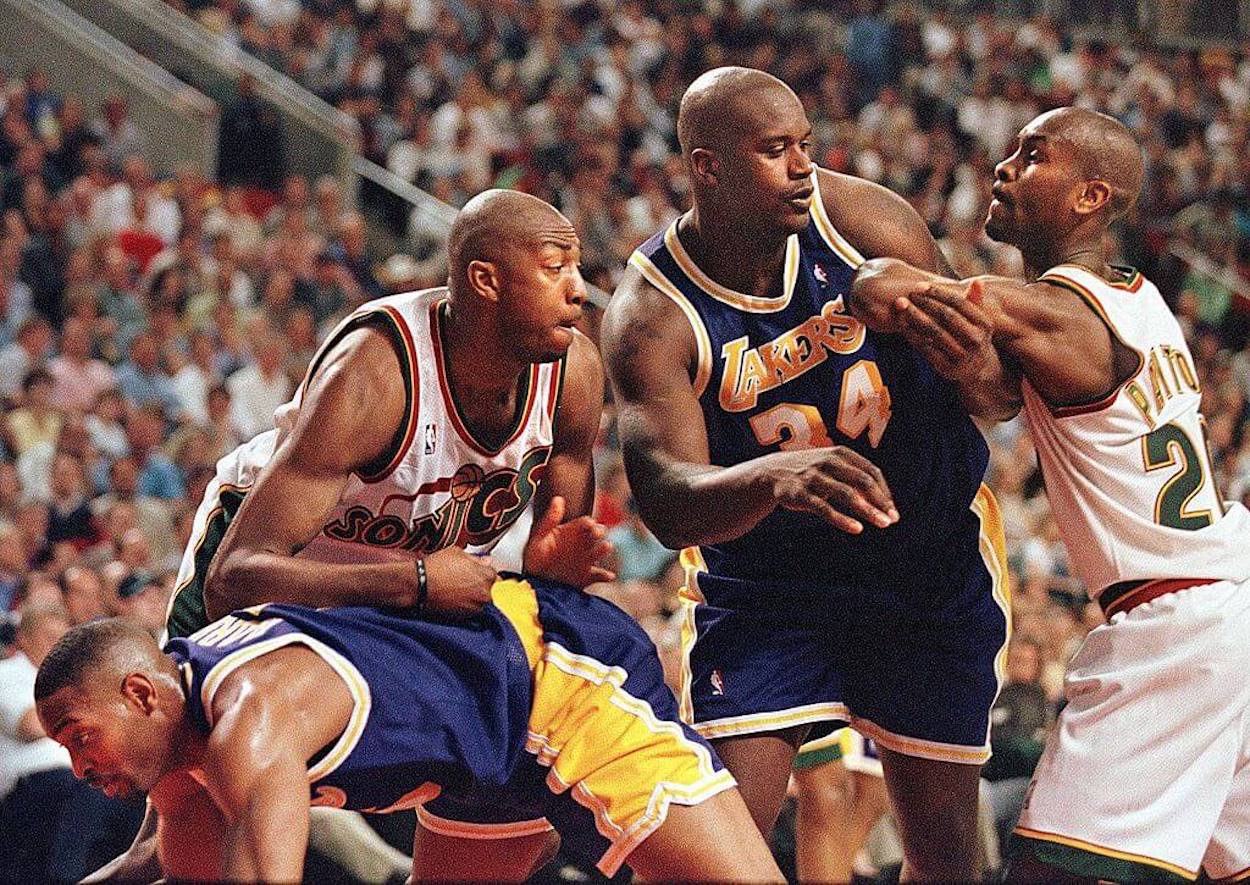 Over the course of their legendary NBA careers, Shaquille O'Neal and Gary Payton joined forces in Los Angeles and Miami. Before the two men shared a locker room, though, they locked horns on the court. And, as Shaq tells it, things got pretty heated on at least one occasion.
"Gary gets personal, and he means it," the big man explained in an interview that's preserved on Youtube. "I like to be personal for play. Like, Gary will about your mama, your grandmama and won't apologize and will keep bringing it up. Gary will talk about your woman, your girlfriend, everything. … And then when you talk to a guy like Gary, you got to keep talking cause Gary ain't gonna shut up. I wanted to fight Gary one time after the game because he was talking trash."
When it came time to find the Glove after the final whistle, though, O'Neal ran into someone else. No, he wasn't stopped by a coach or a member of the security staff. He ran into Payton's mother.
"But Mama Payton gave me this look," Shaq continued. "Mama Payton gave me this look. I was like, 'Yes, ma'am. Yes, ma'am. 'Don't you be talking to my boy like that.' 'Yes, ma'am.'"
And while O'Neal had some more trash-talking memories — he went on to add that Payton kept talking despite the referee's request to stop — the fight never actually took place. Mrs. Payton had done her job.
That wasn't the only time that Shaq crossed paths with a rival's mother after the game
While O'Neal running into Mrs. Payton after the game may seem like a bizarre one-off occurrence, it wasn't as much of an isolated incident as you might think. In fact, the big man's bond with Charles Barkley began due to some motherly intervention.
During a now-infamous encounter, Barkley threw the basketball at Shaq during a game, kicking off a fight. After the final whistle had blown, however, a plan had already been hatched.
Since the two stars' mothers had apparently been friends for years, they hopped on the phone and told their sons to meet in the hallway and talk through their problems. While everything we know of Shaq and Sir Charles would suggest that they weren't too keen to admit their mistakes, they listened to their moms and met up. The hatchet was buried, and the rest is history.
While Shaquille O'Neal might not be everyone's cup of tea, it seems like there is one positive we can all agree upon: He always pays the appropriate respect to mothers.