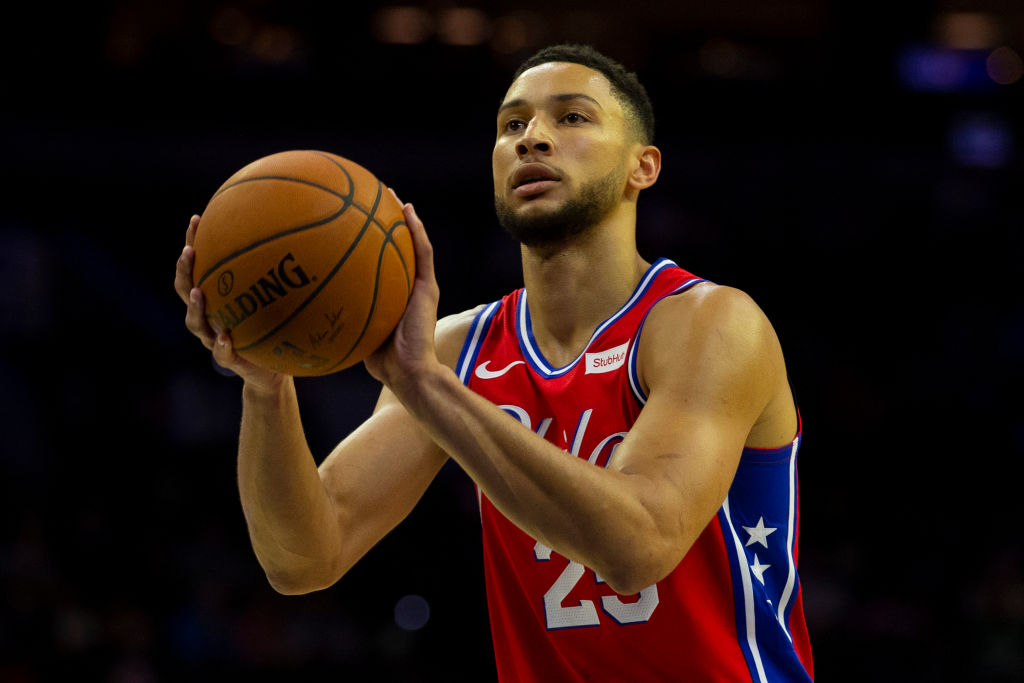 The 1 Thing Holding Ben Simmons Back From Being an MVP Isn't His Jump Shot
Ben Simmons has shown flashes of brilliance many times during his career. He could one day be an MVP, and his jump shot isn't the thing holding him back.
Philadelphia 76ers point guard Ben Simmons was one of the hottest players to talk about during the summer. Philadelphia traded Jimmy Butler to the Miami Heat, replacing him with Josh Richardson, and turned the money Butler would have commanded into former Celtics big man Al Horford.
For Simmons, the question becomes how much can he improve his game? Today, we are going to go over his biggest weaknesses and talk about why it isn't his jump shot. The jump shot will come over time, but this part of Simmons' game needs to be addressed immediately.
Is Ben Simmons' jump shot his biggest weakness?
On paper, the first thing everyone will notice about Simmons is his lack of an outside game. Simmons stands at 6'7, and has the length and speed to break defenders down and get to the hoop with ease. 
With a skillset that good it makes it easy for him to simply use a specific set of moves over and over, since it's hard for anyone to stop him. In the playoffs it became an issue because teams didn't need to worry about him on the outside, packing players into the paint area to force him to give the ball up.
This summer Simmons focused on improving this aspect of his game. It was promising to see him tackle the problem head-on. It shows that Simmons isn't afraid to put the work in. That's why his lack of a jump-shot isn't his biggest weakness.
Reluctance to take shots
Ben Simmons' unwillingness to attempt jump shots is indicative of his biggest weakness. When you see that Simmons attempted only six 3-point attempts last season (and is 0-17 in his career), you can see why he is hesitant to do it. This isn't a Markelle Fultz situation, where Simmons completely lacks the confidence to shoot the ball at all, but him deciding not to even attempt the shot hurts the Sixers when they are in their offense. 
With social media ready to roast him at every turn, we can see why Simmons may hold off on attempting something he isn't good at, but that could change during the 2019-20 NBA season.
Simmons has practiced his 3-point shot all summer and even made an attempt during a pre-season game. This brought a lot of attention from fans and haters, but for us it is definitely a sign that he has the confidence to go for the shot this year.
Simmons cannot listen to the outside noise and let it affect how he plays. It seems like he cares too much about his image on and off the court sometimes. He needs to just play his game and not care if he misses shots. Shooting threes in a live game is the best way to practice.
If Ben Simmons can fix this weakness of caring too much about what people think, he could be an MVP.
Will Philadelphia make the Finals?
On paper, the 76ers have the best starting five in the Eastern Conference. Giannis Antetokounmpo may be the league's reigning MVP, but the Sixers were a Kawhi Leonard jumper away from potentially making the Eastern Conference Finals. 
If the team doesn't end up with a top-two seed we will be shocked, as they have the talent and the depth to be a force in the East during the 82-game regular season. 
Once the playoffs roll around the Celtics and Bucks will be the only two teams we think can match Philly shot for shot, and we have them as the favorites to get to the NBA Finals.
Do you think Ben Simmons can improve his weaknesses?
Should superstar 76ers point guard Ben Simmons be viewed as a legitimate threat to win the MVP award? If Philly can finish with the No. 1 or No. 2 record in the league, he will get plenty of consideration. For more news from around the basketball world, be sure to check out our NBA section.