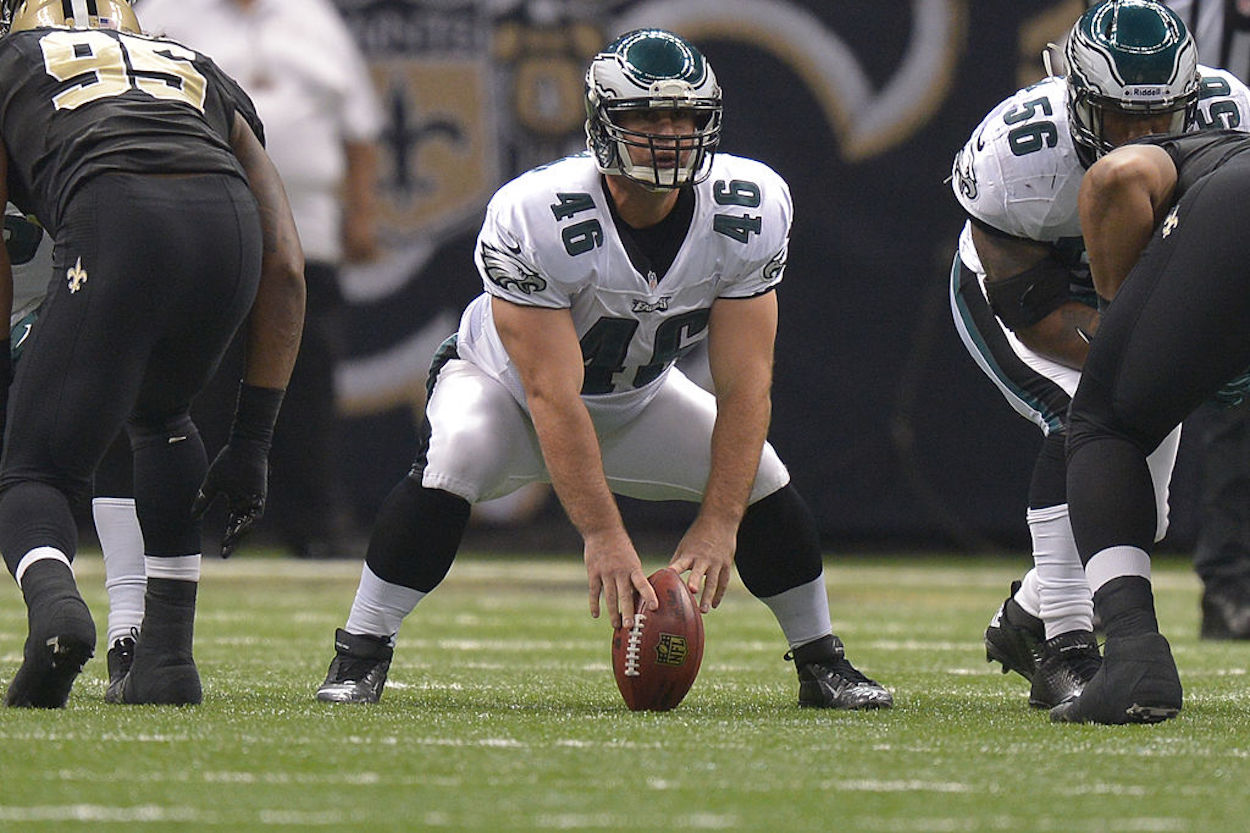 The Eagles Accidentally Saved Former Pro Bowler Jon Dorenbos' Life By Trading Him to the Saints
When the Philadelphia Eagles traded Jon Dorenbos to the New Orleans Saints in 2017, they had no idea the deal would save his life.
When former Pro Bowl long snapper Jon Dorenbos was traded from the Philadelphia Eagles to the New Orleans Saints, it slipped through the cracks as one of the most inconsequential deals of the 2017 NFL offseason. Dorenbos was never a superstar name, and the Eagles only received a seventh-round pick in return.
But that seemingly meaningless trade turned out to be the greatest thing that's ever happened to Dorenbos. It even saved his life.
Jon Dorenbos was traded to the Saints after 11 years with the Eagles
Jon Dorenbos may not have been a well-known player in the NFL during his career, but every football fan in Philadelphia knew his name. Dorenbos served as the starting long snapper for the Eagles for more than 11 years dating back to 2006.
Dorenbos made his first NFL Pro Bowl in 2009, three years after signing with the Eagles. He earned his second Pro Bowl honor in 2014. Dorenbos started all 16 games for the Eagles in nine consecutive seasons from 2007-15.
It wasn't just his dependability, though, that made Philadelphia fans fall in love with Dorenbos. The long snapper was a unique locker room presence who kept teammates loose with card tricks and an overall fun-loving personality. He was also a charitable figure in the community over his entire tenure in Philly.
In 2017, the Eagles traded the fan-favorite Dorenbos to the Saints for a seventh-round draft pick. The deal might've seemed like just a blip on the radar at the time, but it turned out to be much more.
The Eagles accidentally saved Jon Dorenbos' life
At the time of the trade, Jon Dorenbos was a fit, 37-year-old long snapper with a few years left in the tank. He had no plans of retirement or health concerns of any kind as he prepared for his first season with the Saints in 2017.
But because he was just recently traded, Dorenbos had to pass a physical before playing for his new team. During that physical, Saints' team doctor John Amoss diagnosed him with an aortic aneurysm, which is a dangerous enlargement of the aorta. Dorenbos was told that if he played in the Saints' season-opener the next week, he could've died had he taken a hit to the chest. His football career was officially over, but his life had been saved. "Saved by a Saint," as Dorenbos puts it.
Soon after his diagnosis, Dorenbos underwent open-heart surgery that lasted 11 hours. It was a long road back, but he fully recovered from the extensive surgery.
After he got back on his feet, Dorenbos and his wife, Annalise, adopted a Goldendoodle together. Naturally, they named him Saint.
Jon Dorenbos went on to become a famous magician and public speaker
Near the end of his NFL career, Jon Dorenbos shifted his focus to his new life off the football field. Dorenbos had always been passionate about magic and entertaining people, so he entered NBC's hit show America's Got Talent in 2016 and instantly became a phenomenon.
Dorenbos rode his mind-bending magic tricks all the way to the finale, where he finished in third place in Season 11 of the show.
Dorenbos has since become a famous keynote speaker and author. His live show, Life Is Magic, tells his story from tragedy to self-discovery. He also released a book with the same title in 2019.