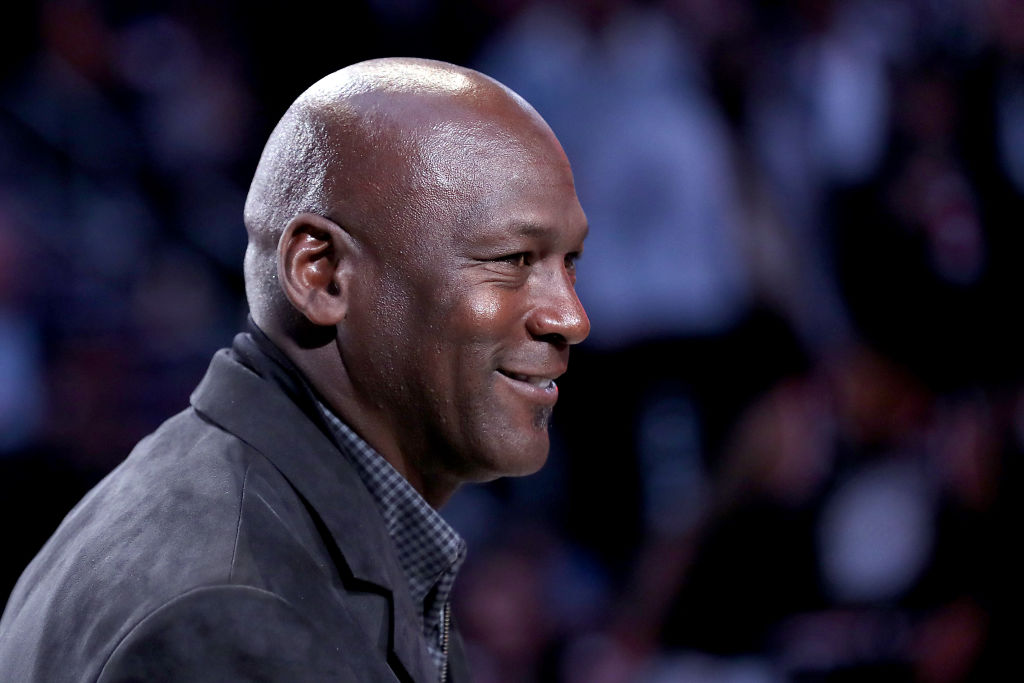 The Good and the Ugly of Michael Jordan's $1.9 Billion Fortune
Looking at Nike's shoe sales from all sides still shows good things about Michael Jordan and his priorities, especially with his fortune.
Most NBA fans who grew up watching Michael Jordan know he also has a generous heart. However, some people don't realize this because the media often focuses on his $1.9 billion net worth. Having that much money has its good and bad sides. Since a portion of the money Jordan makes comes from him lending his name toward Nike shoes, some controversial things still need addressing.
Part of this comes in the disparity of his Nike earnings compared to Asian workers making the shoes. Looking at this from all sides still shows good things about Michael Jordan and his priorities. He also once knew the reality behind Nike's manufacturing methods.
What are Nike employees making per hour in the U.S. and Asia?
Newsweek compiled a report in 2018 on what Nike pays its factory workers overseas. In Asian countries, they say workers in Indonesia, Cambodia, and Vietnam make 45% to 65% below standard living wages. This was reported by the Clean Clothes Campaign that's followed Nike factory worker wages for years. According to the CCC, some of Nike's factory workers in Asia make even less than in the 1990s.
Other recent reports say the pay increased in Asia from the old days, if still not matching up with what Nike pays their U.S. employees. Even then, reports are U.S. warehouse workers for Nike make $10.73 per hour, 27 percent below the national average.
This alarming contrast may frustrate when seeing the reports of how much Jordan makes through Nike. Forbes reported last August Jordan had the highest endorsement deal in Nike history with $130 million.
Of course, his Air Jordans continually sell out the minute they hit shelves. Comparing this with the lifestyles of the factory workers is not out of sight and mind for Jordan.
Past investigations into Nike factory workers
It was back in the '90s when Nike began being put under a microscope for their factory working conditions. Pics from the time show some underage employees as young as 12 working long hours making Nike sports equipment.
Indonesia, India, Thailand, Bangladesh, and Cambodia were the targeted countries back then and when the term "sweatshops" became mainstream. Many of the workers had to live in slummy conditions, and even near open sewers. Some of this became captured in the eye-opening documentary short Behind the Swoosh.
During this same time, Michael Jordan was the biggest NBA star in the world. His association with Nike started in 1984, with Air Jordans sales exploding during the time of the above Nike exposes. However, even Air Jordans dipped in sales after Jordan's retirement, only picking up in recent years with retro designs.
Throughout the years, what has Jordan done to give back to the world? Fortunately, his largess is more significant than many remember.
Michael Jordan's philanthropic efforts are considerable
NBA.com compiled a list of Jordan's acts of charity over the years. This list is long and includes donating his entire 2001-02 NBA salary to 9/11 charities as just starters. His most recent act of giving back is a multimillion-dollar donation to Friends of the Children for latter's work in Charlotte and Chicago.
His past lawsuit against Qiaodan Sports in China (for using his name on their products) also became a major coup in giving to others. Jordan used that money to give back to numerous Chicago charities. He did the same when winning a lawsuit against a supermarket chain for using his name in a steak ad.
In 1996, Jordan responded to the Nike factory worker scandal by saying: "I think that's Nike's decision to do what they can to make sure everything is correctly done. I don't know the complete situation. Why should I? I'm trying to do my job."
Even if Jordan has skirted controversy about his stance on Nike's factory workers, his other acts of generosity more than make up for any misgivings. Giving back to those less fortunate and the kids of our future will hopefully give those same kids a better life beyond underpaid jobs.