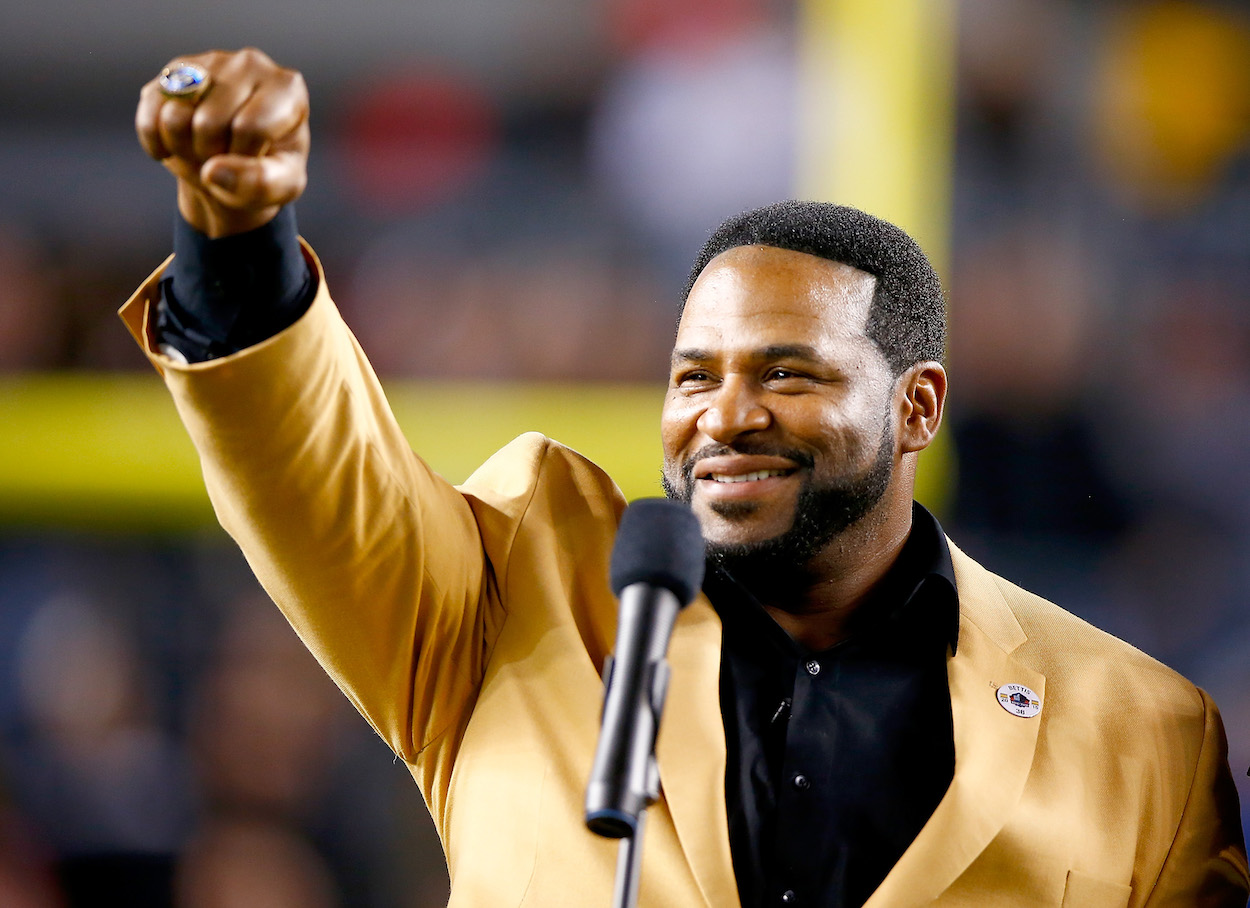 The Gruesome Moment Jerome Bettis Decided to Quit Selling Crack and Getting in Gun Battles With Rival Drug Dealers
Jerome Bettis plowed over opposing defenses all the way to Canton. It almost never happened but for the gruesome moment his friend got shot and opened his eyes to the potential life-ending danger of dealing drugs.
Jerome Bettis earned his nickname "The Bus" because of his large size and bruising style, where he preferred to run over defenders and not around them. After 13 seasons, including the final 10 with the Pittsburgh Steelers, Bettis retired after the 2005 season and was inducted into the Pro Football Hall of Fame in 2015. All of it almost never happened. 
That's because Bettis grew up in a tough neighborhood in Detroit where drugs and guns were a part of everyday life. Bettis was no different. He sold crack. He shot at rival drug dealers. However, two moments in time, including one gruesome incident, forever changed his mind and steered him away from the dangerous criminal life and into the world of football.
Jerome Bettis has Hall of Fame career 
The LA Rams drafted Jerome Bettis with the No. 10 overall pick in the 1993 NFL draft. Bettis proved his worth that first season, rushing for 1,429 yards and seven touchdowns, after starting just 12 games. He earned All-Pro and Pro Bowl honors his rookie season and was named NFL Offensive Rookie of the Year.
Bettis made the Pro Bowl three out of the next four seasons, the final two coming in Pittsburgh, where he was traded to by the Rams following the 1995 season. With the Steelers, Bettis became a fixture in the backfield for a decade. 
In 2005, with a diminishing role, Jerome Bettis only rushed for 368 yards. But that season, individual accomplishments didn't matter. That's because the Steelers made it into the playoffs and got hot at the right time, making it all the way to the Super Bowl, which was played that year at Ford Field in Bettis' hometown of Detroit.  
After the Steelers defeated the Seahawks 21-10, Bettis stood on the stage and announced his retirement. "I played this game for a championship. I'm a champion, and I think the Bus' last stop is here in Detroit."
Jerome Bettis turns to selling drugs with his brother
Jerome Bettis' NFL career came to a close in Detroit with a fairytale ending. His life growing up in Detroit was anything but that. Selling drugs in the neighborhood was a main industry. After the elderly next-door neighbor died, her house became a crack house. 
Despite Bettis' parents guiding him and his brother away from that lifestyle, the allure of making money was too great. 
"The mindset was we're in the hood, Mom and Dad are working their butts off and there's no money around," Bettis said on In Depth With Graham Bensinger. "We need to make some money. Let's give it a shot." 
Jerome Bettis admitted guns were an integral part of the business and you had to be prepared to use them. 
"I shot at people because that's the nature of the business. You've got competitors, and they want to take you out of business as well. They want all the business for themselves."
Fears for his life 
Jerome Bettis said there was one particularly harrowing incident that dramatically changed his feelings about continuing a life and career selling drugs. 
"We were hanging out. The next thing you know, some guys step out on us and guys start shooting. We took off," he told Bensinger. "There's a busy intersection. We run straight through the busy intersection not even caring if cars are coming or not. Not caring if we're going to get hit by a car going 40 miles per hour. It was just that fear of those gunshots that we took off right through traffic."
Personally surviving the gunshots and traffic was scary enough. What happened to his friend shook him to his core.
"And later we found out one of our partners got shot. He got shot in the arm. His bicep was blown off. That was one of those moments it was like, 'Whoa, hey guys, this is really serious. This is life and death. Is there another alternative?'"
Coach intervenes and delivers words he needed to hear
While his friend getting his bicep blown off scared him, it was the words of his high school coach that pointed Jerome Bettis in the right direction and changed his life forever. It happened when the coach showed up at Bettis' home to talk with him and his mother.
"I'll never forget. I'm sitting there. He says, 'I've got word that Jerome Bettis is selling drugs. He's got so much potential. I think he can be a great football player and I want the best for him.' I couldn't believe he actually said that," Bettis admitted.
"When he said I've coached guys that are playing in the NFL right now and I've coached Pro Bowl players, it hit me. I said, maybe I could do that. That moment really affected my life and helped me and showed me that I can be a better person, a different person. I can be a successful person and it really helped guide me down a different path."
A remarkable path that ended with a bust in Canton at the Pro Football Hall of Fame in 2015.
Like Sportscasting on Facebook. Follow us on Twitter @sportscasting19.