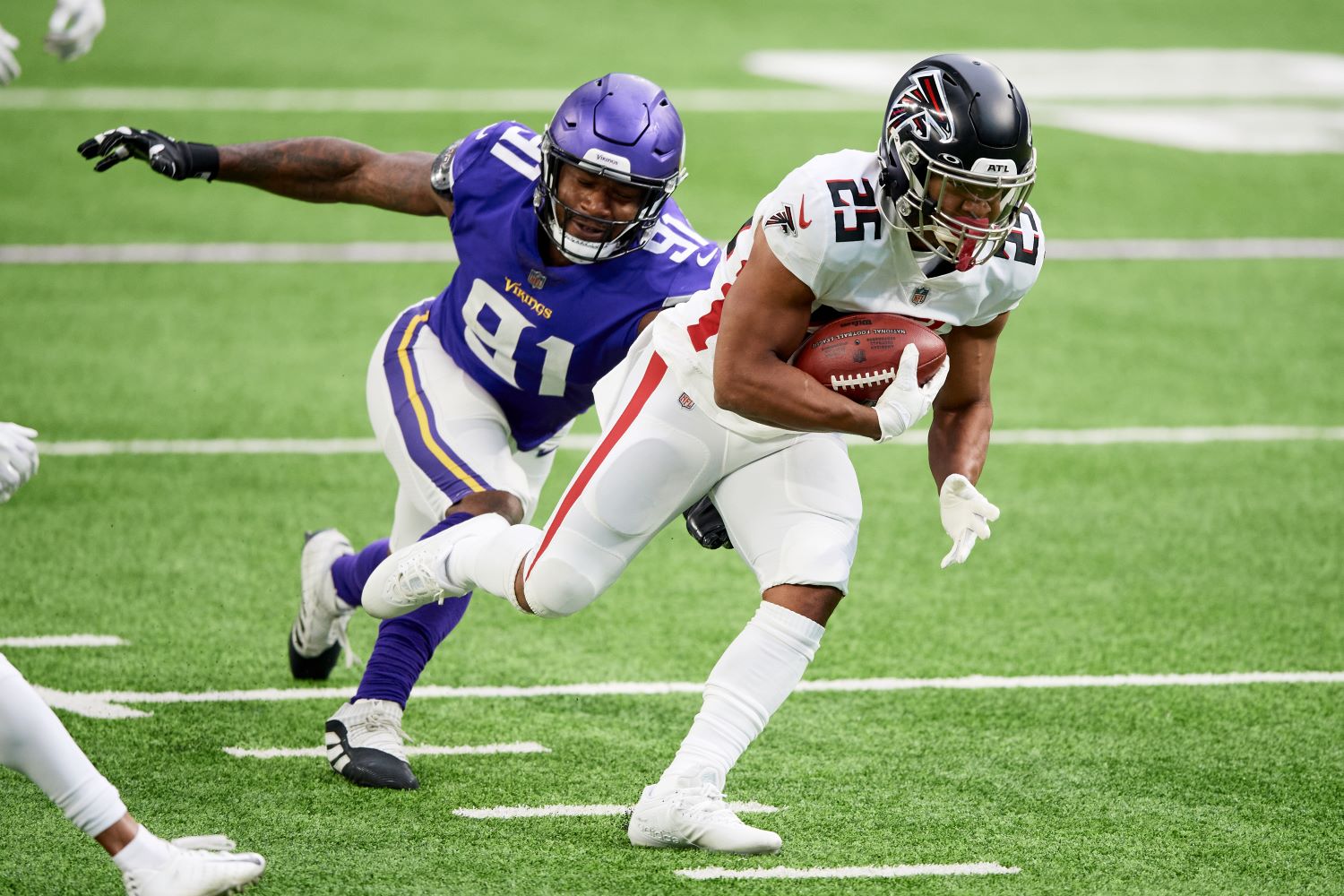 The Minnesota Vikings Just Admitted They Made a $12 Million Mistake
The Minnesota Vikings just admitted they made a $12 million mistake by trading Yannick Ngakoue to the Baltimore Ravens on Thursday.
Less than two months ago, Yannick Ngakoue got his wish by forcing the Jacksonville Jaguars to trade him. However, just six games into the 2020 NFL season, the Minnesota Vikings just admitted they made a $12 million mistake.
Now, it looks like it might be time for the NFC North franchise to hit the reset button and execute a complete rebuild.
Yannick Ngakoue finally escaped from Jacksonville
The Jaguars scored a draft-day steal when they selected Yannick Ngakoue 69th overall in 2016. The former University of Maryland standout wasted no time showing NFL teams made a major mistake in passing him over.
As a rookie, the 6-foot-2, 246-pound edge rusher posted eight sacks, 14 quarterback hits, four forced fumbles, and one interception on 706 defensive snaps. Ngakoue earned his only Pro Bowl selection the following year when he recorded a career-high 12 sacks for a Jaguars squad that came agonizingly close to securing a Super Bowl berth.
However, after watching the team get rid of several of its top stars, Ngakoue made it clear he had no intention of signing a long-term deal to remain in Jacksonville. Still, the Jaguars placed the franchise tag on their star defensive end in March.
The 25-year-old wanted out of Jacksonville so badly that he took a substantial pay cut in order to orchestrate a trade to Minnesota. Set to make nearly $18 million on the franchise tag, Ngakoue agreed to terms on a one-year, $12 million deal with the Vikings after the team traded a 2021 second-round pick and a conditional fifth-rounder for the talented defensive end.
The Vikings just admitted they made a $12 million mistake
Expected to form a dominant duo with Danielle Hunter, Yannick Ngakoue has not had a chance to wreak havoc opposite Minnesota's $72 million star. With Hunter sidelined with a neck injury, the ex-Jaguars defensive end has had to carry the load himself.
Yet, after watching their newly-acquired pass-rusher rack up five sacks and seven QBH in six games, the Vikings just admitted they made a $12 million mistake.
On Thursday, Minnesota traded its best defensive lineman to the Baltimore Ravens. In return, the Vikings received a 2021 third-round pick and a 2022 conditional fifth-round pick. The move certainly raised more than a few eyebrows considering the team just acquired Ngakoue back in August.
In one respect, the transaction signifies that Minnesota made a massive mistake by trading for the former Jaguars star in the first place. Even after getting Ngakoue to agree to a pay cut, the Vikings still sacrificed a significant portion of their salary cap to accommodate his $12 million deal. Yet, even with Ngakoue in the lineup, the team ranks 31st in points allowed. Minnesota has allowed the third-most passing yards per game (286.7), and opposing quarterbacks have posted a quarterback rating of 110.4 against Mike Zimmer's defense.
Of course, it doesn't help that Hunter and Anthony Barr aren't on the field. Still, by getting rid of Ngakoue, the Vikings just admitted they shouldn't have even acquired him in the first place. He will command a massive contract after this season, which the team cannot afford to give him based on its current financial commitments. And ultimately, by dumping Ngakoue less than two months after they traded valuable draft capital to acquire him, the Vikings sent a message that their season is all but over.
Is it time to hit the reset button in Minnesota?
By trading away one of their best players, the Vikings appear to be waving the white flag not even halfway through the 2020 season. Moving forward, it will be interesting to see if Minnesota continues to sell off assets in an effort to hit the reset button.
Sitting at 1-5, it certainly looks like the Vikings will be picking early in the 2021 NFL draft. In fact, it wouldn't be surprising if they end up with the No. 1 overall pick.
If that happens, it will put Minnesota in an interesting position. Given Kirk Cousins' massive contract, the Vikings can't get out of his deal without taking on a huge dead-money charge until after the 2021 season. Still, if the team has the chance to make Trevor Lawrence its quarterback of the future, can the Vikings really say no?
Plus, Minnesota has a number of other aging veterans who could get traded or cut this offseason. Adam Thielen, Harrison Smith, and Kyle Rudolph are all on the wrong side of 30. Could the Vikings look to trade away some of their veteran pieces for valuable draft capital in order to start a rebuild?
Only time will tell, but for now, it's clear that the Vikings won't be competing for a Super Bowl title this season. And if the Yannick Ngakoue trade is a sign of things to come, expect more personnel changes to take place in Minnesota.
All statistics courtesy of Pro Football Reference.