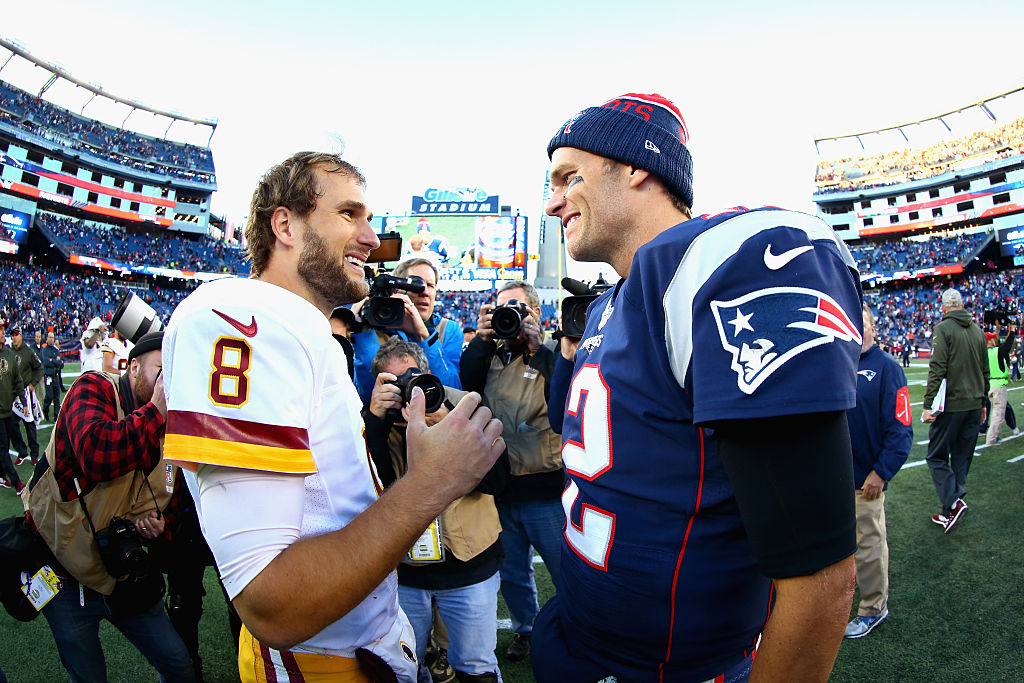 Kirk Cousins Makes Tom Brady Look Like a $45 Million Bargain
Vikings QB Kirk Cousins made so much money that he put Tom Brady's $45 million earnings to shame as the NFL's highest-earning player.
If you conducted a poll of the top quarterbacks in the NFL, Kirk Cousins would rarely get mentioned. There's no doubt that he's an above-average starter, but he certainly isn't in the same class as Tom Brady.
Yet, the Minnesota Vikings signal-caller managed to outperform the New England Patriots legend where it really matters: his bank account. Somehow, someway, Cousins made more money than not only Brady but also every other player in the NFL in the last year.
Kirk Cousins enjoyed one of the better seasons of his career in 2019
Since taking over for an injured Robert Griffin III in Washington, Kirk Cousins has carved out a reputation as an upper-echelon game manager. His accuracy and ability to protect the football made him a rich man with the Redskins. After playing on the franchise tag for multiple years, he finally struck gold by signing the NFL's first fully-guaranteed deal with the Vikings.
Cousins' first year in Minnesota looked great on paper. He completed a career-high 70.1 percent of his passes for 4,298 yards, 30 touchdowns and just 10 interceptions. However, the Vikings went just 8-7-1 and watched the playoffs from home.
Facing intense scrutiny because of his fat paychecks, Cousins took a backseat in the offense. After tying his career-high in attempts in 2018 (606), he threw just 444 passes in 2019. That total easily ranked as the lowest of his career since becoming a full-time starter in 2015.
Given his reduced role, Cousins still performed efficiently. He posted a 69.1 completion percentage, a 26:9 touchdown-to-interception ratio and a career-high 107.4 quarterback rating. The former fourth-round pick led the Vikings to the playoffs, where they beat the New Orleans Saints in the Wild Card round before falling to the San Francisco 49ers.
Vikings QB topped Tom Brady and the rest of the NFL in earnings
You certainly don't use the word "elite" to describe Kirk Cousins. At least, not from an on-field perspective. But despite his postseason shortcomings, he managed to make more money than Tom Brady and every other NFL player in the last calendar year.
Forbes recently published its list of the world's highest-paid athletes, and to everyone's surprise, Cousins ranked No. 1 amongst all NFL players. He earned $60.5 million from June 2019 to June 2020, which is a staggering sum for a player without a single All-Pro selection and just one playoff win.
Meanwhile, Brady ranked fourth amongst all NFL players with reported earnings of $45 million. The six-time Super Bowl champion experienced a down year by his Hall of Fame standards. In 2019, Brady threw for just 24 touchdowns—his lowest total since 2006. He also posted his lowest quarterback rating (88.0) since 2013.
Back-to-back down years and his advanced age led the Patriots to essentially move on from the greatest quarterback of all time. Of course, both Brady and Cousins scored big paydays yet again.
Cousins and Brady signed huge contracts this offseason
Kirk Cousins and Tom Brady may be at different stages of their NFL careers, but both men bolstered their bank accounts this offseason. The Vikings signed their starting quarterback to a two-year, $66 million deal that included a whopping $30 million signing bonus.
Combined with his previous three-year deal, he'll make $96 million over a three-year period. The move helped clear much-needed cap space for the Vikings. However, Minnesota traded Stefon Diggs and will have to rely on first-round pick Justin Jefferson to fill his shoes.
After two dominant decades in New England, Tom Brady finally moved on. And in doing so, he scored an impressive deal for a 42-year-old QB coming off arguably his least productive season. The Buccaneers handed the three-time NFL MVP a two-year, $50 million deal. Brady will have plenty of weapons to work with, including Mike Evans, Chris Godwin and Rob Gronkowski.
Still, no matter if he outplays him, TB12 will once again look up at Kirk Cousins from a financial perspective. Brady already boasts six rings, so it's time for Cousins to prove that he's worth his massive contract by winning one of his own.
Statistics courtesy of Pro Football Reference