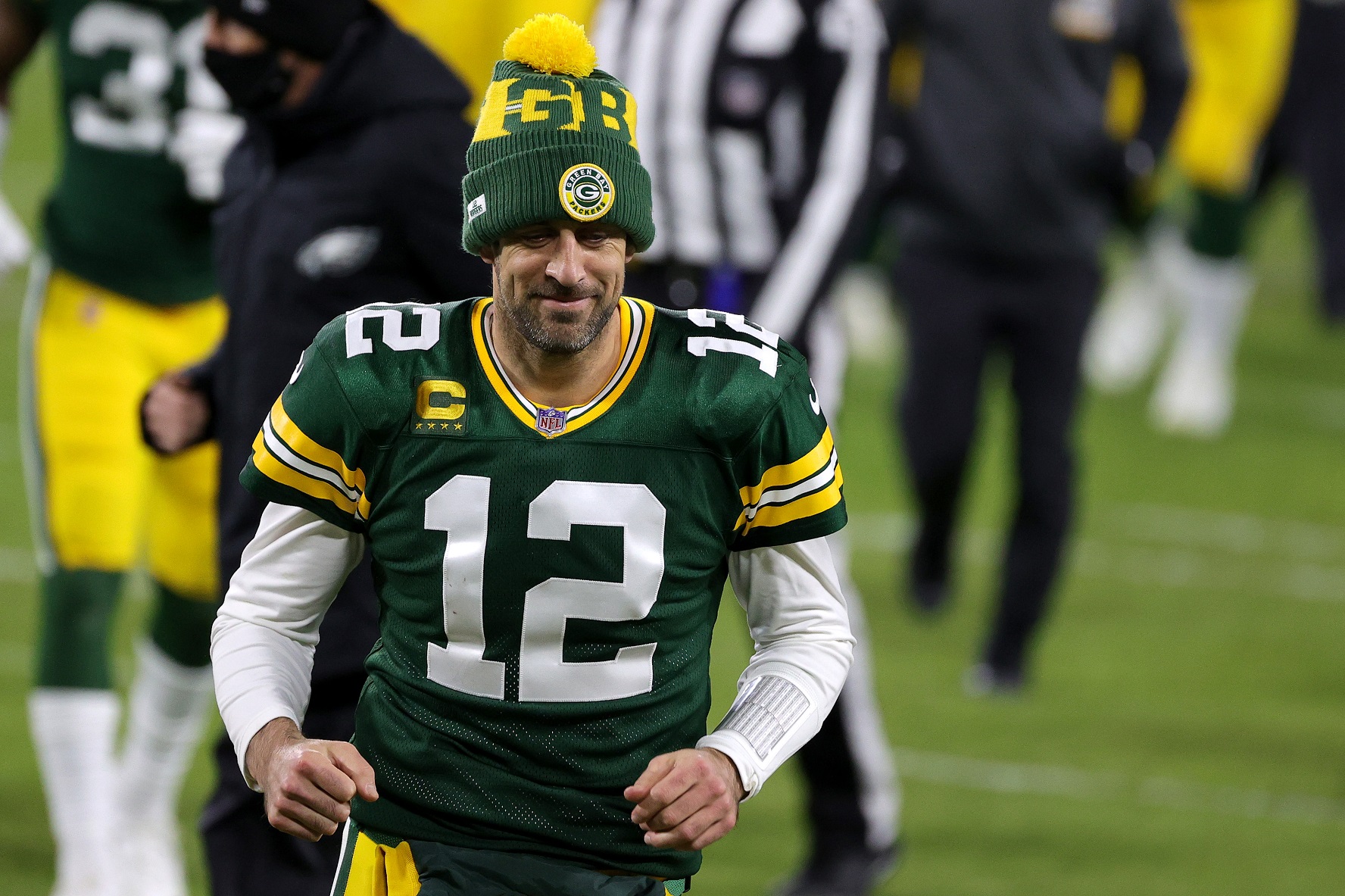 The Most Amazing Statistic Behind Aaron Rodgers' 400 Touchdown Passes
Aaron Rodgers has thrown 400 touchdown passes faster than any NFL quarterback, but there is an even more impressive stat.
Green Bay Packers quarterback Aaron Rodgers is most assuredly going to the Pro Football Hall of Fame in his first year of eligibility once he retires. He owns one Super Bowl ring and has at least a couple of more chances to add to the total.
He also has racked up some amazing numbers. That includes throwing his 400th career touchdown pass in NFL Week 13 against the Philadelphia Eagles. Much will be made of how quickly Rodgers reached 400 TDs, but there's an even more impressive fact tied to the milestone.
Aaron Rodgers keeps hitting big, round numbers
Green Bay Packers quarterback Aaron Rodgers is in his 16th NFL season and 13th as a starter. That has put him in a position to hit assorted milestones. Those achievements include completing his 4,000th pass during the Week 4 victory vs. the Atlanta Falcons.
More recently, Rodgers surpassed 50,000 yards through the air while throwing for 211 to beat the Chicago Bears on Nov. 29. The season as a whole has been a big one for Rodgers, who turned 37 years old on Dec. 2.
Rodgers came into the Week 13 game against the Philadelphia Eagles on pace for potential career highs in completions, completion percentage, yards, and touchdown passes. Even if Rodgers doesn't hit any of those marks by the close of the regular season, he reached a big, round number for the second straight week.
Aaron Rodgers has thrown 400 touchdown passes
When Aaron Rodgers hit Davante Adams on a short catch-and-run in the third quarter of the Dec. 6 game against the Philadelphia Eagles, it marked the 400th touchdown pass of his career. The eight-time Pro Bowl quarterback entered the contest with a league-high 33 TDs this year, the seventh time he has connected for at least 30 times in a season.
The scoring play garnered immediate attention because it was record-setting. While six other NFL quarterbacks have reached 400 touchdown passes – the distinguished list includes Peyton Manning and Tom Brady — none did it as quickly. Rodgers threw No. 400 in his 193rd career game. The previous record was 205 games by Drew Brees.
As a bonus, Rodgers' second touchdown pass against Philadelphia made him the first NFL signal-caller to throw 35 in a season five times. Brees, Manning, and Brady have done it four times apiece.
His interception number is even more impressive
For all the attention that Aaron Rodgers earned for being the fastest NFL quarterback to 400 touchdown passes, that's not the most remarkable statistic associated with the feat.
Rodgers threw 13 interceptions in 2008, his first year as a starter. The only other time he has reached double-digits was in 2010, when he threw 11 picks. Since then, his high for a season is eight. It explains why he has led the league in the lowest percentage of intercepted throws four times.
When Rodgers threw his 400th TD against the Philadelphia Eagles in Week 13, his career interception total stood at just 88. That makes him far and away superior to the other six 400-TD quarterbacks.
Here's the list, with the number of interceptions they had thrown at the time of the milestone:
All stats courtesy of Pro Football Reference