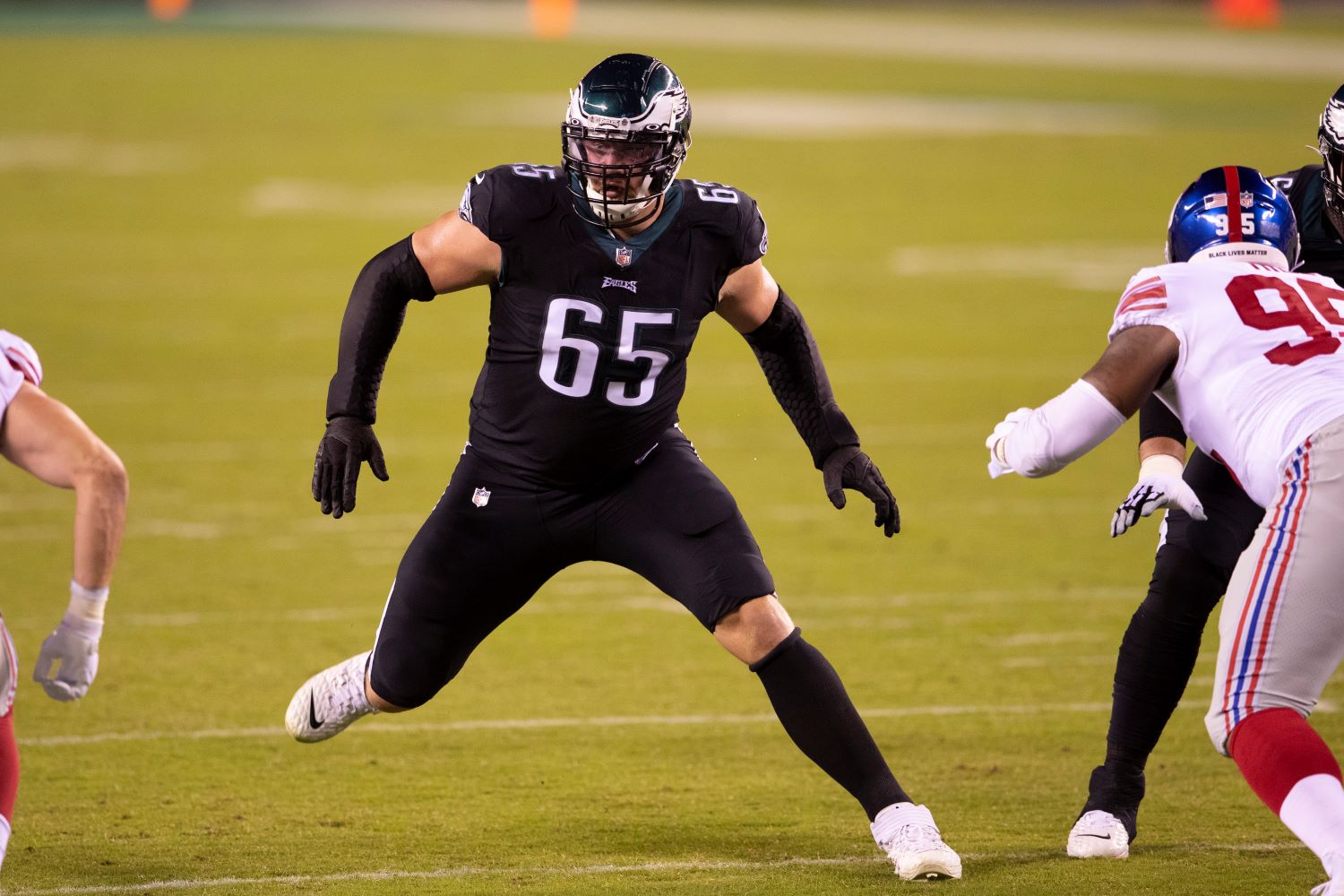 The Philadelphia Eagles Just Dodged a Massive Bullet With Their $72 Million Star
The Philadelphia Eagles just dodged a massive bullet with Lane Johnson, who won't miss as much time as expected after spraining his MCL.
From losing Andre Dillard to a torn biceps to watching his backup suffer a serious injury of his own, the Philadelphia Eagles have had to continually reshuffle their lineup during the first seven games of the 2020 NFL season. However, the team just dodged a massive bullet with star offensive lineman Lane Johnson.
Unfortunately for Eagles fans, the same cannot be said for DeSean Jackson. Once again, Doug Pederson's squad will have to overcome health issues as they try to remain atop the NFC East.
The Eagles have been decimated by injuries
No NFL team has been hit harder by injuries than the Eagles. In particular, the offensive line has been decimated by health problems.
In June, three-time Pro Bowler Brandon Brooks tore his Achilles. As a result, Philadelphia brought back longtime left tackle Jason Peters on a one-year deal to play right guard.
However, that plan quickly changed due to another brutal injury blow. In late August, starting left tackle Andre Dillard tore his biceps. Peters successfully negotiated a raise to move back to his old spot. But on Oct. 3, the Eagles had to place the 38-year-old on injured reserve due to a toe ailment.
With three starting offensive linemen sidelined, Carson Wentz has taken a beating during Philadelphia's first seven games. The 27-year-old quarterback has already been sacked 28 times after getting taken down 37 times in 2019.
Philadelphia just dodged a massive bullet with Lane Johnson
For Eagles fans, it seems like every week brings more bad injury news. Yet, on Friday, Philadelphia actually dodged a massive bullet on that front.
Ian Rapoport reported via Twitter that Lane Johnson suffered a Grade 1 MCL sprain. The star right tackle reportedly won't miss much time, which certainly is a welcomed bit of positive injury news for a team that seems to lose players on a weekly basis.
Johnson has locked down the right tackle spot since the Eagles made him the fourth overall pick of the 2013 NFL draft. While he has dealt with injuries throughout the course of his career, when healthy, Johnson ranks as one of the best players at his position.
Last November, the Eagles signed the three-time Pro Bowler to a four-year, $72 million contract extension. That deal included nearly $55 million guaranteed.
This season, though, Johnson hasn't been 100% healthy. He missed Philadelphia's season-opener due to an ankle injury that has continued to nag him. His MCL sprain now threatens to sideline him once again.
Still, the Eagles have to be ecstatic that they didn't lose another key starter for a prolonged period of time. On the other hand, the same can't be said for DeSean Jackson.
The Eagles didn't get so lucky with DeSean Jackson
Already playing behind a banged-up offensive line, Carson Wentz has also had to adjust to life without his top weapons. Dallas Goedert landed on IR in late September due to a fractured ankle. Alshon Jeffery hasn't played a single down after starting just 10 games a year ago.
Plus, the Eagles suffered a massive blow to their offensive when Zach Ertz hurt his ankle in Week 6. Philadelphia's longtime starting tight end will reportedly miss between four to six weeks.
To make matters worse, Wentz will also be without DeSean Jackson for quite some time. After making his first appearance since Week 3, the veteran receiver suffered a serious ankle injury of his own against the New York Giants. According to Mike Garafolo of the NFL Network, the 33-year-old will miss six to eight weeks as he recovers.
Overall, despite being in first place in the NFC East, the Eagles shouldn't feel confident about their ability to maintain that top spot. Given Wentz's own injury history, it wouldn't be surprising to see him get hurt if he continues to get hit at such a rapid pace.
And if his weapons and protection continue to disappear, it will be a long, frustrating year for the Eagles' $128 million quarterback.
All contract data courtesy of Spotrac. All statistics courtesy of Pro Football Reference.