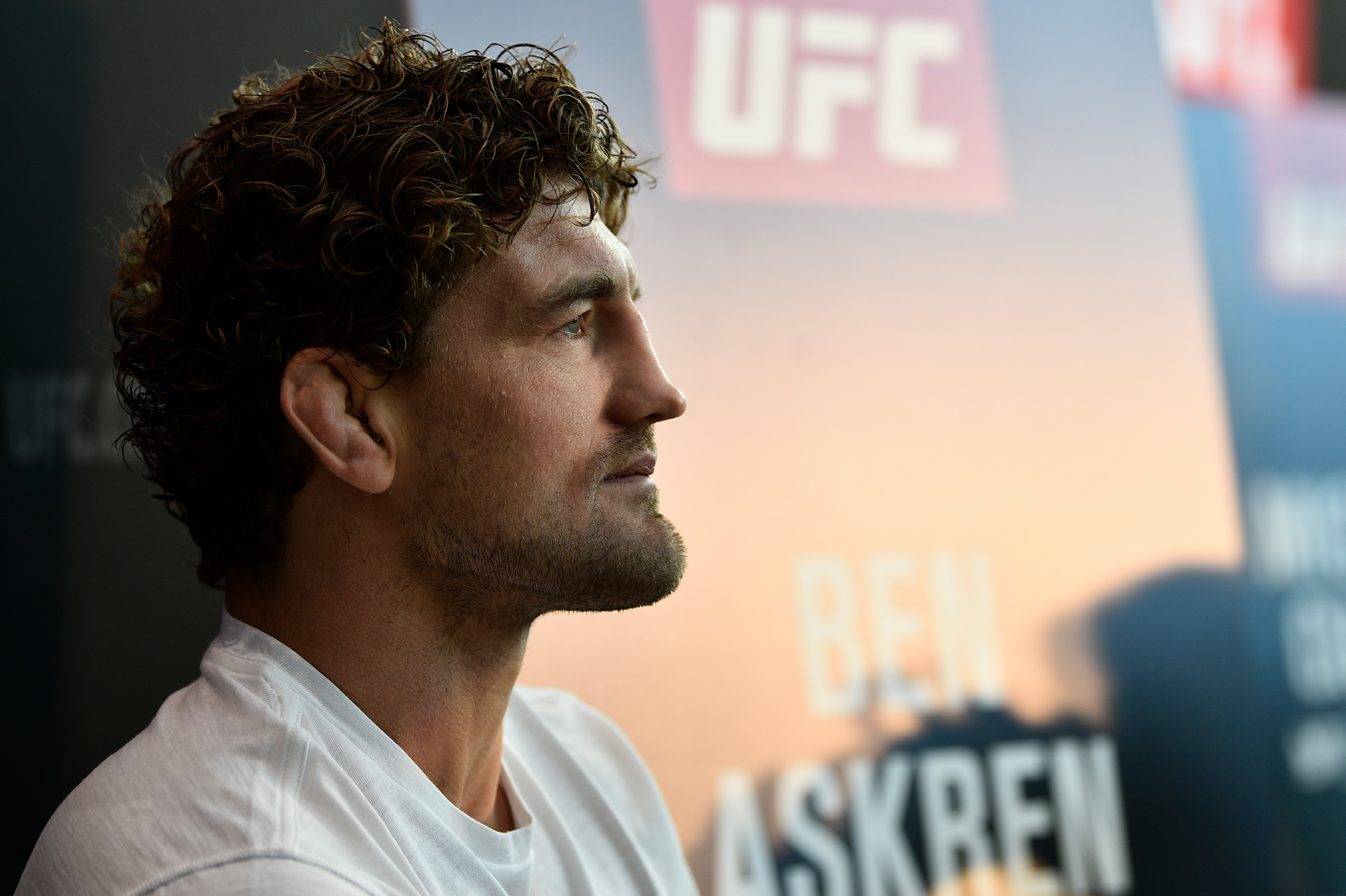 The Rise and Shockingly Dramatic Fall to Ben Askren's Promising UFC Career
A year ago UFC fighter Ben Askren was undefeated when he stepped into the octagon against Jorge Masvidal. Five seconds later, he was knocked out cold. Now he's out of MMA fighting.
A year ago, UFC fighter Ben Askren made history. Unfortunately, it was the wrong kind, and he will be remembered for it. Askren was victim to a flying knee from Jorge Masvidal at UFC 239 and was knocked out in five seconds, the fastest knockout in UFC history. Due to such brevity, that feat will likely never be matched. That fight, as memorable as it was for fans, changed the trajectory of Askren's career. Today, he's no longer with the UFC and out of fighting altogether.
Ben Askren brought undefeated record into fight
Ben Askren entered UFC 239 as a hot commodity. The 2008 Olympic wrestler and two-time NCAA champion featured an unblemished professional MMA record of 19-0, which included his most recent victory over former UFC welterweight champion Robbie Lawler. 
Before joining the UFC, Askren had been dominant in Bellator, where he earned the welterweight title belt in 2010 by defeating Lyman Good. He successfully defended his title four times through 2013. It was at that point Askren had hoped to get a chance to join UFC. However, the call never came.
Askren joined ONE Championship in Singapore, where he replicated his success in Bellator. From 2014-17, Askren dominated the welterweight division, winning the title and defending it on four different occasions. In 2018, in an unprecedented move, the UFC traded Demetrious Johnson to ONE in exchange for Askren. 
Ben Askren dropped in record fashion
Five seconds. It's a number that's hard to even fathom when associating it with the length of a fight. The referee's instructions to the fighters lasted longer. Bruce Buffer's famous call of "It's Tiiiiiime" was longer. The video replay — all five seconds of it — reveals both fighters leaving their respective corners. Jorge Masvidal takes a few steps then lunges forward with his knee. Ben Askren bends over, and the knee connects perfectly with his neck. Lights out.
If there was a positive for Askren to take from the event, he has no recollection of the history-making moment. 
"There's a little part of my memory that's blank there. I remember being in the cage with him, I don't remember the flying knee. Then, when I can recall, I was like 'Oh sh*t, I lost to Jorge Masvidal. This freaking sucks," Askren told ESPN's Ariel Helwani after the fight. "Everyone else was more worried about me than I was about myself. I didn't really have any pain of any sort, not a headache, nothing in my face hurts. I was just like 'Ah Jesus, I lost to Jorge Masvidal. How did I lose to him? How fast was it?' I could tell it was fast because I wasn't sweaty or sore or anything. I knew it was fast, I just didn't know exactly how fast it was but apparently I set a record of some sort."
While Ben Askren doesn't remember the actual moment, every day that followed, he was reminded of it through the MMA media, social media, and anyone who followed UFC.
Ben Askren retires from MMA 
A little more than three months later, Ben Askren returned to the octagon. He performed better, which is all relative considering his previous fight, but still lost via third-round submission. It was time for Askren to take some self-inventory. 
A month later, Askren announced his retirement. He said it was due to hip issues that had bothered him for years. "I've been having hip problems, and I finally had the discussion with my doctor … and I need a [left] hip replacement," Askren told Helwani. "So, man, that's it for me. I've been thinking about this for a week and what I was going to say, and I'm filled with gratitude for how great of a career I've been able to have, even though obviously in the end it did not turn out to go my way."
Just like that, it was over. After so much promise for the better part of a decade moving his way up the ranks, holding the welterweight title for years in two different fight promotions, Askren walked away. It was a surprising ending for the former Olympic wrestler. And if anyone knows a thing or two about surprising endings, it's Ben Askren.