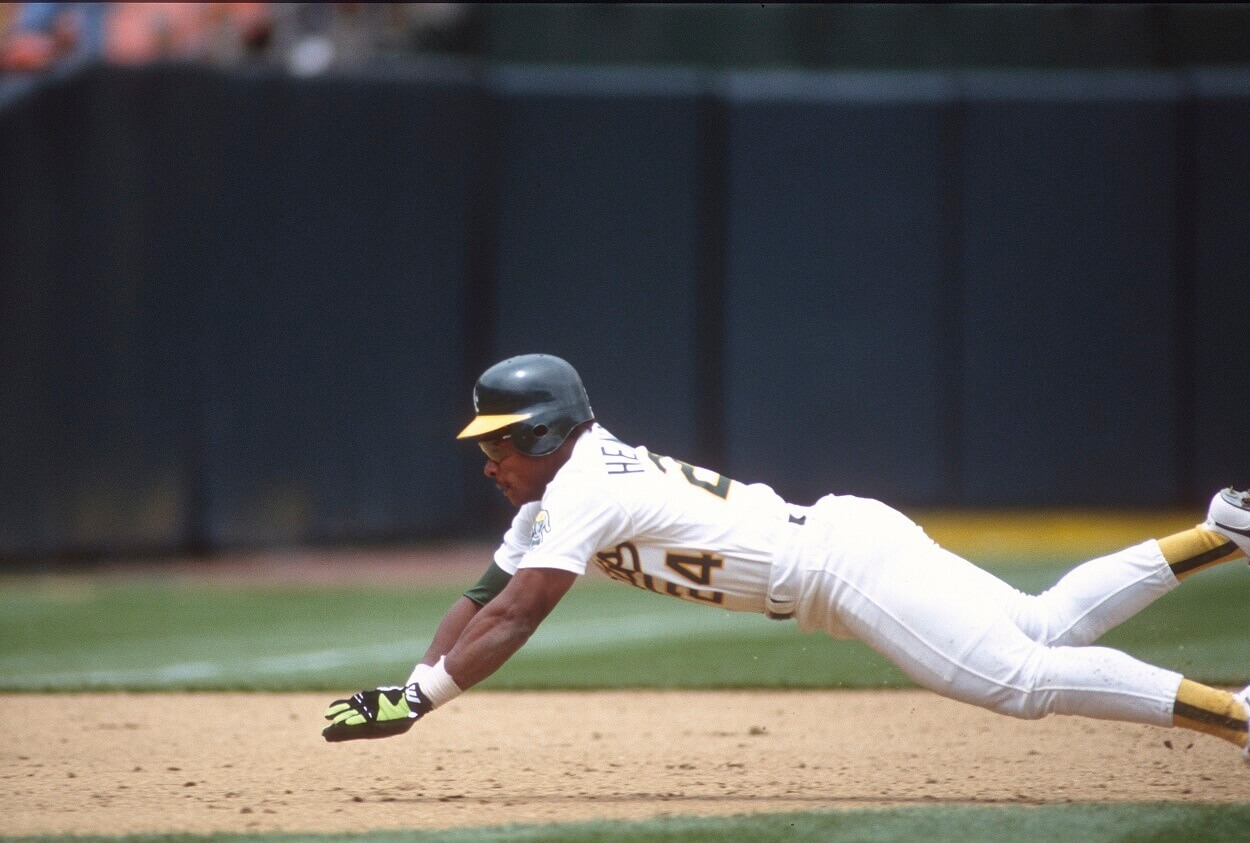 The Top 10 Base Stealers in MLB History
A look at the 10 MLB players with the most stolen bases of all time.
As stolen bases certainly aren't as popular as they once were, it's safe to assume this list of the top 10 thieves in Major League Baseball history won't be changing anytime soon.
While it was once somewhat common for a player to reach 70, 80, 90, or even 100 stolen bases in a single season, nobody has even reached 80 since the late 1980s. Jose Reyes swiped 78 for the New York Mets in 2007, but that's the most we've seen since the turn of the century.
So, again, one has to assume that the 10 MLB players with the most stolen bases of all time won't be erased from the record books anytime in the near future — if ever. And if, by chance, someone new does break into the top 10, they certainly aren't reaching the top spot.
And just who are those 10 players? Let's take a look.
10. Honus Wagner
Seasons: 21
Stolen bases: 723
Pittsburgh Pirates legend Honus Wagner certainly has much more to his resume than just being the subject of one of the most expensive trading cards of all time.
Over the course of 21 big-league seasons, the eight-time batting champ swiped 723 bases to complement his lifetime .328 average.
9. Max Carey
Seasons: 20
Stolen bases: 738
Another all-time Pirates great, Max Carey, led the National League in steals 10 times and recorded 738 during his 20-year career. In 1922, a season during which he swiped 51 bags, the Hall of Famer was caught stealing just twice.
8. Eddie Collins
Seasons: 25
Stolen bases: 741
During his 25-year career with the Philadelphia A's and Chicago White Sox, Eddie Collins, who wasn't in on the infamous fix during the 1919 World Series, recorded 741 stolen bases. And he nearly split them up equally, swiping 373 in 13 seasons with the A's and 368 in a dozen years with the White Sox.
7. Arlie Latham
Seasons: 17
Stolen bases: 742
Just a single base ahead of Collins in the No. 7 spot is Arlie Latham, who did most of his damage before 1900. Of his 742 career steals, all but one came in the 1800s. After a decade away from the game, Latham appeared in four games for the New York Giants in 1909, getting that last stolen base at the age of 49.
6. Vince Coleman
Seasons: 13
Stolen bases: 752
Vince Coleman played the fewest MLB seasons of any player on this list, but he certainly made an impact on the basepaths, especially early in his career. The Florida speedster recorded at least 107 steals in his first three big-league seasons with the St. Louis Cardinals and led the National League in steals each of the first six years of his career. Coleman ultimately ended up with 752 in 13 years.
5. Tim Raines
Seasons: 23
Stolen bases: 808
As his first season in Major League Baseball was the exact same year Rickey Henderson entered the league, Tim Raines often doesn't get the credit he deserves for being one of the all-time greats in this category. And he certainly was that. Over 23 seasons with six different franchises, Raines recorded 808 stolen bases to crack the top five.
4. Ty Cobb
Seasons: 24
Stolen bases: 897
While certainly not everyone's favorite player, Ty Cobb obviously knew how to play a little baseball. While his 12 batting titles and lifetime .366 average, the highest in MLB history, typically get much more attention, it's often easy to forget that Cobb stole 897 bases during his 24-year career and led the league in steals six times.
3. Billy Hamilton
Seasons: 14
Stolen bases: 914
No, this isn't the Billy Hamilton that stole at least 56 bases for the Cincinnati Reds in the mid-2010s, although he was a nice throwback. This would be the Billy Hamilton who played 14 big-league seasons from 1888 to 1901. The original led the National League in stolen bases on five occasions, stole at least 100 four times, and ended up with 914 for his career.
2. Lou Brock
Seasons: 19
Stolen bases: 938
Part of one of the most famous (or infamous if you're a Chicago Cubs fan) trades in MLB history, St. Louis Cardinals legend Lou Brock led the National League in steals eight times. And that eighth time was the most impressive as Brock swiped 118 bags in 1974, the season in which he finished second in the NL MVP vote.
1. Rickey Henderson
Seasons: 25
Stolen bases: 1,406
And last but certainly not least, we've got the only man in MLB history to steal at least a thousand bases, Mr. Rickey Henderson. And he didn't settle for just breaking the all-time record — he shattered it. Over 25 seasons with nine franchises, Henderson swiped 1,406 bags, including a modern-era record of 130 in 1982 alone. He stole the most (867) as a member of the A's and the fewest (3) during his short stint with the Dodgers to close out his career in 2003.