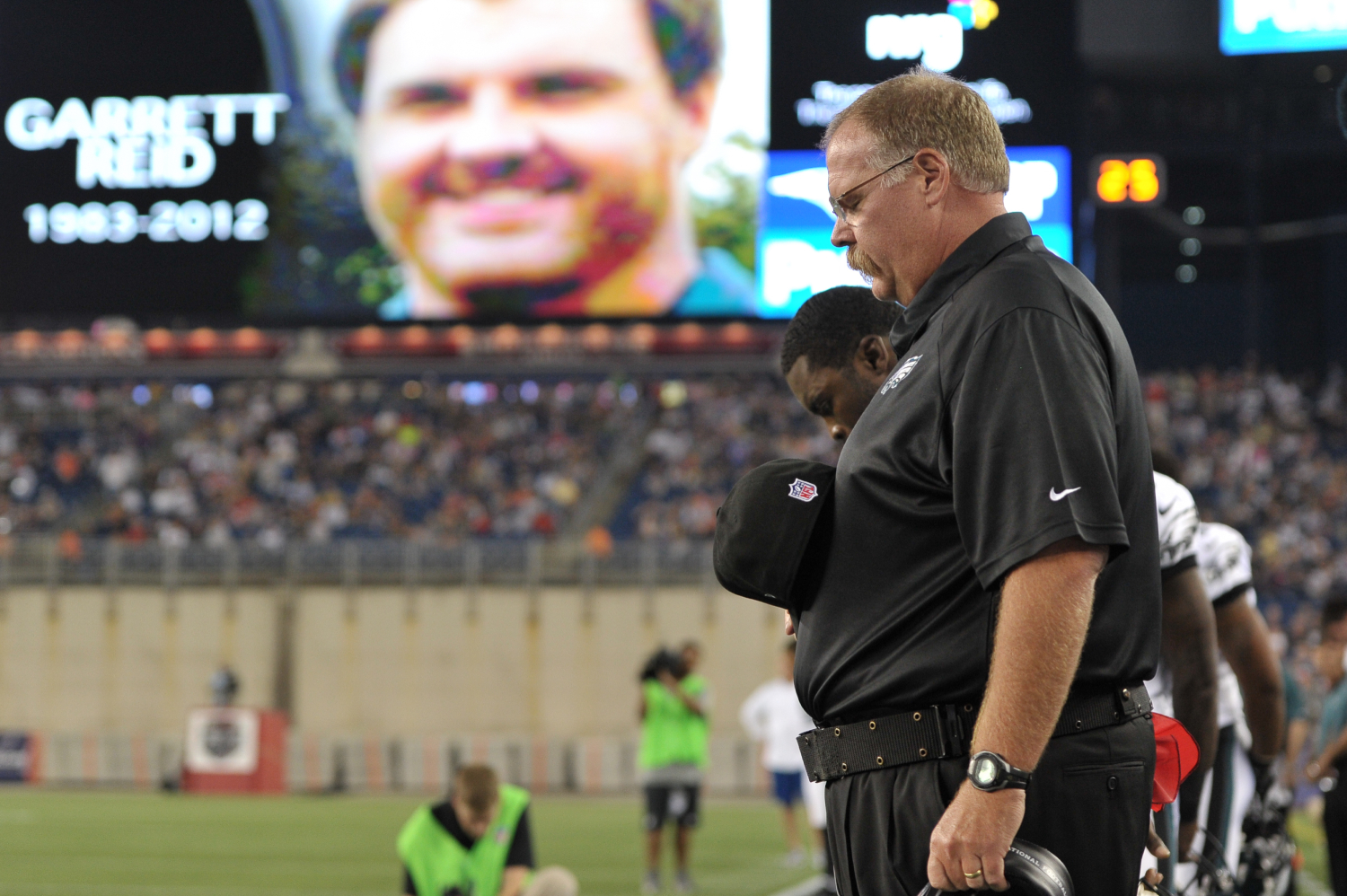 The Tragic Death of Andy Reid's Son Hit Home After Chiefs' Super Bowl Victory
The tragic death of Andy Reid's son, Garrett, really hit home after the Kansas City Chiefs won the Super Bowl in February.
As the clock ticked down and the Kansas City Chiefs secured their 31-20 Super Bowl win over the San Francisco 49ers in February, Andy Reid's mind wandered. It was his first Super Bowl victory as a head coach, but he flashed back to nearly eight years ago. Garrett Reid, Andy's son, was found dead after a heroin overdose at the team's training camp in 2012, and Coach Reid's thoughts were with his son as the game clock expired.
Andy Reid's coaching career
After spending seven seasons as an assistant coach with the Green Bay Packers under coach Mike Holmgren, Andy Reid got his big break in 1999. Reid was hired by the Philadelphia Eagles as their head coach and within five seasons, he had them playing in the Super Bowl. Reid was the second-youngest coach in the league at the time behind Jon Gruden.
In his first season as coach, Reid went 5-11, but it was an improvement over the team's 3-13 record in 1998. Over the next five seasons, the Eagles experienced a major turnaround, going a combined 59-21 in the regular season. The team never had a record worse than 11-5 during that five-year stretch. In 2004, Reid and the Eagles went to the Super Bowl, where they fell 24-21 to the New England Patriots.
Reid spent 14 seasons as the head man in Philadelphia, compiling a 130-93-1 record. He hooked on with the Kansas City Chiefs in 2013 and has spent the last seven seasons there. With the Chiefs, Reid has gone 77-35 and won his first Super Bowl last season. With the Chiefs, Reid has won at least nine games in every season.
The tragic death of Garrett Reid
Garrett Reid was just 29 years old when he was found dead in 2012. According to ESPN, Reid had battled addiction for many years. In 2007, Garrett Reid had been sent to prison after a high-speed automobile accident that injured another driver. In Reid's car, police found heroin and more than 200 pills. Reid admitted to using the heroin.
Garrett Reid admitted he was dealing drugs during his early-to-mid 20s. "I liked being the rich kid in that area and having my own high-status life," Reid told a probation officer, according to court testimony in November 2007. "I could go anywhere in the 'hood. They all knew who I was. I enjoyed it. I liked being a drug dealer."
Reid also knew he had a problem. He wanted to get better. At his sentencing, he told the judge so.  "I don't want to die doing drugs," he said. "I don't want to be that kid who was the son of the head coach of the Eagles, who was spoiled and on drugs and OD'd and just faded into oblivion."
Garrett was on the mind of the Reid family after the Super Bowl
The moment was one of pure happiness when the Kansas City Chiefs completed their comeback over the San Francisco 49ers in February's Super Bowl. Chiefs coach Andy Reid earned his first Super Bowl victory after more than 20 years as an NFL head coach. Friends, family members, including Reid's wife and four children – Britt, Spencer, Crosby, and Drew Ann – all gathered around Reid in a very emotional moment.
Missing was Garrett Reid, who died in 2012 of an accidental heroin overdose. Although he wasn't there, he was certainly on the minds of those in the Reid family. "It was a moment with our family where we all got to cry and really feel my brother looking down on us," Crosby said in The Philadelphia Inquirer. "Garrett's spirit was there. It was a huge family moment seeing my dad's dream finally come true."
"You can't help but think of him," Andy Reid said right after the game. "Absolutely." Tammy Reid, Andy's wife, was ecstatic everyone could share the moment together. "The fact that we were all here, that was amazing," she said. "Except for 'G.' So sad, but I know he's watching us."