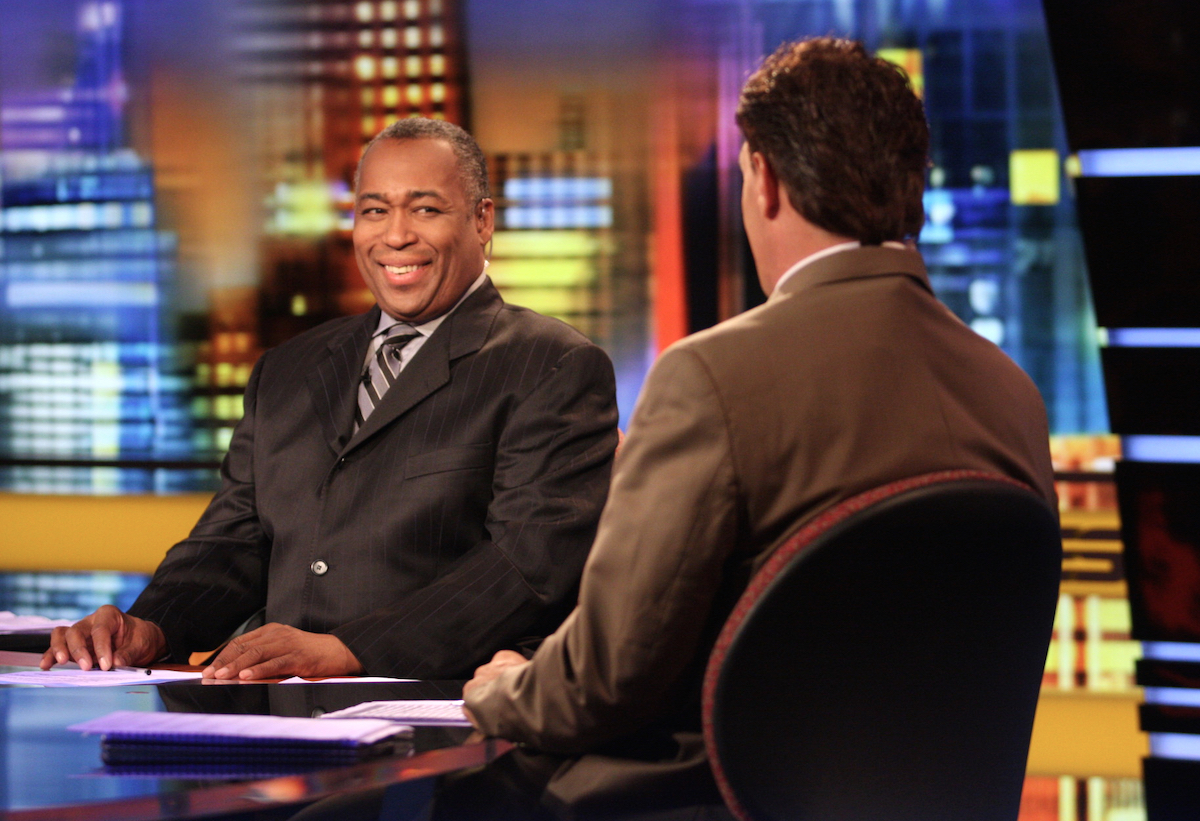 The Tragic Death of Beloved ESPN Anchor John Saunders
John Saunders was one of ESPN's most versatile anchors covering a variety of sports including college football, college basktball, and the NHL. His unexpected death shocked the network and the sports world.
For 30 years sports fans turned on their televisions and watched John Saunders on a variety of ESPN shows. When he wasn't delivering the day's sports news from the SportsCenter desk, viewers regularly watched him on Sundays as host of the popular "Sports Reporters" roundtable. He was also a mainstay during ESPN's coverage of the biggest sporting events like the college football national championship, where he would stand on the stage under the falling confetti and interview the winning coach and players. Tragically, he died unexpectedly at age 61.
John Saunders and his versatility at ESPN
John Saunders was a proud Canadian. He loved hockey and started playing it at a young age. As a youth, he was very successful and received a hockey scholarship to play at Western Michigan University. However, like most college athletes, once his playing days were over, Saunders turned to plan B. His plan B was the next best thing to playing sports, and that was covering them. 
He bounced around to several different Canadian television stations in the late 1970s, and then in 1982, he moved to the United States where he took a job as a sports anchor at a Baltimore television station. Four years later, he got the call to head up the coast to Bristol, Connecticut and ESPN.
In 1986, John Saunders debuted to the American audience and would be a fixture on the channel for the next 30 years. He was a natural morphing between an anchor on SportsCenter to doing play-by-play on a variety of sports, including college football, college basketball, and the NHL. 
He also hosted the popular Sunday morning sports roundtable show called the "Sports Reporters" since 2001.  
Saunders badly injured in fall
In 2011, on the set of ABC's College Football, disaster struck in a most innocent way. Saunders stood up too quickly, blacked out, fell backward on the tile floor, and hit his head. He suffered a concussion and much worse. He spent the next six months in therapy relearning how to walk, talk, read, and write.
Once he returned to ESPN, Saunders struggled at times. Unfortunately, those watching at home on television let him know.
"Six months later, the lingering effects of the injury were evident whenever I made a mistake during our broadcast by mixing up names or getting the score wrong—the kind of simple errors that guys who've been on TV for a few decades aren't supposed to make. Each time I screwed up something, a few anonymous critics on Twitter would hammer me," Saunders said in his book "Playing Hurt."
Despite his digital critics, Saunders pushed forward. He continued hosting college football coverage on ABC and was there on the stage to talk with Dabo Swinney and Nick Saban when their teams won national titles. 
John Saunders battles depression and dies unexpectedly
Behind the scenes, no one knew, including his co-workers and management at ESPN, that John Saunders battled life-long depression. In 2009, unbeknownst to anyone at the sports network, he checked into the Westchester Medical Psychiatric Ward at Mt. Sinai Hospital.
"I consider my bosses at ESPN to be enlightened, caring people. If I told them what I was going through, I'm confident they would have protected my privacy and done everything they could to help me. But I was still too embarrassed to let them know I was dealing with serious depression," he writes in his book. "So I told my supervisors at ESPN that I was in the hospital for my diabetes, which gave me more incentive to get out soon before I had to blow my cover."
Unfortunately, the injury in 2011 and the mistakes that followed exacerbated his depression. At one point in 2012, Saunders planned to take his life by jumping off the Tappan Zee Bridge in New York, as he described in his book. 
"But after I got out of my car and walked to the side I encountered girders and fences designed to keep people from jumping. I realized that killing myself this way would take more effort than I had anticipated. I made my way through the first layer of obstruction and got close enough to see the river below. Once I finally looked over the edge, I saw a drop of about 140 feet, equivalent to a 14-story skyscraper. The river's rough gray surface looked more like concrete than water. I stood there motionless, taking it all in. When I realized I could do it, that I could jump from the bridge, I got scared. I turned around, got back in my car, and drove off, heading for home."

John Saunders
On August 10, 2016, John Saunders collapsed on his bathroom floor and died. The coroner later said Saunders died of a combination of an enlarged heart, complications from his diabetes, and dysautonomia, which affects the automated nervous system that regulates breathing, blood pressure, and heart rate. His brain was donated to Mt. Sinai for research. He was 61.