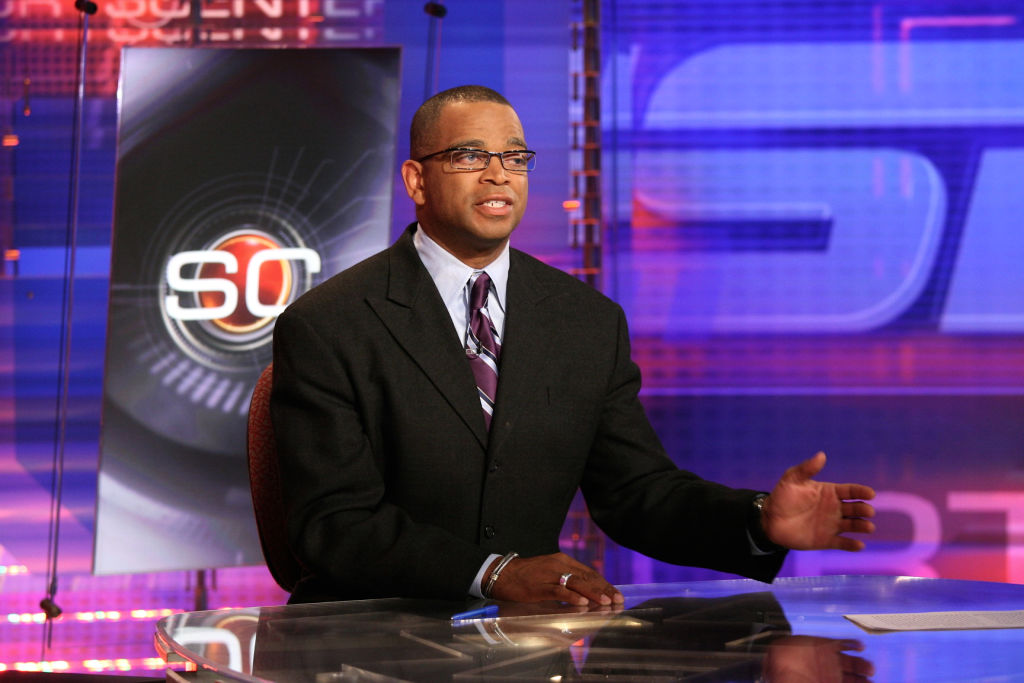 The Tragic Death of Beloved ESPN Anchor Stuart Scott
Whether you preferred "Boo-yah" or "as cool as the other side of the pillow" ESPN hasn't been the same since the tragic death of Stuart Scott.
While they may seem secondary to the action on the court or field, announcers and broadcasters play a major role in a fan's experience. While guys like Booger McFarland can find themselves in the spotlight for the wrong reasons, not every ESPN talking head becomes a target of criticism. Everyone, for example, loved to see Stuart Scott behind the SportsCenter desk.
Scott, however, is no longer working at ESPN or appearing on television. The beloved anchor tragically died in 2015 after battling cancer.
Stuart Scott's road to ESPN
In the world of sports, very few athletes simply arrive in the pros as fully-formed stars; most ply their trade in college, the minor leagues, or other stops along the way. Similarly, Stuart Scott didn't start his career at ESPN.
After high school, Scott headed to the University of Carolina. Ever the sports-lover, he played for the club football team and worked at the school radio station before graduating with a degree in speech communication. Armed with his college diploma, he landed a job at WPDE-TV in Florence, South Carolina; according to an ESPN feature after his death, that was where Scott came up with his iconic, "as cool as the other side of the pillow."
Scott then moved further south, taking a job at WESH, Orlando, Florida's local NBC affiliate. There, he started making connections at ESPN—he met producer Gus Ramsey and crossed paths with Chris Berman—and eventually got the call to join the network.
Scott started out on ESPN2, appearing in "SportsSmash" segments in the larger SportsNight program. From there, his star just kept rising.
Becoming an iconic 'SportsCenter' anchor
While Stuart Scott took over as the host of SportsNight after Keith Olberman moved to SportsCenter, it looked like that was as far as he would go. On one morning in 1997, everything changed.
"Scott figured ESPN executives kept him on the Deuce for one reason: They thought he was a mere catchphrase guy," Brian Curtis explained on The Ringer. "In August 1997, Scott got a chance to prove them wrong when he was paired with Rich Eisen on SportsCenter's 2 AM edition."
While anchoring the early morning SportsCenter could be a slog, it came with a major perk: that episode would keep running through the morning. That meant a generation of sports fans grew up listening to Scott; his "Boo-Yahs" and "Hallah" became the soundtrack of getting up and preparing for school.
"Mid- to late '90s, I'm in high school," Michael Smith, who went on to work at ESPN and host SportsCenter, told Curtis. "When you see somebody that looks and sounds a lot like you, or a lot like the people you know and look up to, the message is not just: You can do this. The message is: You can do this in your authentic way and be yourself."
The tragic death of Stuart Scott
After making a name for himself on SportsCenter, Stuart Scott did just about everything possible on ESPN. While he covered the NBA Finals, hosted game shows, and became a part of the sports landscape, his career would come to a tragic end.
In 2007, Scott needed to have his appendix removed; after the procedure, doctors discovered that he had cancer. Despite numerous surgeries and rounds of chemotherapy, though, the iconic anchor didn't quit. He kept hitting the gym and, more visibly, appearing on television.
In July 2014, Scott received the Jimmy V Perseverance Award at the ESPYs, in honor of his fight against cancer. In a moment reminiscent of the NC State coach's iconic speech, the SportsCenter anchor told the world, "When you die, it does not mean that you lose to cancer. You beat cancer by how you live, why you live, and in the manner in which you live."
On January 4, 2015, Scott died at age 49. His legacy, however, lives on with sports fans everywhere.