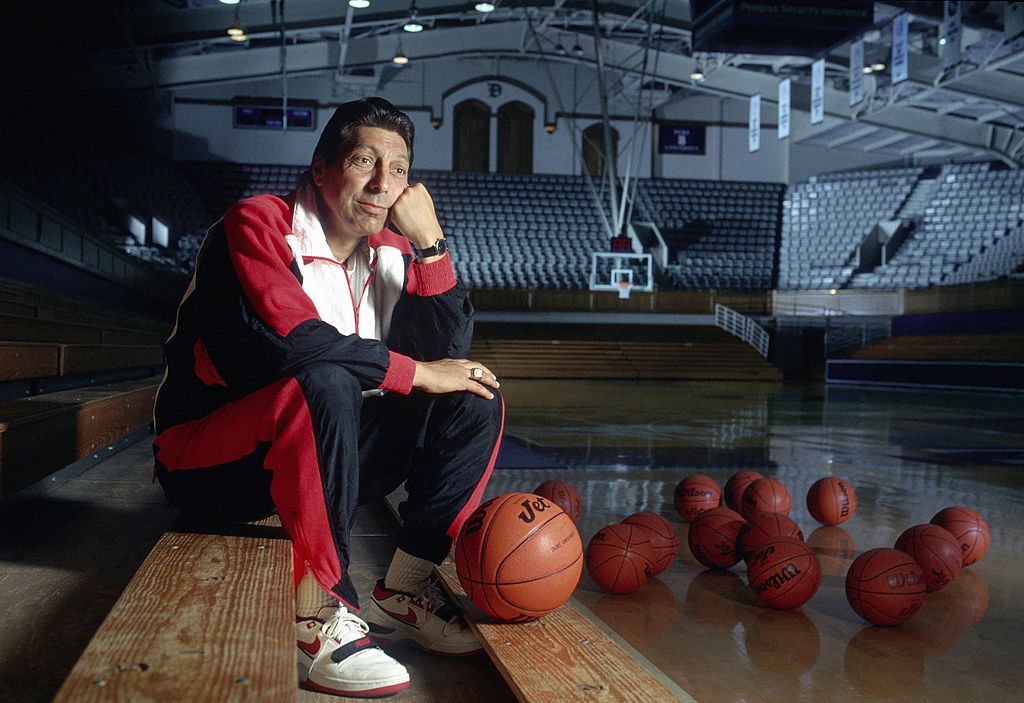 Jimmy V's Tragic Death Came Less Than 2 Months After His Iconic ESPY Speech
In 1993, Jim Valvano inspired the world with a touching speech at the ESPY Awards. The coach would tragically die less than two months later.
While sports awards shows could be exciting in theory, they rarely turn into must-see TV. The inaugural ESPY Awards in 1993, however, were a bit different. That evening, former college basketball coach Jim Valvano, popularly known as Jimmy V, took the stage to give one of the iconic speeches in modern sports history.
At the time, Valvano was fighting a losing battle against cancer. He died less than two months after taking the stage at the ESPYS; while it wasn't a surprise, his passing shook the sports world.
Jimmy V's early basketball career
These days, virtually every college basketball fan has heard of Jimmy V. Before he became a household name, however, Jim Valvano spent plenty of time working his way to the top.
Valvano played his college basketball at Rutgers, not too far from his native Queens, New York. He spent three seasons with the Scarlett Knights varsity squad, averaging just over 15 points per game for his career. The point guard helped Rutgers claim third place in the 1967 NIT and was named the school's Senior Athlete of the Year after his final campaign.
Jimmy V wasn't destined for the NBA, though. After graduation, he began coaching the Rutgers' freshman team and working as an assistant for the varsity squad. He also spent brief spells as an assistant at UCONN and the head coach at John Hopkins.
In the 1970s, Valvano spent three seasons at Bucknell and five at Iona; while he started to make a name for himself at the end of his time in New Rochelle, everything changed at NC State.
Leading NC State to an iconic upset
In March 1980, Jim Valvano joined the North Carolina State Wolfpack. That hiring would change the course of program history.
During the 1982-83 campaign, Valvano led his team to the ACC title; when the NCAA Tournament began, the Wolfpack just kept rolling. They made it all the way to the championship game, where they pulled off an iconic upset. To this day, college basketball fans remember Valvano running around the court, desperately looking for someone to hug in celebration.
Jimmy V spent 10 seasons at NC State, piling up 209 wins, two ACC titles, and one national championship. He also spent some time as the school's athletic director but was forced to leave both posts after an NCAA investigation. While some players were found to have sold sneakers and tickets, Valvano wasn't personally implicated; as documented by the Chicago Tribune, "the spirit, not the letter of the law, had been broken.
Jimmy V's iconic ESPY speech and tragic death
After leaving NC State, Jimmy V found a home as a broadcaster, teaming up with Dick Vitale. In 1992, however, everything would change.
Valvano was diagnosed with metastatic adenocarcinoma, an aggressive form of cancer. While that terrible news shocked the sports world, Jimmy V wouldn't go down without a fight.
At the inaugural ESPY Awards in 1993, Valvano received the Arthur Ashe Courage and Humanitarian Award. Despite his weakness—Dick Vitale told Graham Bensinger that he only expected his friend to say a few words of thanks—the former coach gave a now-iconic speech.
"To me, there are three things we all should do every day," he told the audience. "We should do this every day of our lives. Number one is laugh. You should laugh every day. Number two is think. You should spend some time in thought. And number three is, you should have your emotions moved to tears, could be happiness or joy. But think about it. If you laugh, you think, and you cry, that's a full day. That's a heck of a day. You do that seven days a week, you're going to have something special." He also spoke passionately about the need to fight cancer, which manifested in the Jimmy V Foundation.
Less than two months after that moment at the ESPY Awards, Valvano died at age 47. Jimmy V hasn't been forgotten, though; his name, his inspirational words, and, perhaps most importantly, his foundation still live on today.
Stats courtesy of Sport-Reference