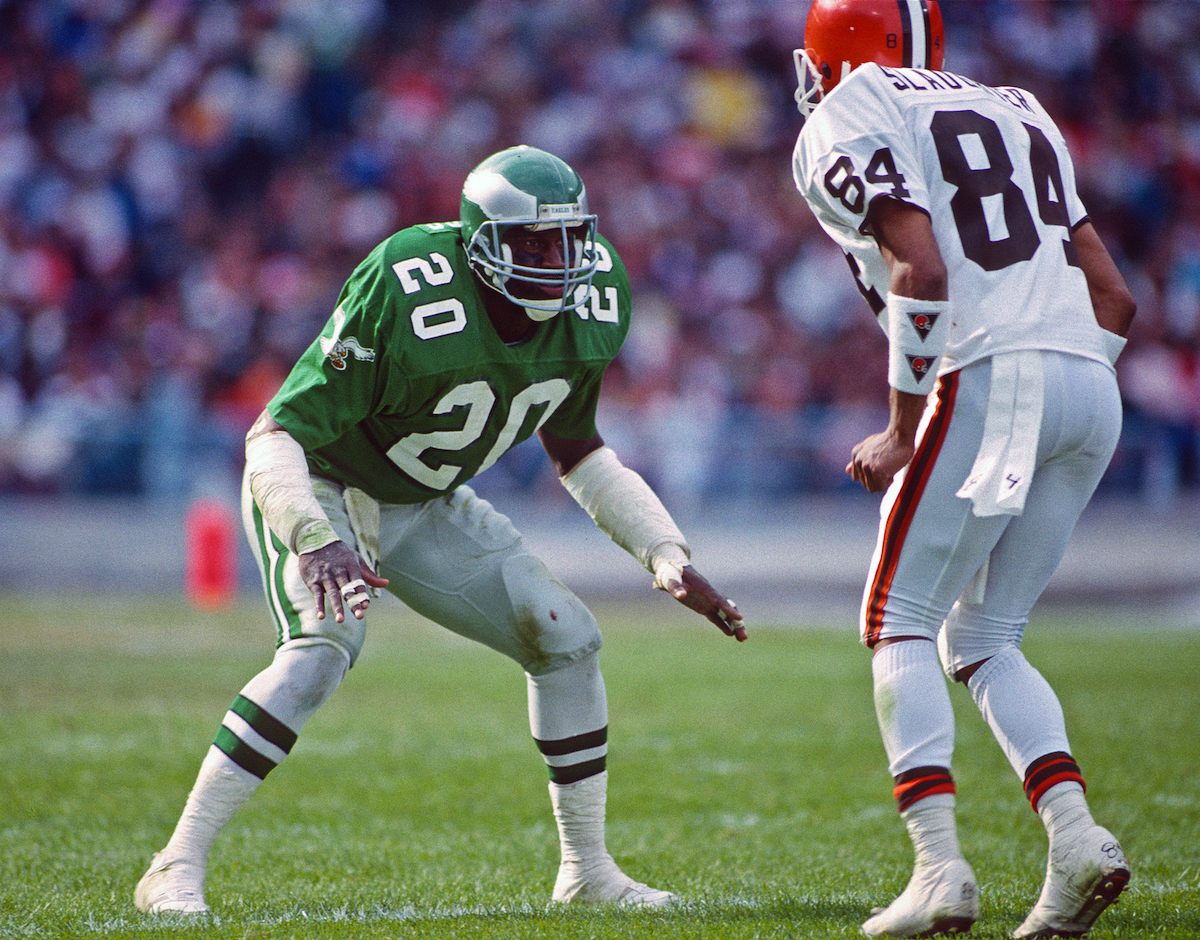 The Tragic Death of Philadelphia Eagles Hard-Hitting Safety Andre Waters
Andre Waters was a hard-hitting safety. He was nicknamed "Dirty" for his vicious shots. Ultimately, those repeated blows to the head tragically cost him his life.
Andre Waters was one of the most feared hitters in the NFL from the mid-1980s to the early 1990s. The Philadelphia Eagles safety earned the nickname "Dirty" because of his propensity to detonate any offensive player who came across the middle. While Waters' violent play received praise from his teammates and coaching staff and often made the weekly highlight reel, it came with a hefty price. 
Each one of those high-speed collisions Waters sought out on Sundays took its toll. He suffered more than a dozen concussions. But that was just the start of it. After retirement, he began experiencing other effects, including depression. Tragically, in 2006, Waters took his own life. Here's a look back at the hard-hitting career and tragic death of Philadelphia Eagles star defensive back Andre Waters.
Andre Waters' hard-hitting career
In 1984, the NFL draft had 12 rounds. That's 336 picks. Andre Waters wasn't one of them. The Philadelphia Eagles decided to give the undrafted free agent out of Cheyney University a chance. And he made the most of it.
Waters saw limited action in his first two seasons, and then in 1986, he made his presence known throughout the league. That season he started all 16 games and finished with a team-leading six interceptions and 129 tackles. 
During the remaining nine years of his career, Waters only tallied nine more interceptions, but he would finish with an impressive 925 tackles. From 1986-1991, Waters recorded 789 total tackles for a staggering 131.5 tackles per season. Waters thrived on contact. His agent, Jim Solano, would later say the Eagles defensive back viewed hitting as his meal ticket.
Delivering big hits comes with a price
When it comes to statistics, Waters' numbers are impressive. However, the stats don't reveal the number of times all those hits left Waters or another player injured. In one case, Waters was involved in a controversial play against the Washington Redskins when he attempted to block an extra point and landed on the kicker's ankle, dislocating it, and ending his season. 
Another time Waters was fined $10,000 for going low at the knees of Minnesota quarterback Rich Gannon. Those were just the times Waters' actions were flagrant enough to catch the eyes of the media or the NFL.
In 1991, the Philadelphia Inquirer reported Waters was hospitalized after sustaining a concussion in a game against Tampa Bay and experiencing a seizure-like episode on the team plane. Interestingly, it was later diagnosed as body cramps. There were other times when Waters got his "bell rung" and never told anyone. 
When asked in 1994 by the Inquirer about the number of concussions he had sustained in his career, Waters couldn't remember. "I think I lost count at 15. I just wouldn't say anything. I'd sniff some smelling salts, then go back in there." 
The tragic death of Andre Waters
Andre Waters retired after the 1995 season, playing his final two years in Arizona. He worked as a football coach at different levels, including college stops at Morgan State, South Florida, and Alabama State, and in the NFL with the St. Louis Rams and Detroit Lions. After 10 years of coaching, Waters shocked the sports world when took his life on Nov. 20, 2006. He was just 44.
Weeks after his death, his family agreed to have his brain examined by neuropathologist Dr. Bennet Omalu of the University of Pittsburgh, a leading expert in forensic pathology, who had examined two other former NFL players. Omalu determined that Waters' brain tissue resembled that of an 85-year-old man with similar characteristics as those of early-stage Alzheimer's. 
Waters had brain damage, and according to Omalu, it was a direct result of the numerous head trauma he experienced each time he delivered a vicious, highlight-reel hit. Waters became the poster child for NFL players who've suffered from chronic traumatic encephalopathy, the tangled threads of abnormal proteins that have been found to cause cognitive and intellectual dysfunction, including major depression. His story was featured in the film "Concussion." 
Andre Waters' tragic death at the age of 44 came as a shock to most NFL fans and even those who knew him best. But his death was not in vain as those studies involving his brain shed light on the trauma caused by concussions associated with football-related collisions. Through his death, Waters is helping others better understand the dangers of playing football and whether or not it's a risk they are willing to take. Knowledge is power and in this case, it's also life-saving. 
How to get help: In the U.S., call the National Suicide Prevention Lifeline at 1-800-273-8255. Or text HOME to 741-741 to connect with a trained crisis counselor at the free Crisis Text Line.