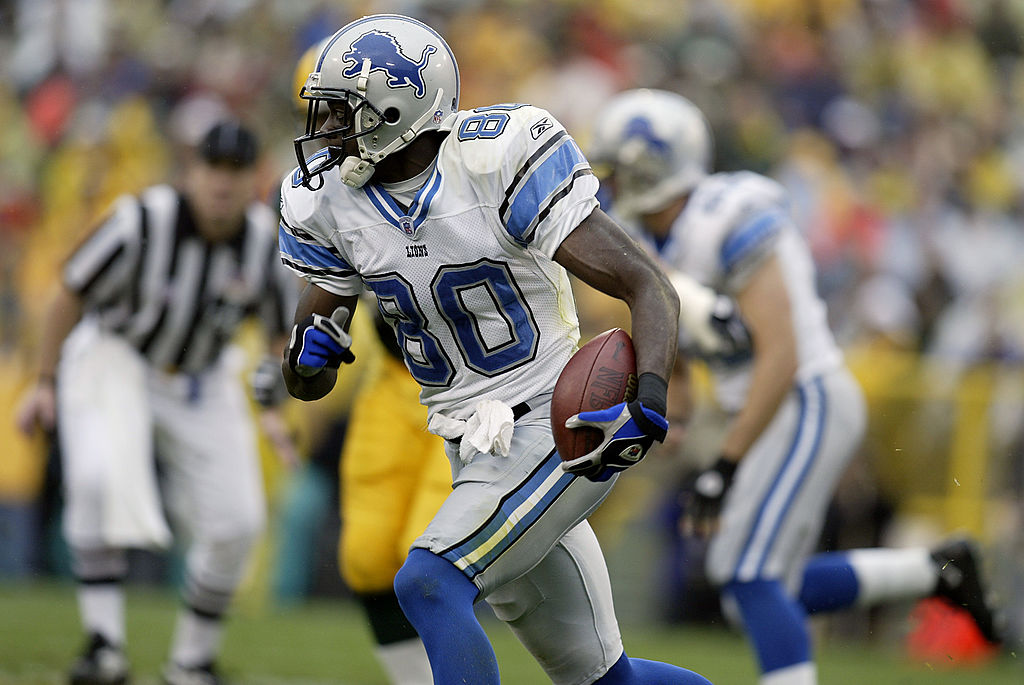 The Tragic Ending for No. 2 Pick in 2003 NFL Draft Charles Rogers
Charles Rogers was the best college football receiver in 2002. What happened after being selected No. 2 in the NFL Draft is a tragic story of epic proportions.
Seventeen years ago, Charles Rogers had wrapped up a spectacular highlight-filled career at Michigan State and was just days away from attending the 2003 NFL Draft. Experts had projected him to be one of the first selections. 
After the Cincinnati Bengals opened the draft selecting Carson Palmer, the Detroit Lions selected Rogers as the No. 2 overall pick. Three seasons and 15 games later, Rogers was out of football. In late 2019, Rogers tragically died at 38 years old. What happened to the once-promising star receiver?
Charles Rogers becomes college football superstar
In the 2001 and 2002 seasons, the local kid from Saginaw, Michigan, Charles Rogers, dominated opposing defenses. As a sophomore, he was the go-to target for Michigan State quarterback T.J. Duckett. In 2001, Rogers hauled in 67 receptions for 1,470 yards and a Big 10-leading 14 touchdowns. 
During his junior season, Rogers matched his stellar numbers from the previous year and, in the process, improved his draft status. The 2002 season Rogers posted 68 grabs for a Big 10-leading 1,351 yards and 13 touchdowns. He was a unanimous All-American selection and won the Fred Biletnikoff Award as the nation's best college football receiver. 
Those two seasons plus his performance at the 2003 NFL combine where he posted a 4.40 40-yard time, Rogers rocketed up the NFL Draft board. He knew something special was happening when he got invited to New York to attend the draft in person at Madison Square Garden. 
Rogers starts fast before injuries derail his career and life
The Lions selected the Michigan native as the second overall pick in the 2003 NFL Draft, and his life changed forever. He signed a $39.5 million contract, which included a $14.4 million signing bonus. 
In the season opener in Detroit, Charles Rogers showed Lions fans exactly what they had seen in East Lansing months earlier and what they expected to see from him for many Sundays in the future. Joey Harrington connected with Rogers on a pair of first-half touchdown tosses, and the Lions defeated the Arizona Cardinals to start the 2003 campaign.
Sadly, that first game would be the highlight of his career. He caught 22 passes for 243 yards during the first five games before he suffered a broken clavicle that ended his rookie season. The next season, on the third play from scrimmage, Rogers sustained another broken clavicle. His season was over.
Upset by the same injury in back-to-back seasons, Rogers requested to go home for the remainder of the season. The Lions agreed to it. Former Lions GM Matt Millen later said it was a mistake allowing Rogers to be away from the team for an extended period of time.
Life is tough after football
In 2006, after several violations of the NFL's substance-abuse policy and limited action in 2005, the Lions released Rogers. He worked out for multiple teams but never signed a contract. And just like that, it was over.
Charles Rogers was considered a failure, or the most dreaded word in all of professional sports, a bust. His life spiraled out of control with an addiction to painkillers he had started using years earlier when he suffered his season-ending injuries. 
Over the next few years, Rogers battled his addiction and the Lions in court over repaying the team $8.5 million. He didn't have the money. Eventually, he made his way to Florida, where he landed as the general manager at an auto repair shop in Fort Myers, Florida, working with a childhood friend.
In a 2017 interview with a local TV station, Charles Rogers had lost a considerable amount of weight. He didn't look anything like the best receiver in college football a dozen years earlier. In his voice, you could hear a broken man.
"It's a tough life. It's a tough life to live," an emotional Rogers told the reporter, tears welling up in his eyes. 
His tough life came to an end on Nov. 11, 2019. All those years of addiction to painkillers had finally caught up with him, and he died of liver failure. He also had cancer. Rogers was 38.