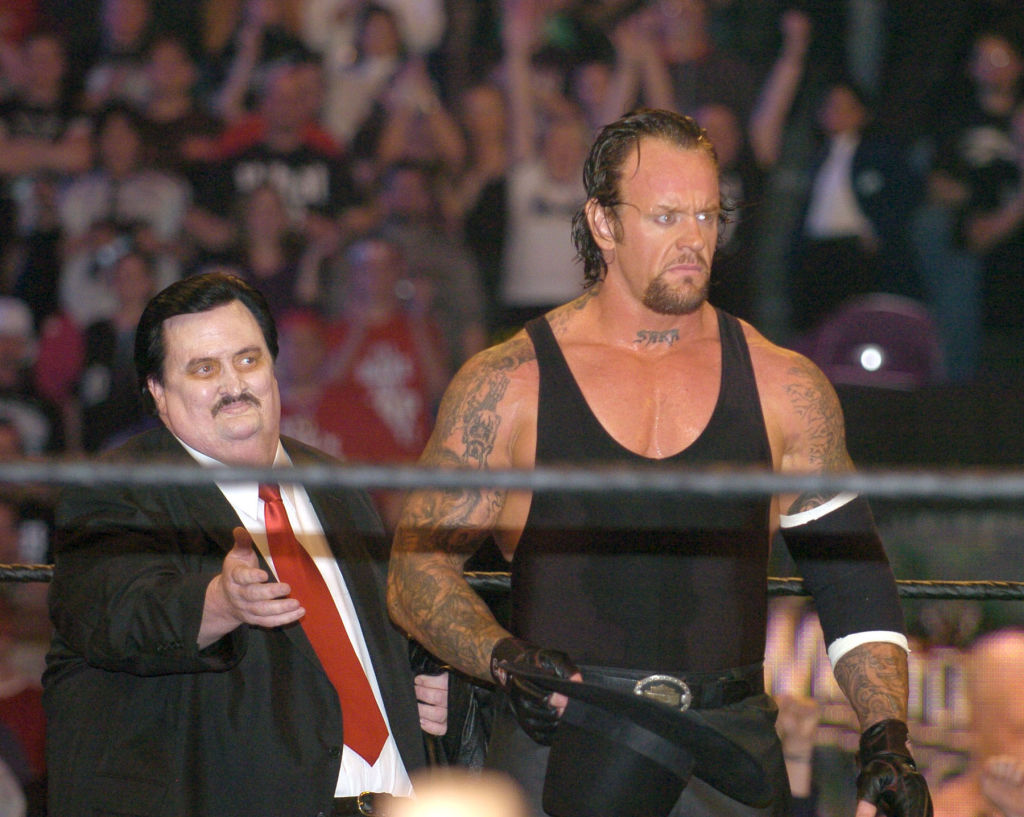 The Undertaker's Manager, Paul Bearer, Dealt With Death as a Real-Life Mortician
While Paul Bearer was a spooky figure in the world of pro wrestling, the Undertaker's manager was actually a real-life mortician.
As any pro wrestling fan will tell you, over-the-top characters are simply part of the show. For an example of that, you don't need to look any further than the Undertaker; while the star's persona has evolved a bit over the years, it still captured the collective hearts and minds of the WWE. Paul Bearer, the wrestler's manager, was an essential part of the show.
William Moody, who performed as Paul Bearer, was more than a simply wrestling manager and a talented performer, though. Away from the ring, he actually worked as a real-life mortician.
The Undertaker's legendary pro wrestling career
The history of professional wrestling is filled with larger than life characters. Since the 1990s, however, it's hard to get bigger than the Undertaker.
While Mark Calloway used a few other personas, like "Mean Mark" Callous, during his wrestling career, he became the Undertaker once he joined the WWF in 1990. He promptly rose to stardom star, briefly claiming the heavyweight title a year later.
From there, though, the Undertaker continued to develop into one of wrestling's marquee attractions. No matter how his character evolved, fans could always count on one thing: when Calloway stepped into the squared circle, high drama would surely follow.
Whether you loved or hated the Undertaker, it was hard to argue with his results. In addition to his unprecedented streak of 21-straight Wrestlemania victories, Calloway claimed plenty of titles; he's a seven-time world heavyweight champion and still hitting the ring at age 55.
Paul Bearer was a key part of the Undertaker's characterization
Victories alone don't turn a pro wrestler into a fan favorite, though. The Undertaker's unique persona also played a role in his WWF/E success. A key element of his eerie act, however, was the presence of Paul Bearer.
While William Moody had managed plenty of pro wrestlers as Percival Pringle III, his mortician character, fittingly named Paul Bearer, was a work of art. Donning a suit and ghostly white makeup, shrieking in a high-pitched voice, and carrying an urn full of mystical ashes, he was the perfect compliment to the Undertaker. He played a key role Undertaker-Kane storyline, and was eventually revealed the be the latter wrestler's "father."
As was the case with many other characters, Bearer was incredibly cheesy, but that was all part of the fun. Whether he was strapped to a wheelchair, buried alive, or trapped in any other spooky situation, fans knew that he, the Undertaker, and Kane would always provide plenty of entertainment.
Moody died in 2013, but Paul Bearer hasn't been forgotten. The macabre manager was inducted into the WWE Hall of Fame in 2014. "Both chilling and intriguing the WWE Universe with his memorably macabre persona, Bearer will forever be recognized as one of WWE's defining managers and an integral part of The Undertaker's legendary mythology," the WWE explains in their official biography of the late manager.
Believe it or not, Paul Bearer was a real-life mortician
It goes without saying that Paul Bearer was only a character brought to life by William Moody. That iconic persona, however, may have had some basis in reality.
While Moody's loved pro wrestling, he also held a degree in mortuary science, according to the New York Times. The paper's obituary also cites a woman "at the Coastal Funeral Home in Moss Point, Mississippi, [who] said he had worked there until 2009 or 2010."
While Moody said similarities to Paul Bearer were purely coincidental, it does seem like Vince McMahon appreciated the connection.
"Vince is laughing like, 'Ho ho ho ho!'— you know, that trademark Vince McMahon laugh," Moody explained to THQ, as shared by USA Today. "So that moment there when we all realized that they were looking for a manager for Taker and that I was a real mortician … It was a moment in time that I will never forget, and I will take to my grave with me."