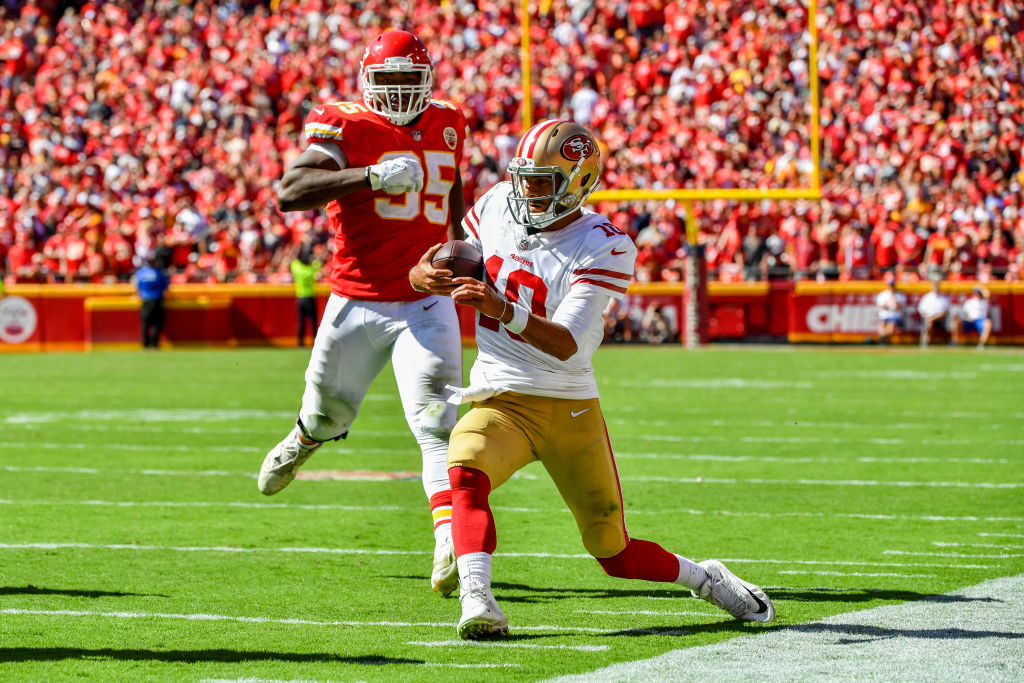 The Worst NFL Injuries of the 2018 Season
The worst injuries of the 2018 NFL season altered the fortunes for several teams, and one of them was among the worst in league history.
The 2018 NFL season saw a number of major injuries that altered the landscape for several teams. A few star players were lost early, while gruesome injuries affected division title races.
We never want to see players get hurt but it's an inevitable part of the game. Here's a look at the worst NFL injuries of the 2018 season, including one that is among the worst of all time.
5. Greg Olsen — TE, Carolina Panthers
Greg Olsen has been one of the premier tight ends since getting drafted by the Carolina Panthers out of the University of Miami. Olsen had surgery on his right foot, and then reinjured it in the November 4th matchup. The Panthers had no choice but to place him on injured reserve, and it directly impacted their offense the rest of the season.
4. Dez Bryant — WR, New Orleans Saints
Dez Bryant's injury makes our list due to the sheer timing of it. After being released by the Dallas Cowboys Bryant took trips to multiple NFL teams in hopes of landing a roster spot. He couldn't have found a better situation than the New Orleans Saints and future Hall of Fame quarterback Drew Brees, but things didn't go as expected.
He tore his Achilles in his first practice and didn't see a snap in an official game for the Saints. It was a devastating blow to Bryant, and his skill set in the red zone could have made an impact in the Saints' loss in the NFC Championship game.
3. Jimmy Garoppolo — QB, San Francisco 49ers
San Francisco ended last season on a high note and Jimmy Garoppolo appeared to be ascending to the highest tier of QB play in a tough NFC West. Three games into the year a torn ACL would cut his season short and squash any chances the 49ers had of making a playoff run. Garoppolo is progressing nicely and started throwing the football a few weeks ago. A good draft class and a healthy QB could make this a sneaky team in the NFC next season.
2. Earl Thomas — S, Seattle Seahawks
With a number of key pieces leaving the Seattle defense this past offseason, Earl Thomas' holdout was the main storyline heading into 2018. The star Seahawks safety reluctantly signed his franchise tag tender since he could not come to an agreement on a long term contract with the team. Instead of getting traded to the Dallas Cowboys as he requested, Thomas suited up for the Seahawks each week.
After picking off two passes against the Cardinals, he suffered a broken leg and was carted off the field. The broken leg ended his season and could put his future in the league in jeopardy. The Seahawks defense finished 17th in passing defense and fans will wonder if Thomas has played his last game for the franchise.
1. Alex Smith — QB, Washington Redskins
After getting traded from Kansas to Washington this offseason, it seemed like a win-win for both parties involved. The Chiefs were able to get quarterback of the future Patrick Mahomes into the starting lineup, and Washington replaced former signal-caller Kirk Cousins with Alex Smith.
His numbers weren't comparable to his 2017 season, but Washington was in a position to run away with the division considering the turmoil in Dallas and Philadelphia's QB situation. Unfortunately, Smith suffered one the worst injuries you will ever see on a football field, breaking his leg and bringing back memories of Joe Theismann. It hasn't been determined what his NFL future will look like, but if he doesn't play again it is sad to know Smith's final moments came on such a tragic play.
Which of the worst NFL injuries affected your team?
This list includes some of the game's biggest stars suffering season- and career-altering injuries. Some of the players still have enough in the tank to bounce back and be productive, while others may have to hang up their cleats for good. What other injuries would you consider adding onto this list? The NFL Draft is just a few weeks away so let's get ready for the NFL combine!