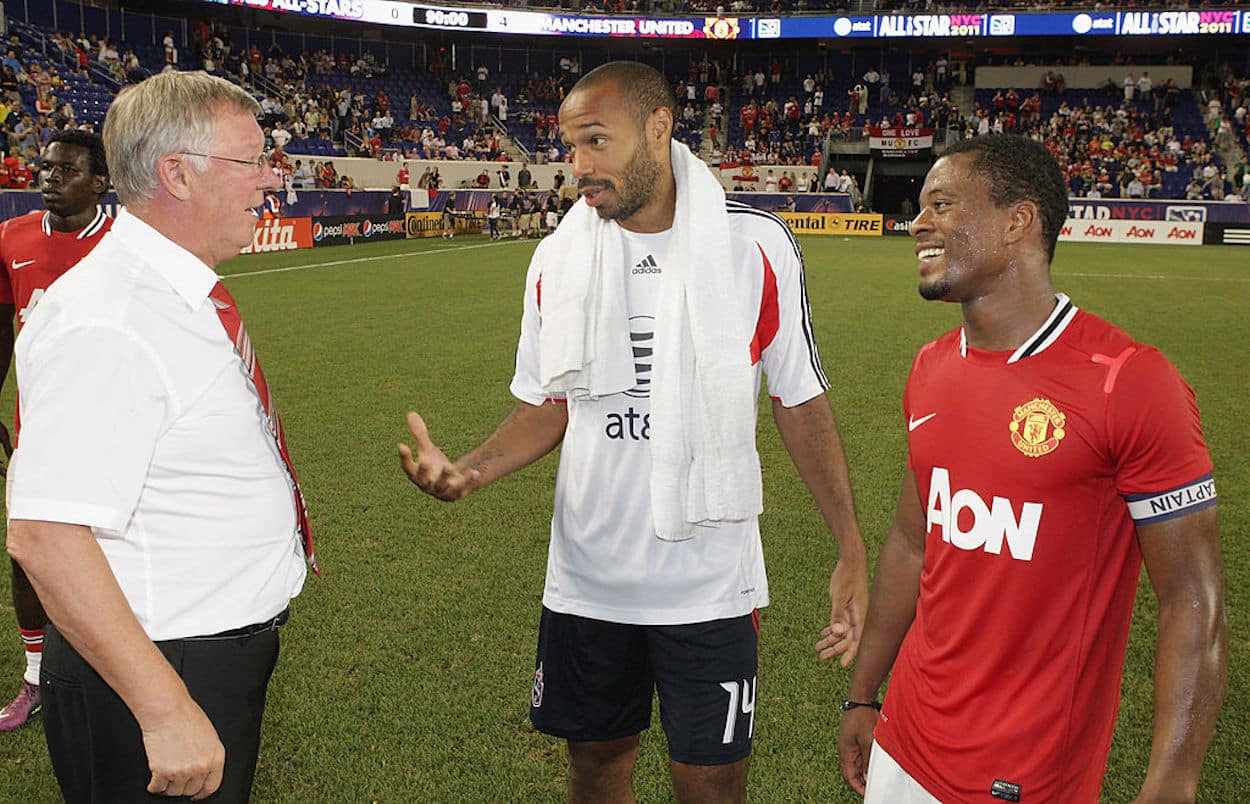 Thierry Henry Could Have Changed Premier League History With Manchester United If Sir Alex Ferguson Had Simply Felt Differently
While every soccer club can boast its own share of iconic players over the years, few have the connection shared by Thierry Henry and Arsenal. The Frenchman may have suited up elsewhere, but he still remains an iconic part of North London lore. From his unforgettable goals to his dislike of Tottenham Hotspur, no one …
While every soccer club can boast its own share of iconic players over the years, few have the connection shared by Thierry Henry and Arsenal. The Frenchman may have suited up elsewhere, but he still remains an iconic part of North London lore. From his unforgettable goals to his dislike of Tottenham Hotspur, no one Gooner will ever forget the striker's contributions.
But did you know that those moments could have taken place in Manchester rather than London? If we take a former Old Trafford head of security's word for it, Henry could have been playing for Manchester United if Sir Alex Ferguson had more confidence in his injury record.
Let's travel back in time and check it out.
It's possible that Sir Alex could have stopped Arsenal from signing Thierry Henry
While it's often said that sports are games of inches, the same sentiment can be applied in more figurative ways. Take, for example, bringing Thierry Henry to England. Had one (admittedly important) man felt differently, soccer history could look rather different today.
"My phone goes, and Eric's [Cantona] older brother, Jean-Marie, Jean-Marie Cantona, yeah? He's on the phone. He said, 'Ned,' he says. 'Tell Alex [Ferguson],' he says, 'that Thierry Henry wants to come to the club,'" Ned Kelly, a former Old Trafford security chief who served as a bodyguard to United's manager and some players, recounted on beIN Sports. "Now, this was before he went to Arsenal. So his first choice was Manchester United. So I go to see the boss. I said, 'Boss,' I said, 'I've just had Jean-Marie Cantona on the phone. Eric, you know, he said that Henry wants to come to the club.'"
While you might think the legendary manager would be ready to bring a talented young player to Manchester United, it's important to remember that Henry had struggled at Juventus. Ferguson, it seems, wasn't too impressed and didn't sanction a move.
"He says, 'No way. He's always f-ing injured," Kelly continued. While it's safe to assume Sir Alex didn't censor himself, the point still stands.
That decision proved to change the course of Arsenal and Premier League history
Although soccer is a weak-link sport where it's tough for a single player to completely dominate a game, Thierry Henry proved to be a massive addition at Arsenal. While he had been playing as a wide midfielder with Juventus, Arsene Wenger placed his fellow Frenchman at the point of the Gunners' attack. That made all the difference.
Henry proved to be a prolific striker, which helped Arsenal create some of their greatest memories. He potted 226 goals for the club in all competitions (plus two more when he returned on a brief loan at the tail-end of his career) and dished out a surprisingly large number of assists, leading the Gunners to two Premier League titles and two FA Cups. The latter of those first-place finished also saw the North London club go undefeated for the entire season, writing the squad's name in modern football history.
Beyond the obvious implications for Arsenal — There is presumably significantly less success without Henry, which could have led to knock-on effects on Wenger's career and the club's standing in the modern "Big Six" — an alternate timeline would also affect the league at large.
If the Frenchman landed at Manchester United, for example, the Red Devils would have been even more dominant. That doesn't mean everything would have been positive, though. Assuming Ruud van Nistelrooy remained at Old Trafford, perhaps a front three of the Dutchman, Ryan Giggs, and Henry would have crowded out a young Cristiano Ronaldo. If that's the case, maybe CR7 could have ended up at Arsenal, creating an entire alternate trajectory for the North London club.
All of that, however, is only speculation. Thierry Henry moved to Arsenal, and, from there, the rest is history.