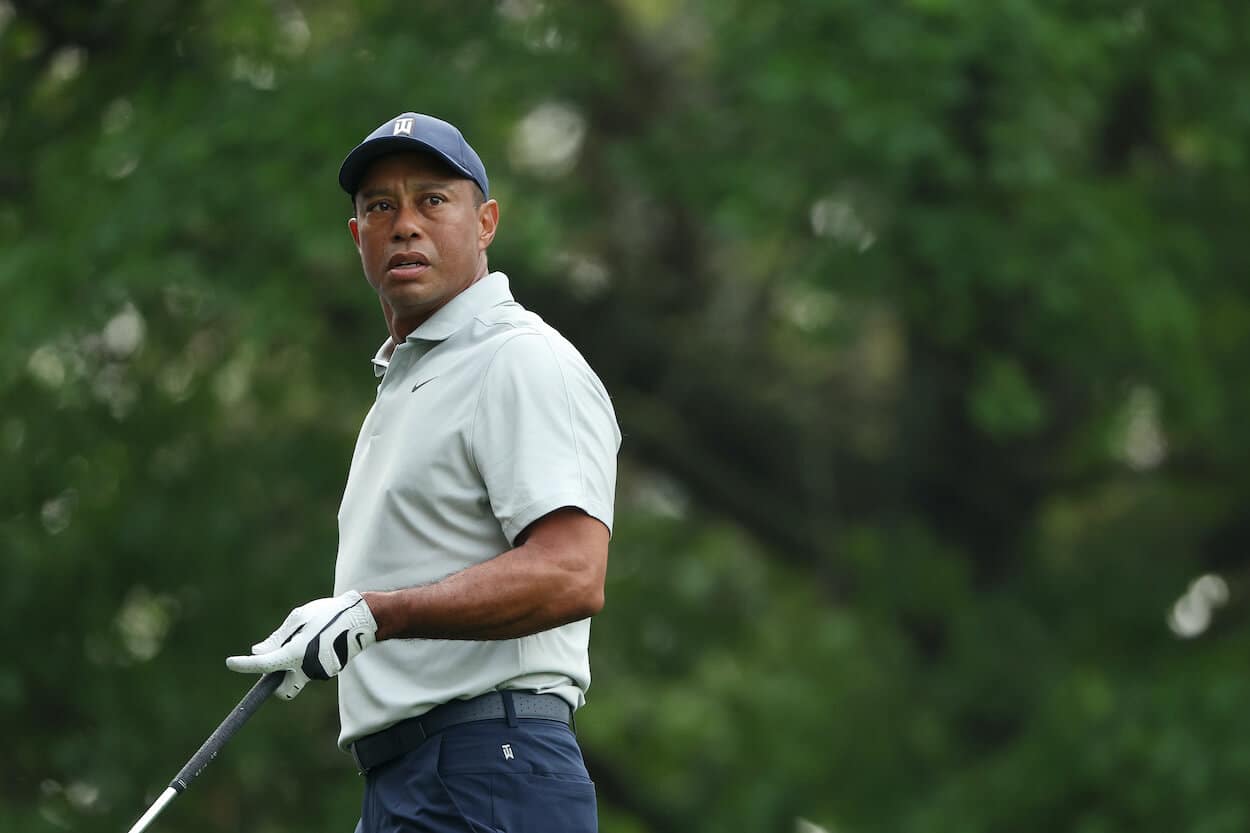 Tiger Tracker: Follow Every Shot of Tiger Woods' First Round at the Masters With Live Updates, Video Highlights, and Instant Analysis
Sportscasting will be tracking every shot Tiger Woods hits during his first round at the 2023 Masters.
Tiger Woods will get his 2023 Masters campaign started at 10:18 a.m. ET on Thursday, and we can't wait to watch the Big Cat plod around Augusta National Golf Club for the 25th time in his storied career. If, for some unfortunate reason, you can't watch Tiger play his first round, we've got you covered with live updates of every shot and video highlights along the way.
The Tiger Tracker is officially live.
Live updates for Tiger Woods' first round at the Masters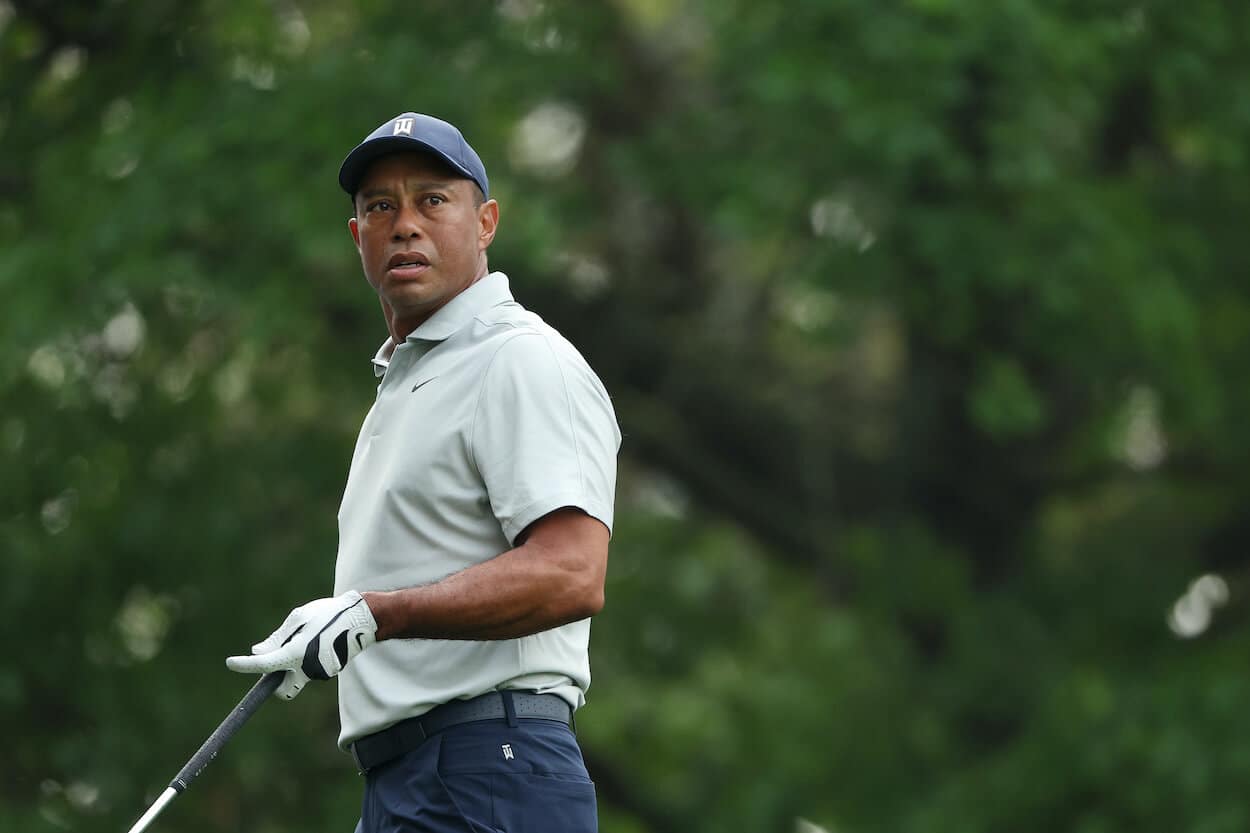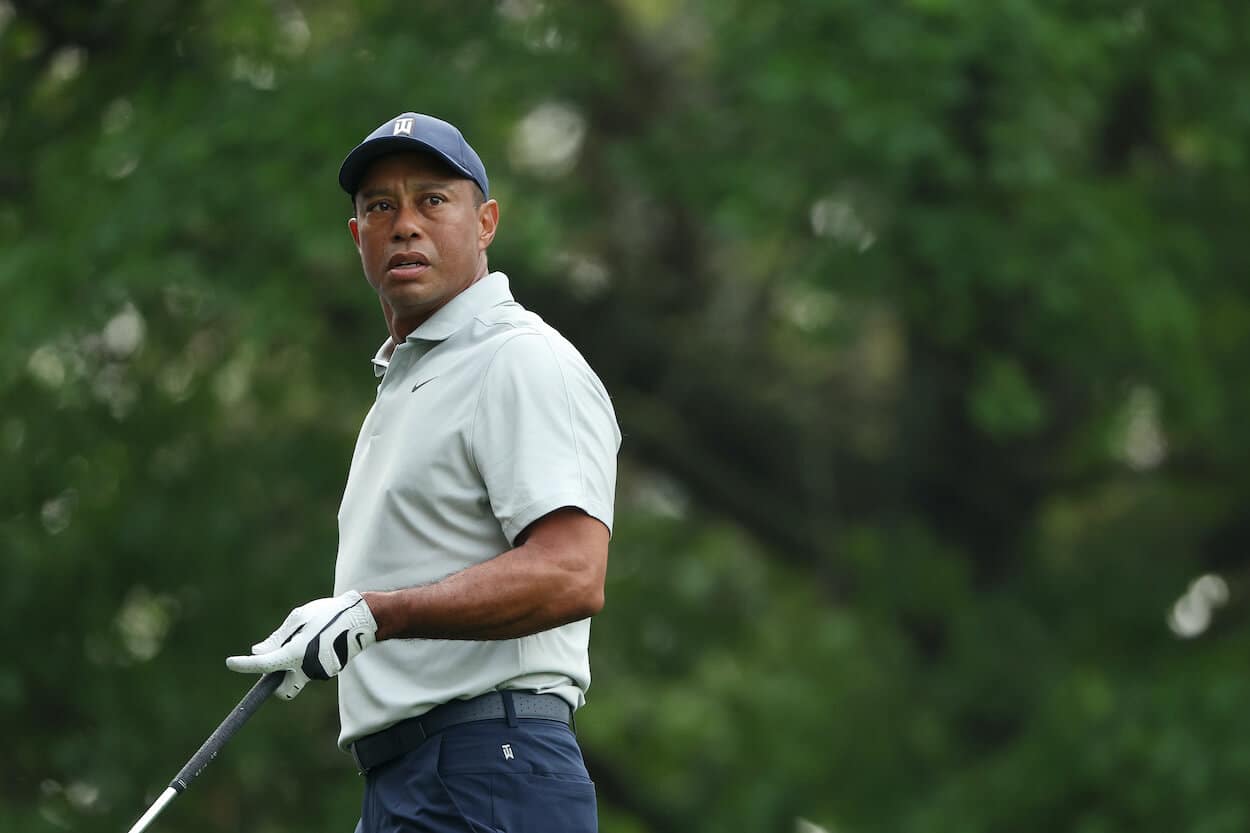 Tiger Woods' first round at the Masters will begin at 10:18 a.m. ET. He'll be playing with Viktor Hovland and Xander Schauffele for the first two rounds of the tournament.
Hole No. 1, Par 4, 445 yards
-From top to bottom, it's a dark blue hat, white Nike polo, dark blue pants, and white shoes for Tiger. Clean look for Day 1.
-"Fore please. Tiger Woods, now driving." Never gets old.
-Smooth driver for Woods down the right center of the fairway. We're off.
-Barely any limp for Tiger as he strides up the first fairway. That didn't hold up at Augusta National last year, so we'll keep monitoring.
-Buttery smooth iron swing from 153 yards out, but he comes up nearly 40 feet short of the pin. A par on No. 1 would still be a fine start.
-Not a great lag putt there, as it stops a few feet short of the hole. Early tester coming.
-No problem for Woods. For a man who's 18 over par on the first hole in his Masters career, that's a great start.
Par, E thru 1
Hole No. 2, Par 5, 575 yards
-First birdie opportunity of the day. Let's see if Tiger can keep up with the young guns with this tee shot.
-Oops. Flared that driver to the right, and he's in the fairway bunker. It'll be a layup for Woods on the first par 5 of the day.
-Pretty simple layup for Tiger there. He'll have 142 to a simple pin. Let's throw a dart, shall we?
-Oof. The downhill lie definitely affected that approach shot, as Woods goes long and right to the back portion of the green. Similar distance to his putt on No. 1 coming up.
-Bit of a double-breaker there, and Tiger gave it a good run. Maybe too good, though, as it slides a few feet past the hole. He's not making this easy.
-Dead center to secure the par. Speed on the greens hasn't been great so far, but he's got plenty of time to dial it in.
Par, E thru 2
Hole No. 3, Par 4, 350 yards
-That's more like it. Easy driver down the left side of the fairway on 3. He's got a 50-yard pitch shot upcoming.
-Went upstairs with that one, and he must not have hit it cleanly. Pitch shot comes up short of the green and rolls back down the hill a bit. Oh boy.
-Goes the low route with his third shot and finds a better result. About eight feet down the slope for his third straight par.
-No, sir. Didn't break to the right like he thought. That's a bogey, and a sloppy one at that. To make matters worse, Woods is about to enter arguably the toughest three-hole stretch on the golf course.
Bogey, +1 thru 3
Hole No. 4, Par 3, 180 yards
-Decent tee shot from Tiger that finds the correct shelf on this severely sloped green. He'll have 30 feet for his first birdie of the day.
-That was good speed, but the birdie putt slides by on the low side. It's a tap-in par on the first par 3 of the day.
Par, +1 thru 4
Hole No. 5, Par 4, 495 yards
-The fifth consistently ranks as one of the hardest holes at Augusta National every year, so par would be a great score here for Tiger.
-There's another nice tee shot from Woods. Down the middle with a smooth fade, and he'll have 214 left.
-Rut Roh. Tiger hits the green with his approach shot, but he left himself a 50-footer up and over a huge ridge. This won't be an easy two-putt, especially considering how off his speed has been so far.
-Good, not great speed on that lengthy effort. Woods will have another tester to save par from about five feet. Can he keep making these to keep himself in this thing?
-Narrator: No, no he cannot. Lipped out on the left edge to drop another shot. When do we press the panic button?
Bogey, +2 thru 5
Hole No. 6, Par 3, 191 yards
-Tiger has hit some brilliant tee shots on this hole over the years, and this one was pretty darn close. Right over the flagstick to about 12 feet. Man, this one would be big.
-For those wondering, Woods has never missed the cut at the Masters as a professional. His only MC came in 1996 when he was 20 years old.
-That was… not a great effort. Comes up a few rotations short and left of the hole, and it'll be a disappointing par on the sixth. Woods might need to start picking up the aggressiveness.
Par, +2 thru 6
Hole No. 7, Par 4, 450 yards
-The seventh is the straightest hole on the golf course, and Tiger splits the middle with a driver. It's time to fire at some pins, big guy.
-Oh, man. That was a good swing from Woods, but his approach shot catches the slope and funnels to the right about 23 feet from the hole. That's Augusta for ya.
-After watching Hovland and Schauffele putt from the same area, Tiger still manages to power his birdie effort five feet past the hole. What the…
-Lip out. Bogey. That's a disastrous result after two solid shots. Woods needs to turn this around quickly if he wants to see the weekend.
Bogey, +3 thru 7
Hole No. 8, Par 5, 570 yards
-Tiger currently sits in a tie for 40th place at 3 over par. This par 5 has become a must-birdie.
-Step 1 complete. Early tee grab and a fairway hit for Tiger.
-Wow, that was a cool shot. Woods opted to cut a 3 wood over the left trees, but his ball may have clipped a branch on its way down. Looks like he's just short of the green with a decent chance to get up and down for a birdie.
-OH BABY! Beautiful pitch from Tiger scares the hole and nearly drops for an eagle. That'll be a tap-in birdie for his first of the day. Now we go!
Birdie, +2 thru 8
Hole No. 9, Par 4, 460 yards
-Perfect fade with the driver on 9, and Woods will have a good look at this uphill green from 179 out.
-Uh Oh. Major downhill lie on that approach shot, and Tiger didn't look comfortable going after that one with his injured leg. Misses the gree to the right. That's the first sign of struggle relating to his leg, so hopefully, it's the last.
-That pitch didn't spin as much as Woods hoped, but it rebounded off the back slope of the green and trickled to about five feet. This would be huge for momentum heading into the back 9.
-Dead center. Phew. Those are two really nice scrambles in a row, and Woods will head to the back 9 at 2 over par.
Par, +2 thru 9
Hole No. 10, Par 4, 495 yards
-Beautiful slinging draw with a 3 wood catches the left rough at 10. He'll have a little over 200 into this par 4.
-WOW. Best shot of the day out of Woods. Takes a wicked lash at that ball to sling it around a tree, and it lands just short of the hole and trickles out to 15 feet. That was special from 203 out.
-Oh, man. He had that putt right in the heart, but it comes up just a few rolls short. That's still a good par on a long hole, but it could've been even better.
Par, +2 thru 10
Hole No. 11, Par 4, 520 yards
-Solid drive to the left half of the fairway on 11. That's not the challenge this hole presents, though. Woods will have 217 yards left with water guarding the entire left side of the green.
-Oh no. Tiger juiced that one and knew it right away. Approach shot flies over the right side of the green, and he'll have a near-impossible up and down over the bunker. Flop time.
-Had to go upstairs with that chip, and he just didn't clip it perfectly and it ends up in the bunker. Fourth shot from the sand rolls out to about seven feet, and he'll have that putt for a bogey.
-OK, bogey is in, but that's a bogey for his fourth of the day. Woods is now back to +3 and tied for 54th place.
Bogey, +3 thru 11
Hole No. 12, Par 3, 157 yards
-No wind at all on the 12th today, but Woods can't take advantage. Just pulled a short iron to the left side of the green, and he'll have 40 feet left for birdie. Sigh.
-Dang. That putt looked good for a long time but just slips to the right at the last second. It'll be a tap-in par, and we head to the gettable 13th.
Par, +3 thru 12
Hole No. 13, Par 5, 545 yards
-Put a bit too much cut spin on that drive, and it creeps into the right rough near the pine straw. Looks like it'll be a layup on this par 5.
-Tiger lays up to a comfortable wedge distance and… yet another disappointing approach shot. He's got 22 feet for birdie after an 80-yard second, so he won't be thrilled with that one.
-Ugh. Misses another one. Woods just hasn't been able to match his pace and line on the greens all day, and it's another par. He needs something positive down the stretch.
Par, +3 thru 13
Hole No. 14, Par 4, 440 yards
-Fore left! That's the first hook we've seen from Woods off the tee, and he'll have to navigate some trees on his approach shot.
-That was almost a fantastic shot. Woods hoisted it over the left trees and looked to be cutting it toward the hole, but the ball clipped a branch at the last second and ended up short of the green. Should be a straightforward up and down, but it's hard to say that with the state of his game today.
-That was pretty. Woods trickled it down the hill with perfect speed and should have no problem cleaning up the short one for par. Final par 5 of the day coming up.
Par, +3 thru 14
Hole No. 15, Par 5, 550 yards
-Hello there. Tiger must've released some anger on that drive because he pumped it 326 yards down the left side of the fairway. He'll have a green light to go for the green from 218 out. Eagle chance?
-Check that. Tiger was blocked out by a tree on the left side, so he decided to lay up and pitch one down the hill. He'll have 92 yards for his third.
-Man, this is tough to watch. Not even close with his wedge shot, and Woods will have to make a 30-footer to salvage a birdie.
-THERE WE GO. Huge left-to-right swinger down the hill, and Tiger jars for his second birdie of the day and his first since the eighth hole. Finally a confident stroke, and there's still time to fight back to even par today.
Birdie, +2 thru 15
Hole No. 16, Par 3, 152 yards
-Really nice swing there from Woods on the par-13 16th, and it spins back to eight feet. He should have a fairly straight, uphill putt from the left side of the green, too. Two in a row?
-Bang. Dead in the heart. That's two straight birdies for Tiger Woods, and he's back up to a tie for 44th place. With a cut line of the top 50 players plus ties, that's a significant move.
Birdie, +1 thru 16
Hole No. 17, Par 4, 440 yards
-Oh baby. Picked up the tee before that drive even got to its apex, and he'll have 144 yards into this gettable pin. Where has this Tiger been all day?
-Just a mediocre approach shot from Woods there. He was asking for it to cut a bit more, but it hung out to the left and he'll have 26 feet from a makeable spot on the green.
-Gave it a good run, but Woods just misses on the low side of the hole. He'll need a birdie on 18 to shoot even par.
Par, +1 thru 17
Hole No. 18, Par 4, 465 yards
-It's another bullet down the fairway for Woods, who has really turned around his swing over the last few holes. The driver hasn't been the issue today — it's been the approach game and his speed on the greens. He'll have 156 for his final iron shot of the first round.
-Ouch. Tiger's drive actually rolled up too close to the fairway bunker, and he had to pitch out with an awkward stance. He's just lucky he didn't hurt his leg even more than he already has. After all that, he ends up in the greenside bunker and now will have a tough time saving par.
-Opened up the face for that long sand shot, and all he could do was blast it 15 feet past the hole. That for par.
-Boy, he gave that a run, but it was carrying too much speed and rolled a few feet past the hole. The comebacker for bogey is safely in, and Tiger Woods finishes his first round with a 2-over 74. He's currently tied for 55th place on the leaderboard, and he'll need a cleaner round tomorrow if he wants to make the cut.
Thanks for following along!