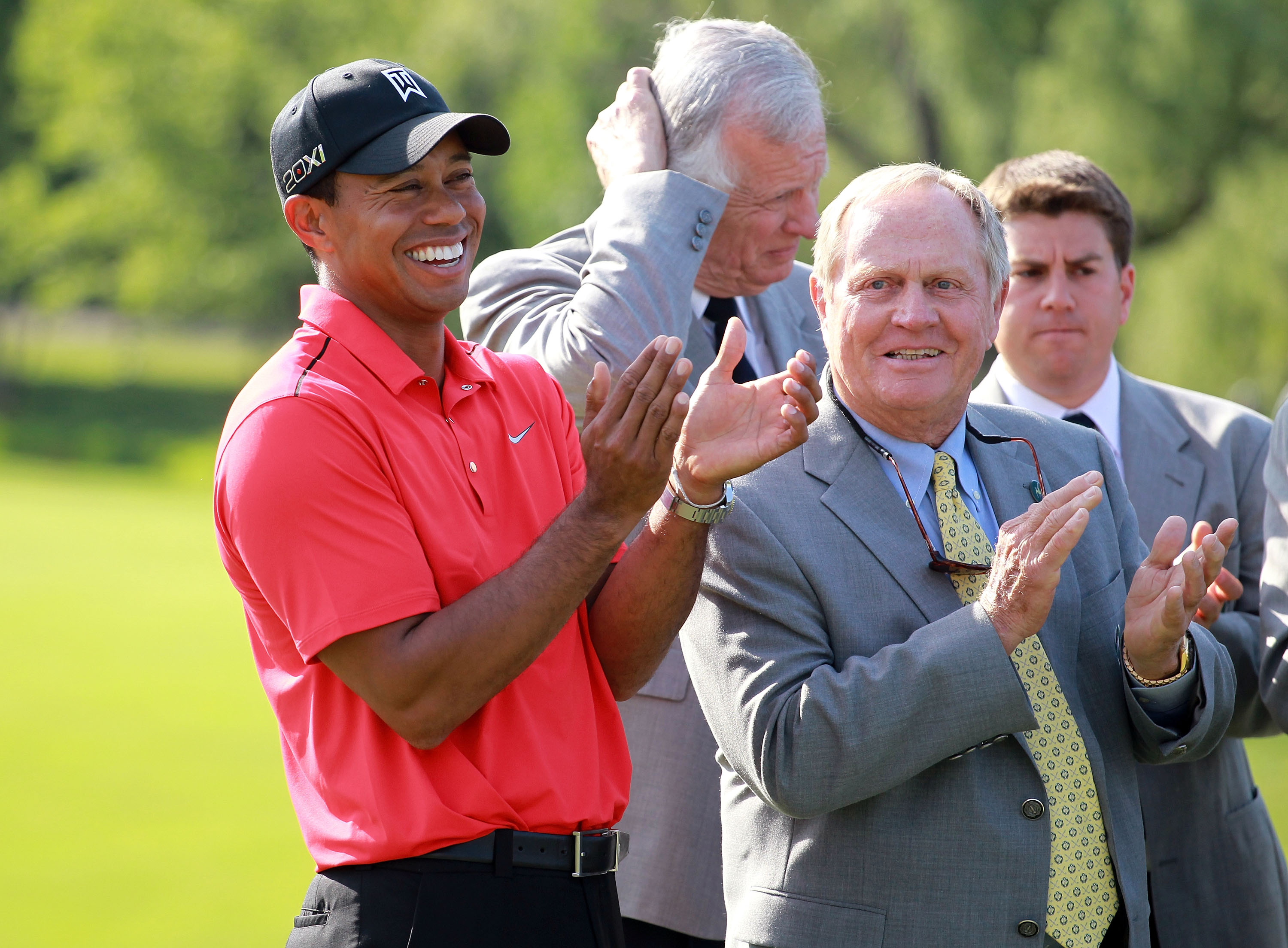 Tiger Woods Returns to the Course Where He Hit the Best Shot Jack Nicklaus Has Ever Seen
Tiger Woods is back this weekend at The Memorial Tournament, where in 2012 he hit the greatest shot Jack Nicklaus has ever seen.
How many golf shots do you think Hall of Famer Jack Nicklaus has seen in his lifetime? Hundreds of thousands? Millions? Over 100 million? The 80-year-old golf legend has been around the sport for a long, long time, and he's witnessed some of the most iconic shots in PGA Tour history. Hell, most of them came off his own clubs.
Of all the golf shots he's seen in his life, you would think there was no way he would be able to pick the best. Well, Nicklaus did exactly that in 2012. To no one's surprise, it came from Tiger Woods.
Tiger Woods returns to the PGA Tour this week
After nearly five months away from the competitive golf scene, Tiger Woods is finally back. Woods announced he will tee it up at The Memorial Tournament at Muirfield Village this weekend, and the golf world is buzzing about it.
Muirfield has supplied Woods with numerous memories from his prime. He has five wins at The Memorial, including three straight from 1999-2001. There's just something about Jack Nicklaus' tournament that brings out the best in Woods.
In his most recent win at Muirfield in 2012, Woods hit one of his most famous shots ever. It even got the approval of the Golden Bear himself.
Tiger Woods won the 2012 Memorial after iconic chip-in on Sunday
In 2012, Woods was struggling a bit to find his groove. He posted two 40th-place finishes and a missed cut leading up to The Memorial in June. But just like so many times in the past, Woods found some magic at Muirfield that week.
He was in contention down the stretch when he missed the 16th green in a horrible spot. He had to hit a flop shot out of the thick rough onto a severely downhill green with water staring him in the face. Throw in the pressure of a Sunday afternoon and Jack Nicklaus watching over your shoulder, and it was an impossible shot.
Well, impossible for any normal player.
While it looked as if Woods had played himself out of the tournament, he went on to hit the most perfect flop shot you'll ever see. It landed in precisely the right spot and trickled down into the hole, sending the crowd into a frenzy.
Two holes later, Woods was shaking Nicklaus' hand and holding up The Memorial trophy.
Jack Nicklaus called Woods' chip-in the best shot he's ever seen
When Nicklaus met Woods on the 18th green to congratulate him, he praised the flop shot as the best shot he's seen in his life.
"The shot you played on 16 I think is the gutsiest, best shot I've ever seen in golf," Nicklaus told Woods.
In the post-tournament press conference, Nicklaus doubled down on his claim.
"Under the circumstances – the circumstances being Tiger has been struggling – it was either fish or cut bait," Nicklaus said. "He had one place to land the ball. He's playing a shot that if he leaves it short, he's going to leave himself again a very difficult shot. If he hits it long, he's going to probably lose the tournament. He lands the ball exactly where it has to land. Going in the hole was a bonus. But what a shot."
    
"I don't think under the circumstances I've ever seen a better shot."