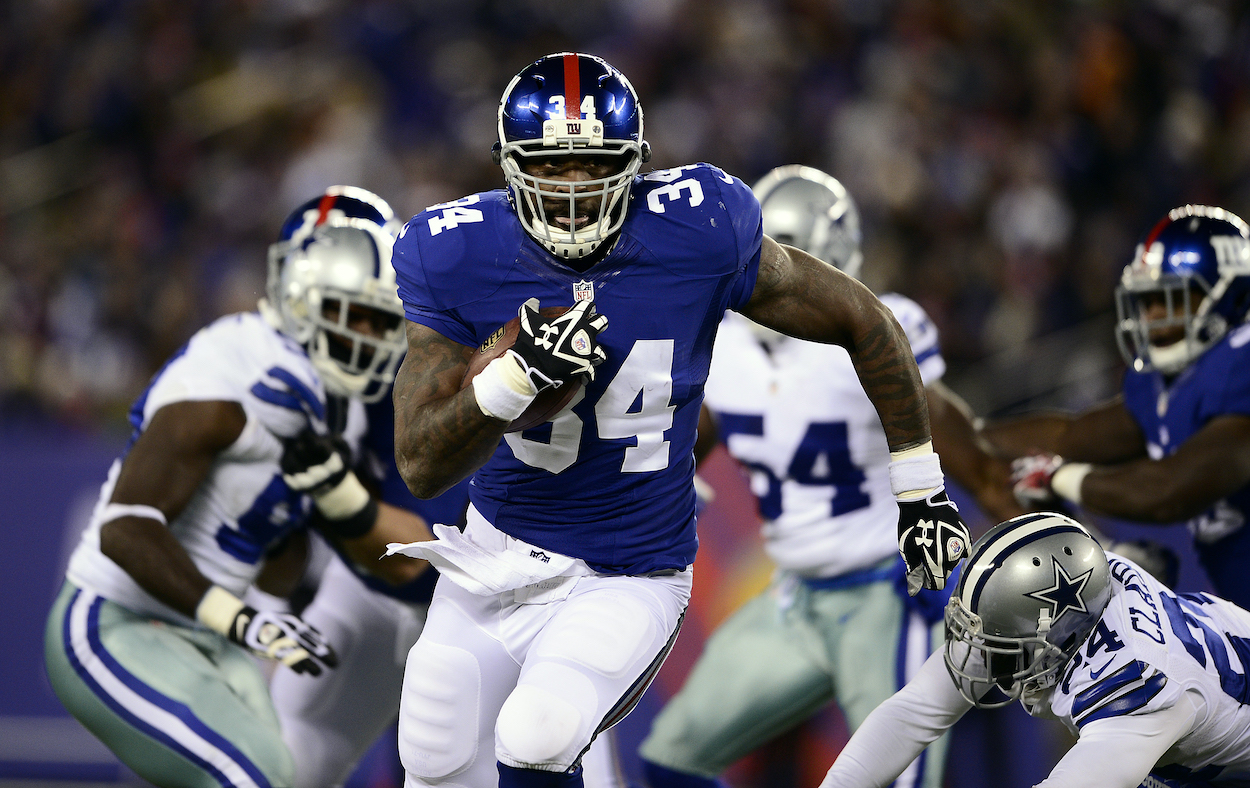 Tim Tebow Inspires Former New York Giant Brandon Jacobs to Attempt NFL Comeback at 38… but Not as a Running Back
Brandon Jacobs hasn't played in the NFL in eight years, but Tim Tebow has inspired him to attempt a comeback at a different position.
Tim Tebow is back on an NFL roster after a nine-year hiatus from the league. The former quarterback signed with the Jacksonville Jaguars earlier this month to try out as a tight end, and he looks to be in incredible shape for a 33-year-old. But Tebow isn't the only ex-NFL player who wants to give football another shot.
Brandon Jacobs, the former bulldozer the New York Giants passed off as a running back for eight seasons, has been inspired by Tebow's return to the league. So inspired, in fact, that he announced his own attempt at a comeback last week on Twitter. And just like Tebow, he won't be doing so at his old position.
Brandon Jacobs last played in the NFL in 2013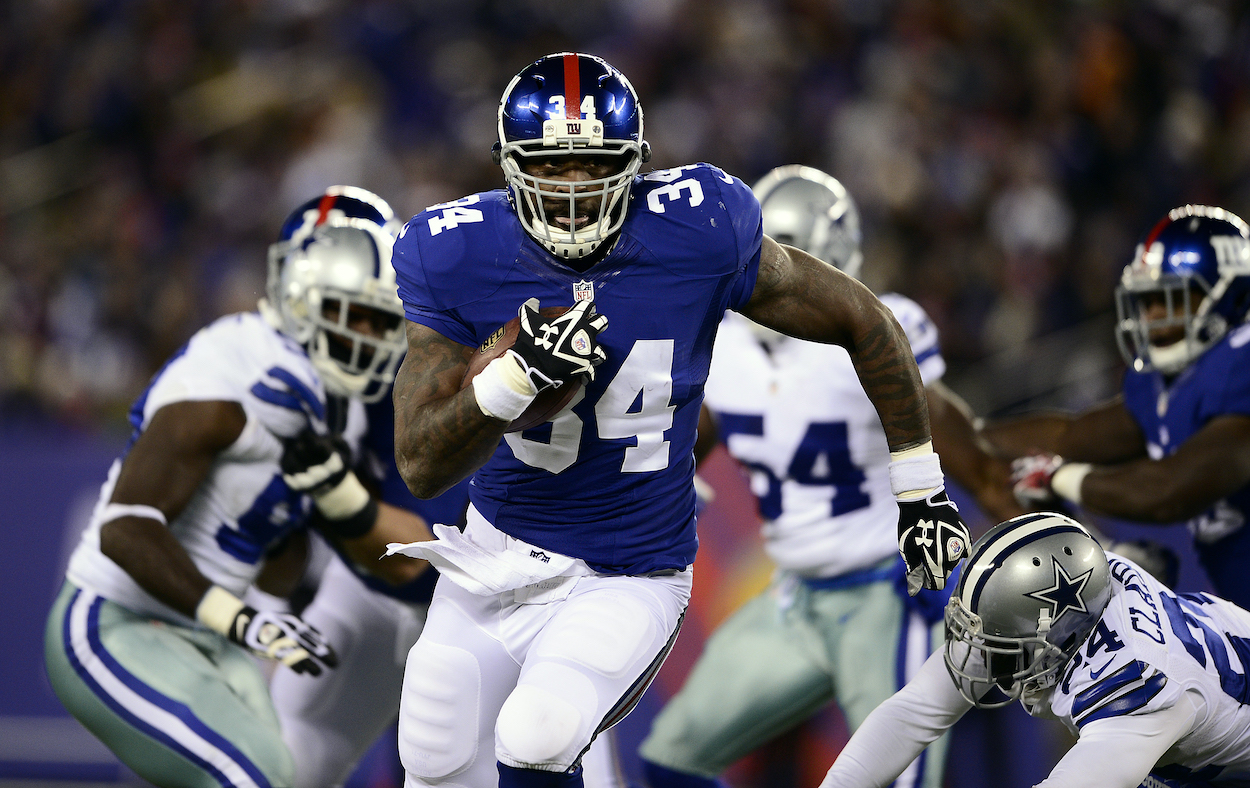 Jacobs was never the most talented running back in the NFL or a coveted pick in your fantasy drafts, but any defender who ever tried to tackle the massive running back in the open field surely remembers how tough he was to bring down.
The longtime Giant spent eight of his nine NFL seasons in the Meadowlands. He rushed for over 1,000 yards twice in his career and was a part of both Super Bowl rosters in 2008 and 2012. During his prime, there was no one better at punching in one-yard scores than the 6-foot-4, 264-pound beast of a rusher.
Jacobs rushed for over 5,000 yards and 60 touchdowns during his career with the Giants. He retired in 2014 as one of the most beloved players from New York's epic Super Bowl runs, and now he wants another shot.
Tim Tebow inspired Jacobs to make an NFL comeback attempt at 38
Jacobs hasn't played professional football in eight years. He's now 38 years old and serves as a youth football coach in Atlanta, Ga., but he's apparently been itching to get back on the field as a player.
After Tebow signed his contract with the Jaguars, it inspired Jacobs to make an announcement of his own. He wants to return to the NFL, but this time as a defensive end.
"Well since Tebow came back after being off a good bit, I am announcing today that I to will comeback. I will play defensive end for whatever team gives me a chance!!!" Jacobs wrote on Twitter last week.
Many of his followers thought Jacobs was joking at first, but he surely wasn't.
"I am really serious about coming back as a defensive end. I can still run, I am strong and there's no way Tim Tebow is a better athlete than I am. I just need a shot that's it!! If I can't cut it I'll take it like a man. Just give me one chance that's all!!" he wrote in a follow-up tweet.
Jacobs pleads for an NFL team to give him a chance
At 38 years old, it's unlikely Jacobs gets a chance with an NFL team at this stage in his life. But he sounds more than confident that he can still contribute to a team.
"I think I can do it, body feels great, even at 38," Jacobs told Josina Anderson of ESPN. "Right now I'm at about 260lbs—same weight I played as a running back. I'm switching positions now bc it's something I should've done before and honestly a position I can play. People always said I was a running back in a D-lineman's body. It doesn't cost anything to bring me into training camp. It doesn't hurt to look."
Unsurprisingly, the first team Jacobs reached out to was none other than the Giants.
Hey, Tebow got a shot. Why can't Jacobs?