Tom Brady Reveals Who Taught Him the Most During His NFL Career
Tom Brady didn't attend Robert Kraft's recent surprise 80th birthday party. Although the bash, reportedly put on by his sons, was attended by many celebrities, including current and former New England Patriots players and head coach Bill Belichick, Brady wasn't there.
The seven-time Super Bowl champion did, however, chime in on a social media post involving Saturday's party. It was in that comment when Brady revealed the person who taught him the most during his 20-plus years in the NFL.
Robert Kraft's surprise 80th birthday party well attended by athletes, celebrities, but not Tom Brady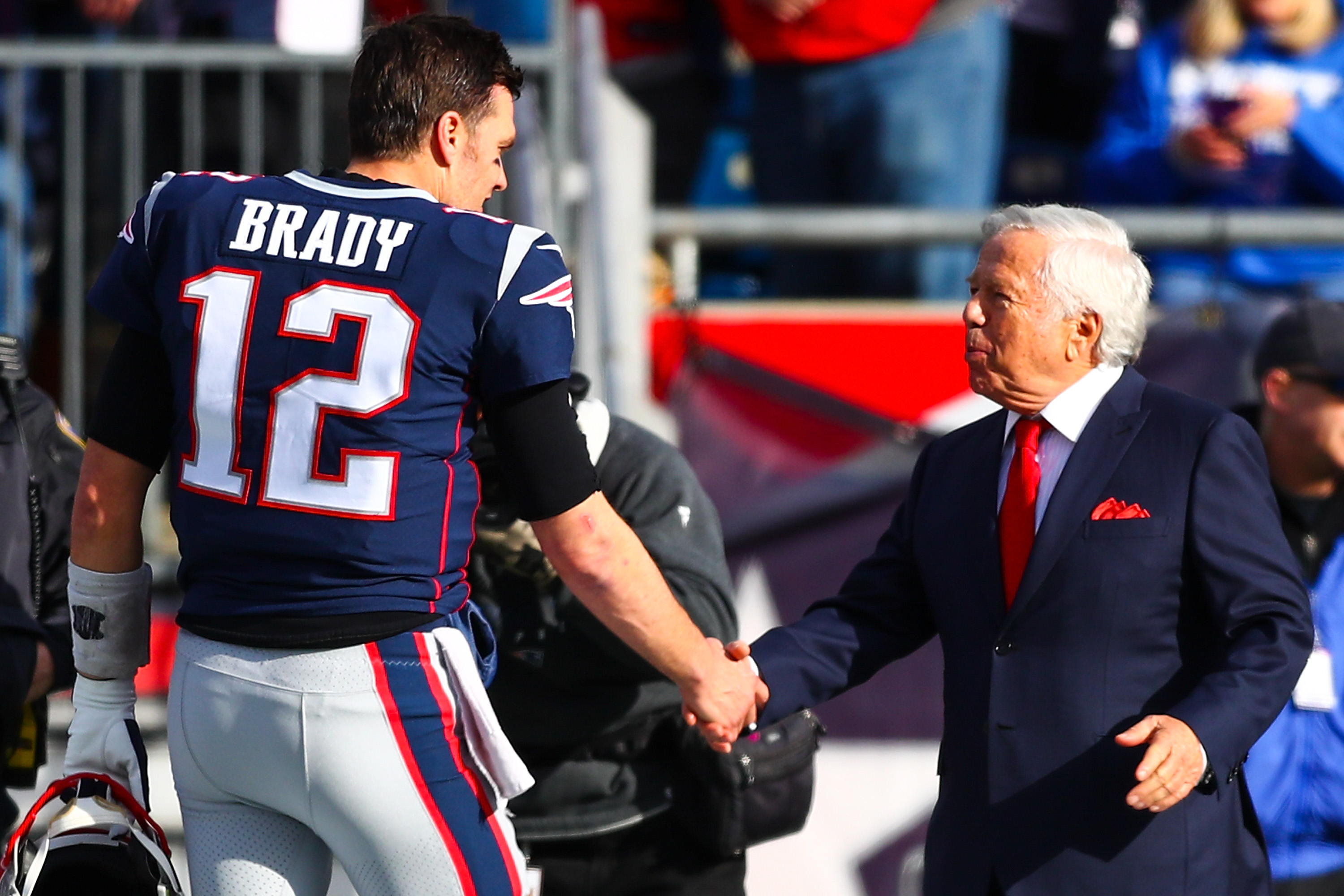 According to Page 6, Kraft's party was held at the mansion of Philadelphia 76ers co-owner and Fanatics mogul Michael Rubin. Past and present members of the Patriots, including Julian Edelman, Drew Bledsoe, Devin McCourty, and Andre Tippett were in attendance. Belichick was also there. Those in attendance extended well beyond the New England franchise and well beyond the sports world.
Sticking to sports, NBA Commissioner Adam Silver was in attendance, as was Boston Celtics owner Wyc Grousbeck and Milwaukee Bucks owner Marc Lasry. NFL Commissioner Roger Goodell was also reportedly there.
Performing at the party was singer Lionel Richie and comedian David Spade. Other celebrity guests included Jon Bon Jovi, Kenny Chesney, Meek Mill, Billie Jean King, and Gayle King. Adele and her new boyfriend, agent Rich Paul, were also there, according to Page 6. Paul represents many high-profile athletes, including LeBron James.
Tom Brady didn't attend Robert Kraft's party but addressed it on social media
Kraft believed he was attending a party for Rubin but instead was met by some of the biggest stars around. Kraft's actual birthday is June 5.
Rubin posted pictures from the gathering on social media. One photo on Instagram included himself, along with Kraft and Bledsoe. Rubin wrote, "Amazing night finally celebrating Robert 80th bday! @tombrady couldn't make it so he sent his back up @drewbledsoe!"
Brady commented on the photo, writing, "3 amazing guys right there and nobody taught me more than @drewbledsoe one of the nfl GREATS."
It's surprising to see that Bledsoe taught Brady more than anyone else. Take that for what it's worth, however. Brady recently admitted to lying, saying 90% of what he says isn't what he's really thinking.
Drew Bledsoe is a New England Patriots Hall of Famer
Bledsoe guided the Patriots to a berth in Super Bowl 31 during the 1996 season. Although they lost to the Green Bay Packers, Bledsoe had himself quite a season, throwing for 4,086 yards and 27 touchdowns. He made the second of his four Pro Bowls.
During Week 2 of the 2001 season, Bledsoe was drilled in the chest by Mo Lewis of the New York Jets and was sidelined with a serious injury. Brady took over and the rest is history. Bledsoe never regained his starting job again.
Bledsoe was traded to the Buffalo Bills in 2002 and eventually finished his career with the Dallas Cowboys. In May of 2011, Bledsoe was voted into the Patriots Hall of Fame by fans.
Although Brady wound up taking his job, Bledsoe still had a little fun with him by responding to a post on Rubin's Instagram page. After Rubin said Brady couldn't make it, and they had to bring in Bledsoe, the elder quarterback wrote, "Easy!! Tommy was my backup buddy!!"