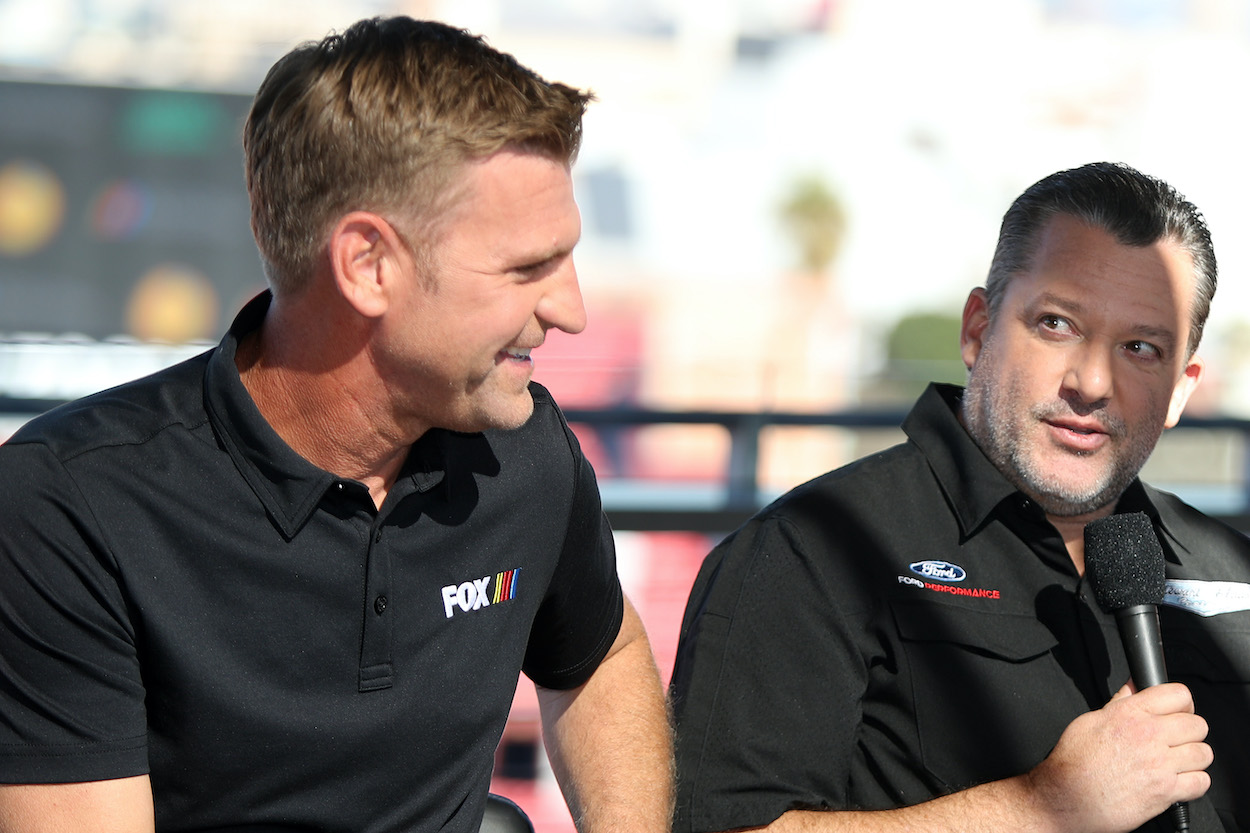 Tony Stewart Reveals Anxious Moment During Clash Practice When Notable NASCAR Figure He'd Had History of Confrontations With Unexpectedly Showed Up in Broadcast Booth
Tony Stewart had an anxious moment during Clash practice when a prominent NASCAR figure he had confrontations with in the past showed up unannounced in the broadcast booth.
Tony Stewart is one of the greatest drivers in NASCAR history with three Cup titles to his credit. He was also one of the most colorful and unafraid to express his opinion. Both elements are reasons Fox selected him to join Mike Joy and Clint Bowyer for its NASCAR coverage to start the 2022 Cup Series season. 
During the morning practice for the season-opening exhibition race, the Clash at the Coliseum, the Fox broadcast team was describing the action on the track when one prominent NASCAR figure showed up unexpectedly in the broadcast booth. For Stewart, the man's appearance reflexively caused him a moment of anxiety.
Tony Stewart joins Fox NASCAR broadcast team
The announcement several weeks ago that Tony Stewart would be working alongside Mike Joy and Clint Bowyer in the Fox broadcast booth to start the 2022 season didn't come as a total surprise. Stewart proved quite adept behind the mic last year when he worked the Fox broadcast of the Xfinity Series race at Daytona. 
The network clearly liked how Stewart performed and thought he would be a good initial replacement for Jeff Gordon, who announced last summer he was leaving Fox to work full-time at Hendrick Motorsports. 
Stewart will serve as a guest analyst for the first two races of the season in the Clash at the Coliseum and the Daytona 500. Fox has said it will announce a rotation of other guest analysts in the future. 
Tony Stewart thought he was in trouble when Mike Helton showed up in booth
On Saturday morning, Stewart joined Bowyer and Joy in the booth for the team's first work of the season, covering practice before the Clash at the Coliseum. The co-owner of Stewart Haas Racing seamlessly fit in with the two other announcers, and they jointly offered praise to NASCAR for having the courage to try an event at the iconic sports venue and, by the looks of it, pulling it off successfully. 
At one point in the broadcast, NASCAR Vice Chairman Mike Helton popped in to say hello to the broadcasters. Helton, who has been one of the most influential people in the sport for decades, previously served as the official who would mete out punishment for drivers who stepped out of line. He and Stewart, who are now good friends, had their share of uncomfortable conversations.   
"Well, Mike Helton was just in here. I did ask him, 'Can we just do this every week?'" Joy laughed. "He looked a little scared. But, he's like all of us, pretty excited about what's happening here this weekend." 
"I think the funny part about that was when Mike peeked his head in the corner, Bowyer taps me on the shoulder, we turn around, and the first thing that went through my mind was what did I say and what did I do to get in trouble already," Stewart said. 
"Not again," Bowyer joked.
Unique relationship with Mike Helton
Tony Stewart had a few run-ins with other drivers during his NASCAR Hall of Fame career. Many times when emotions overheated and conflict ensued, the driver found himself visiting with Mike Helton later that week. While those meetings were never enjoyable, the time together allowed the two men to earn a level of respect from each other, and it forged a unique bond between the pair. 
So much so that Helton publicly admitted he had broken his own personal code of befriending drivers following the death of his close friend Dale Earnhardt.
"But from those conversations, it's easy to see for me, a soul in there that is really simple, and trustworthy and loyal," Helton said of Stewart during an episode of Coffee With Kyle Petty. "And, from that, we just happen to establish a relationship over the years. We have a good time together socially. I could sit there and talk to him for hours. 
"Since Dale Sr., I purposefully don't get close to drivers anymore. But Tony was one I couldn't help but," he admitted.
Tony Stewart's reflexive reaction when Helton appeared in the LA Coliseum broadcast booth might have been one of anxiety, but his unique relationship with one of the sport's most powerful people didn't allow it to last too long. 
Like Sportscasting on Facebook. Follow us on Twitter @sportscasting19.