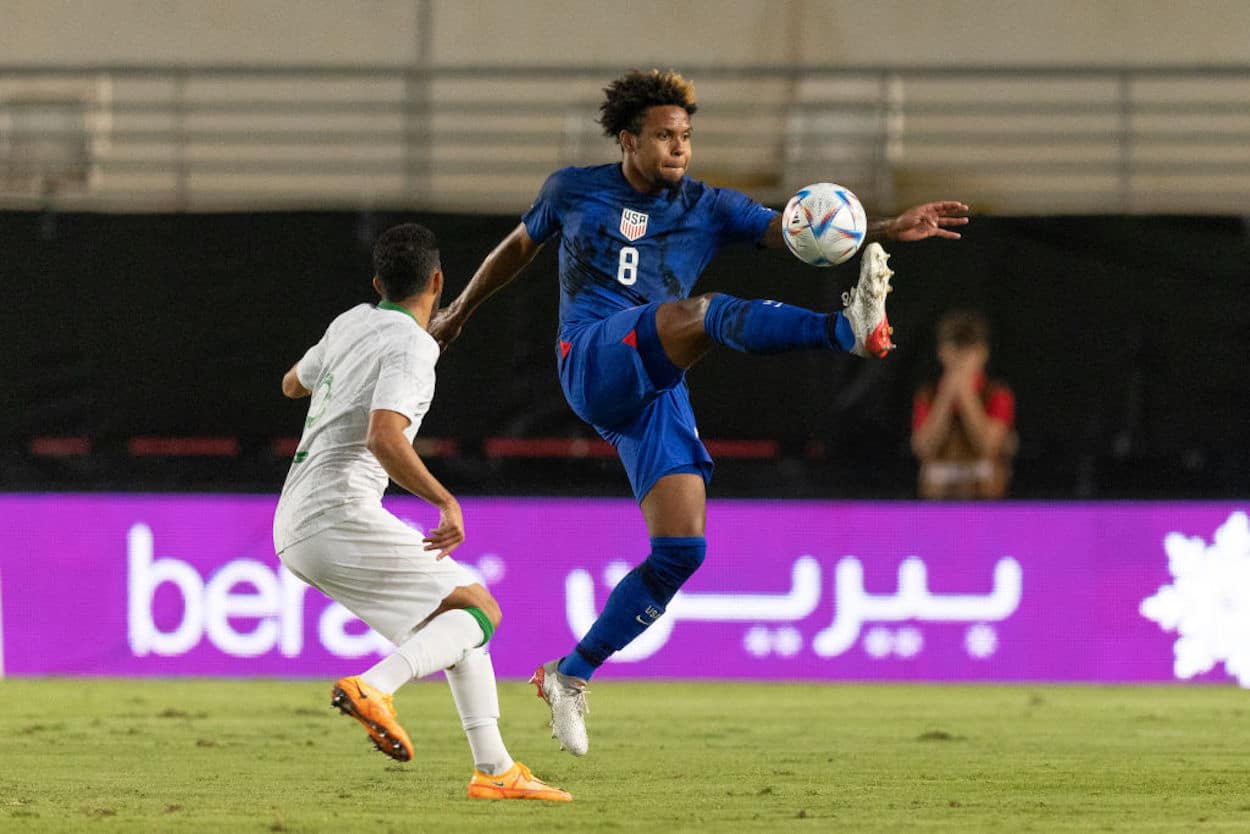 Tottenham Could Be the Next Premier League Club for Americans to Follow After Links to Weston McKennie
There are some rumors coming out of Italy that Tottenham could be interested in Weston McKennie. Could the American make a difference at Spurs?
While football may still rule the roost for most American sports fans, soccer is becoming more and more popular. And for those without specific ties to any Premier League club, plenty of viewers follow their compatriots. Leeds, thanks to Jesse Marsch, Brenden Aaronson, and Tyler Adams, have become something of America's (English) team. Chelsea, of course, are a draw thanks to Christian Pulisic. Fulham have Antonee Robinson and Tim Ream on the roster, and Matt Turner is Arsenal's backup goalkeeper.
Tottenham, however, could be throwing their hat into the metaphorical ring. Rumors out of Italy suggest that the North London club could be interested in Juventus (and USMNT) midfielder Weston McKennie. Nothing is set in stone — if anything, you could argue things are more accurately built on a sand foundation — but it's still worth tracing out some potential implications.
Spurs are once again being linked to USMNT midfielder Weston McKennie
Earlier this season, there were some rumors connecting Antonio Conte with a return to Juventus. While that chatter seems to have quieted down, there are now some links moving in the other direction.
As noted by ESPN, Calciomercato reported that the Italian club has decided that Weston McKennie is no longer needed in Turin and the brass are happy to field offers for the midfielder. Tottenham was specifically mentioned as a possible destination for the American international.
While the source isn't the most reliable, and the rumor could simply be based around some loose connections — Paul Pogba is returning from injury, meaning there will be another body in Juve's midfield, the Italian club is struggling, and both Conte and Spurs director of football Fabio Paratici have ties to Italy — this isn't the first rumblings we've heard about a McKennie move to North London. The midfielder was tapped to leave Juventus and linked to both Tottenham and Southampton in the summer but never moved.
Is this a case of resurfacing an old idea that's just logical enough to be believable? Or is there enough smoke to suggest there's a (small) fire?
Weston McKennie's versatility makes him an interesting player, but it also complicates his fit with Tottenham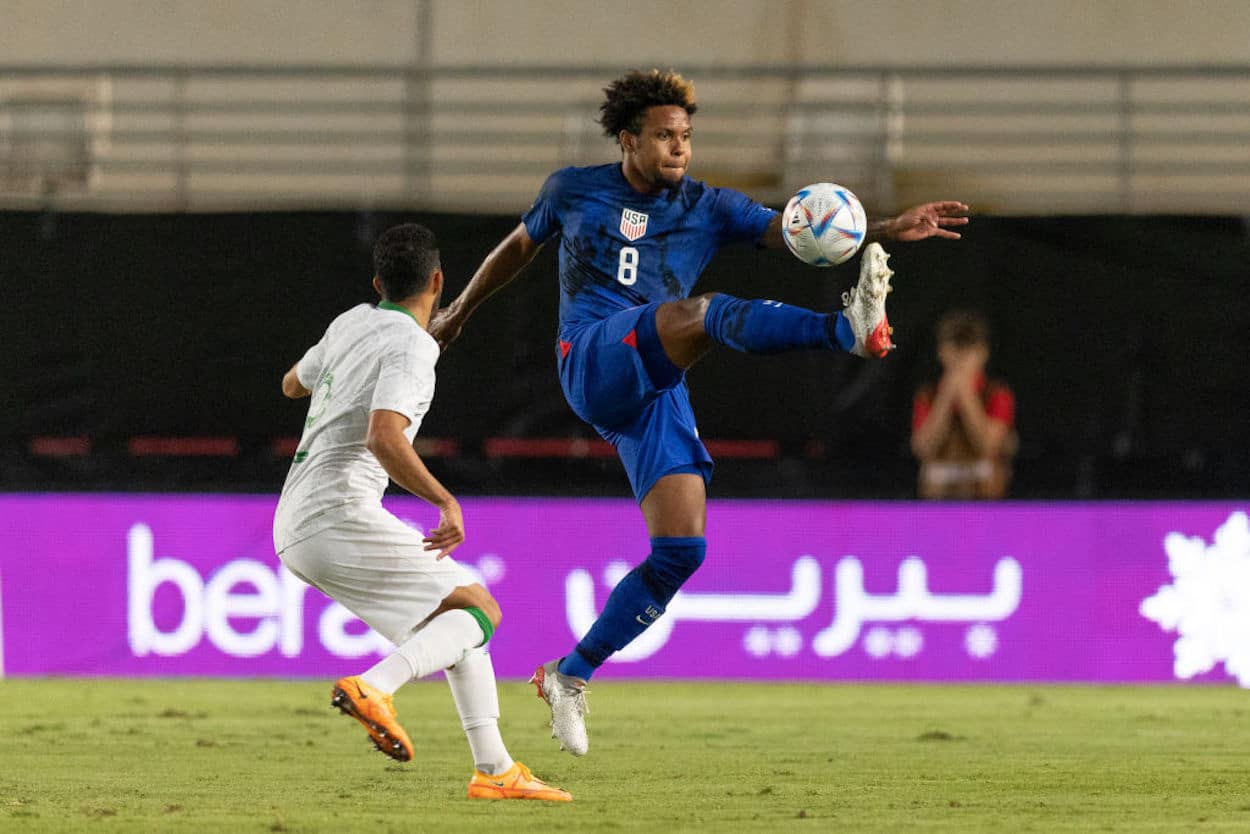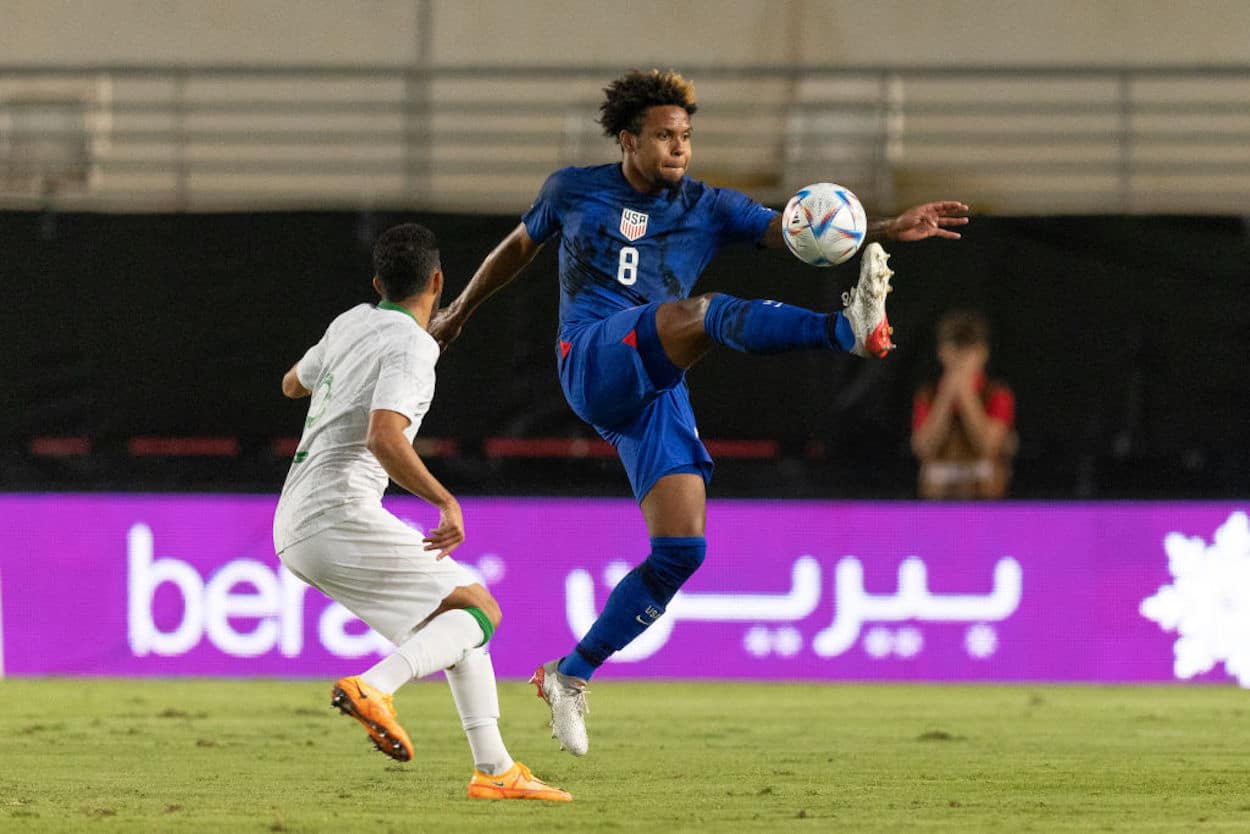 On the red side of North London, Mikel Arteta appreciates players who are comfortable slotting into different roles and positions across the pitch. Unfortunately for Weston McKennie, Antonio Conte is a bit more rigid.
The Italian exclusively plays with three at the back, although there's some room to shift ahead of that defensive line. He's previously used a 3-5-2 but has preferred a 3-4-3 at Spurs. In some recent matches, though, Tottenham has shifted into the former formation, although it's unclear how much of that is down to rotation/availability and how much is a tactical choice.
On paper, McKennie's versatility would allow him to fit into either of those set-ups. He has a strong work rate and has can put in a defensive shift, but he is also capable of arriving in dangerous areas and finding the back of the net. Having him in the squad would theoretically give Conte a player who could sit in a holding two or be the more aggressive member of a midfield three.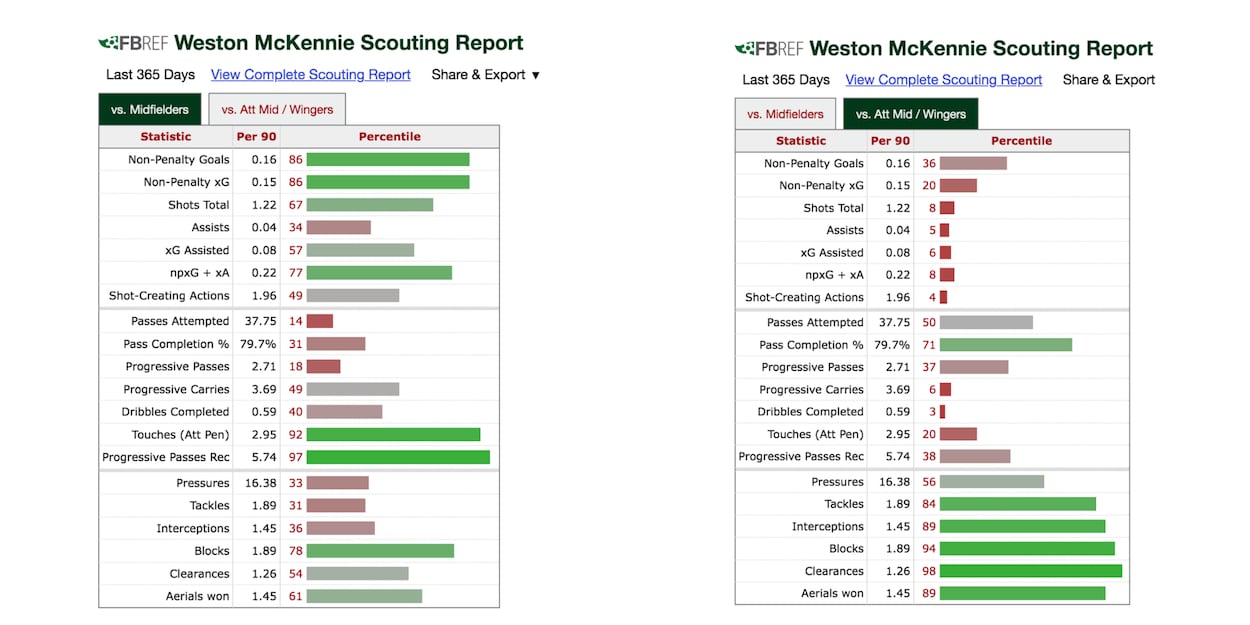 With that being said, though, it's possible that the American is too much of a jack of all trades to truly shine within Spurs' current set-up. The issue can be seen when you flip between the tabs on McKennie's FBRef page. When compared to all midfielders, his scoring numbers shine, and his passing and defensive numbers look weak. If you compare him to attacking midfielders and wingers, though, the opposite is true. His offensive stats fall off a cliff, but he looks strong defensively.
While that could be a benefit, it also raises the question of value for money. If you need a further depth option, is McKennie good enough to be a genuine starter? Or would it be better to buy a midfielder who's more specifically suited to either a holding role or playing like something of a free 8?
Beyond that, there's also the question of squad management. Right now, Spurs have five midfielders in the first-team squad; two (Giovani Lo Celso and Tanguy Ndombele) more are out on loan, although it seems unlikely they'll ever feature under Conte. Bringing in a sixth when you can only start two per game seems unnecessary, even if you assume Pape Matar Sarr isn't considered a legitimate option as of now.
Switching to a 3-man midfielder would also raise some larger squad issues — What happens to someone like Dejan Kulusevski? Is there enough creativity elsewhere to sacrifice a winger? — and would suggest a more significant shift. Again, if you're making that shift, you'd probably want a player who's a more natural fit for the role than McKennie.
That's not to say a move couldn't happen, though. Transfers are an imperfect science, and teams can't always get exactly what they want. If Spurs are simply trying to add an extra midfield body who can give Conte a bit of flexibility or want to add some quality without breaking the bank, McKennie could be a reasonable option.
Who knows, maybe American soccer fans could have a new club to follow come January.
Have thoughts on this topic? Keep the conversation rolling in our comments section below.