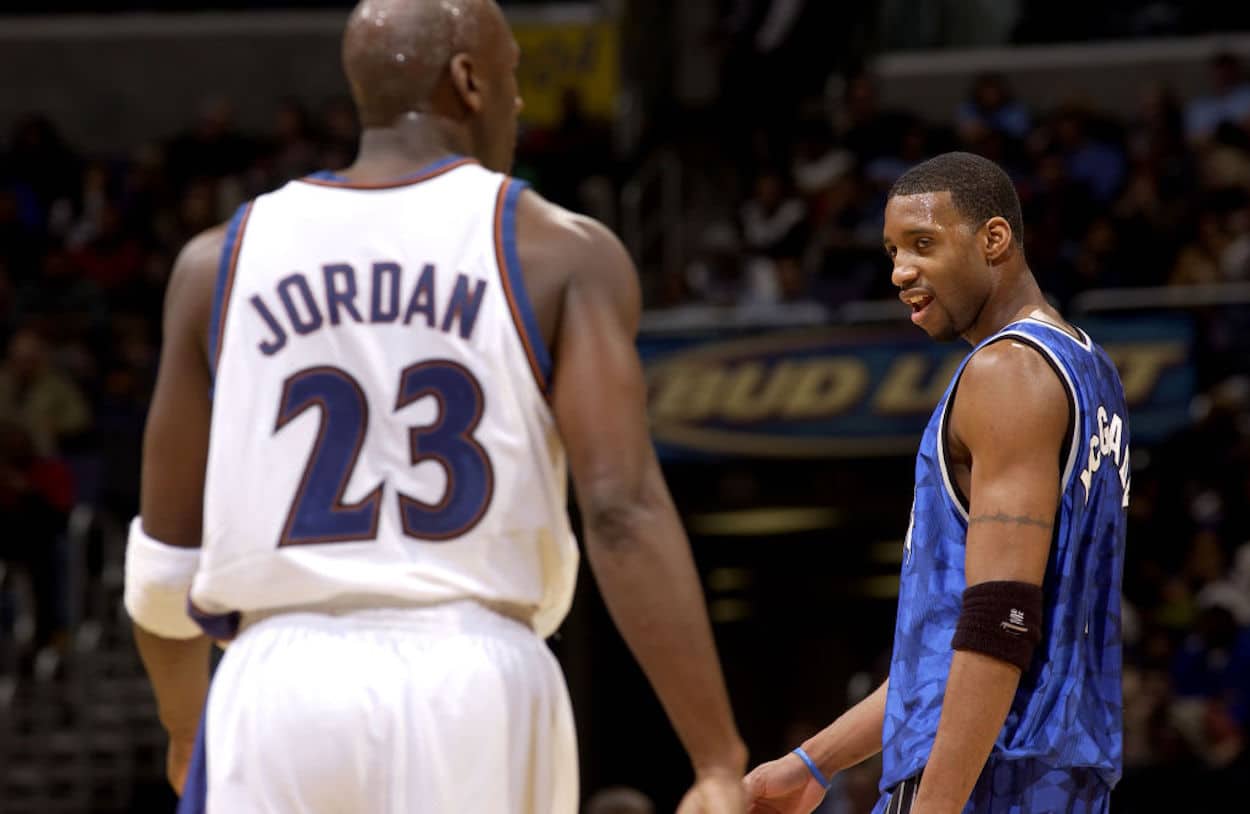 Tracy McGrady Never Forgot 2 Early Encounters With Michael Jordan and Vowed to Get the Legend Back
While we know that Michael Jordan is more than capable of taking things personally, Tracy McGrady wasn't afraid to go back at the living legend.
At this point in time, it goes without saying that Michael Jordan was something special. Even if we set aside his sheer talent, which is virtually impossible to do, the Chicago Bulls star was more than just a basketball player. He transcended the world of sports and became a true global superstar. Encountering him was more than meeting a celebrity; it was an encounter with greatness. Tracy McGrady certainly understood that reality.
As a teenager, T-Mac got a glimpse at His Airness and was rendered speechless. Then, when he reached the Association, the guard got to square off against Jordan himself. Both of those experiences were unforgettable, but McGrady wasn't done. He still wanted revenge.
Tracy McGrady met Michael Jordan, then went head-to-head with him in the Association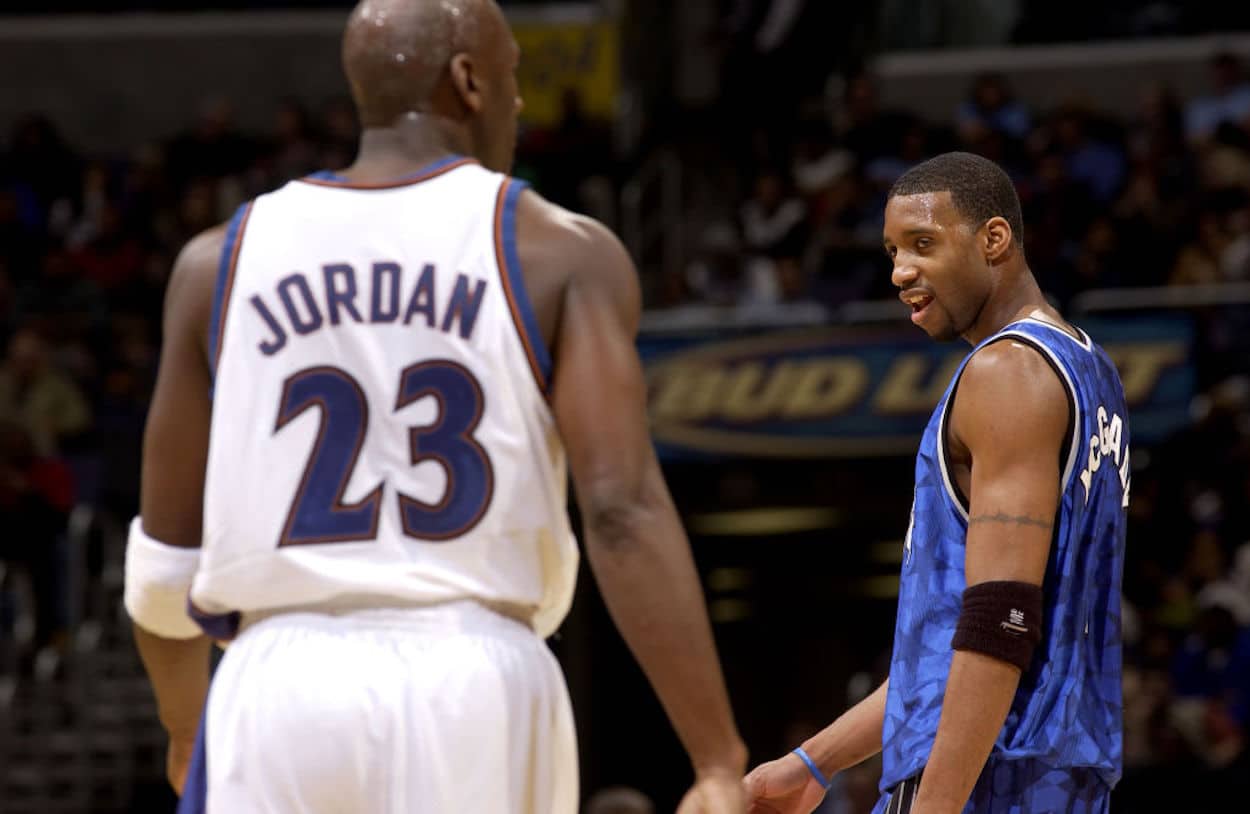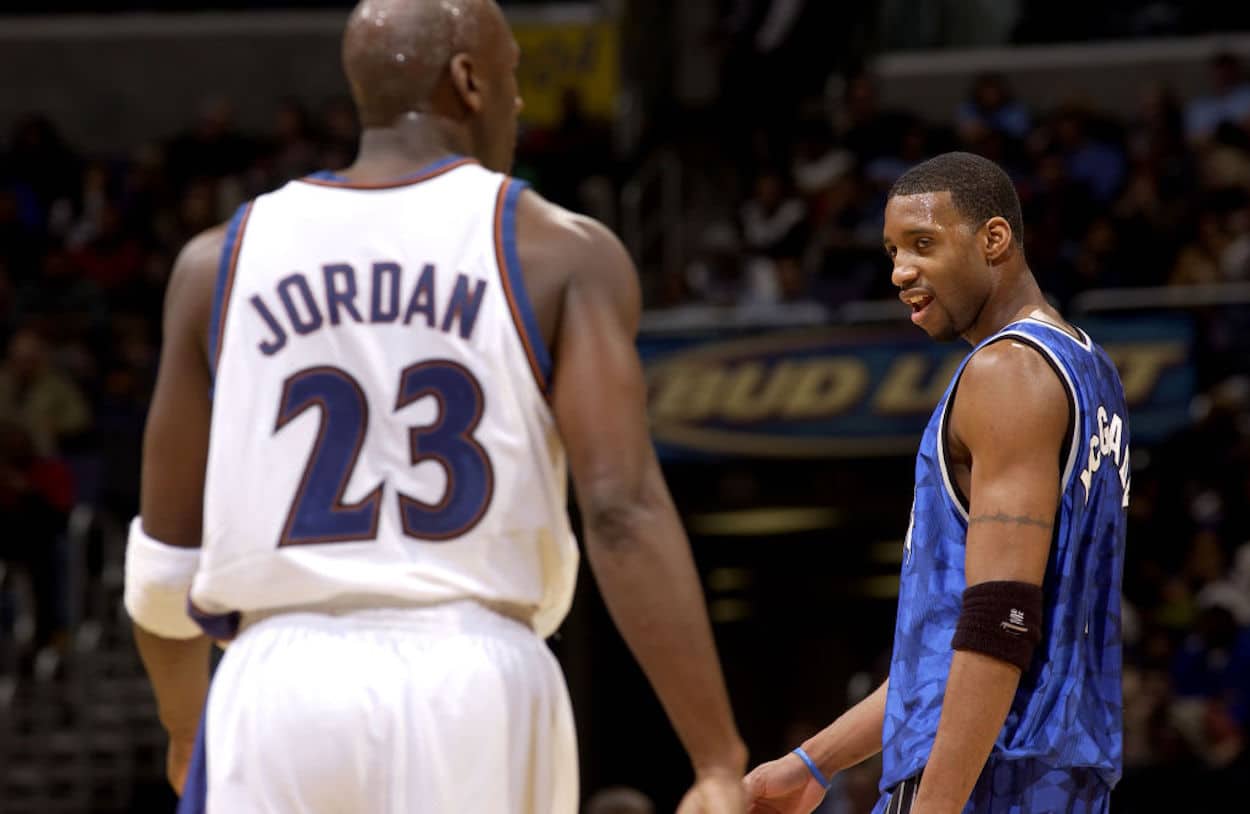 Although he didn't start out as a highly touted talent, Tracy McGrady rose through the high school ranks to make a name for himself. In addition to earning him a ticket to the NBA, that also got him a closer look at greatness before entering the pros.
"1997, MJ's in the playoffs. I think they played against the Hawks," T-Mac remembered on All the Smoke. "I'm at the game, playoff game. Bro, I got an opportunity to go in the back by the locker room after the game. So, I'm standing back there. I'm 17 years old, kid. … Mike comes round that corner, bro, I ain't gonna lie to you. The man had a glow, bro. I swear. Mike, dog, that s*** is real. … Mike came out, I was like, 'Damn, bro.' I didn't know what to say. I was like, 'That's MJ, dog. That's MJ.'"
Less than a year later, though, McGrady was going head-to-head with the Chicago Bulls star. While that experience was different, it was no less impressive.
"So, fast forward, I'm on the court with him my rookie year," the Florida native continued. "It took me about a quarter to get over the fact that it's Mike, right? But, man, once it wore, you know, that mystique wears off when you're around somebody for a long time. It wears off. It's like, 'OK, s***, let's get it.' I damn near had my best game as a rookie playing against him. I almost had a triple-double. In front of 30,000, you know, we played in the SkyDome. 30,000. Mike had them coming in there, bro. And that was the year they had, what, 72-10? We was one of them 10."
While there are some factual issues there — we'll get to them shortly — McGrady wasn't done yet.
"Mike had about 35," he added. "He probably had like 12 on me, easy. I'm like, 'Man, this Mike, bro.' I had to get his ass back when he was with the Wizards, though. 'You ass 38 years old. You putting up 50. You still got game, but you gotta get this work.'"
T-Mac seems to have messed up some of the details, but his memories still speak to Jordan's impact
Before going any further, it's important to note that McGrady is allowed to be fallible. Everyone makes mistakes, especially when we're talking about things that happened nearly 30 years ago. With that being said, though, he did get some details wrong.
When discussing the 1997-98 NBA campaign, the Bulls won 62 games, not 72. Even with those extra losses, however, the Raptors never beat them in Toronto. With that being said, though, T-Mac seems to have gotten close to remembering the smaller details of the game in question. On March 22, 1998, the Chicago traveled to Ontario and took the court in the SkyDome. In front of roughly 33,000 fans, Jordan dropped 33 points in a 102-100 win. McGrady finished the night with 12 points, eight assists, and nine rebounds. While that's not the most impressive scoreline you'll ever see, it was close to a triple-double.
Things get even trickier when we try to determine if the then-Raptor ever got his revenge on MJ.
McGrady, who had moved to Orlando by that time, faced off against Jordan five times during the legend's spell in Washington. While the Magic went 4-1 in those games and T-Mac posted strong stat lines, things weren't completely one-sided. MJ outscored the younger man on one occasion, and McGrady's best individual outing — a 43-point effort — came in a loss. Does outscoring His Airness by 22 points really count in defeat? Is outscoring him 32-21 on another occasion getting him back? Surely the Wizards' weakness and MJ's age have to factor into the equation.
You can judge that for yourself.
With all of that being said, though, McGrady's memories do underscore just how significant Michael Jordan was within basketball. While it's easy to think he was only special for fans, he meant a great deal to players, too. Seeing him could render you speechless. An on-court encounter could inspire you to seek revenge years later.
His Airness really was all that.
And, even if some of the factual details are slightly wrong, no one will argue with that statement.