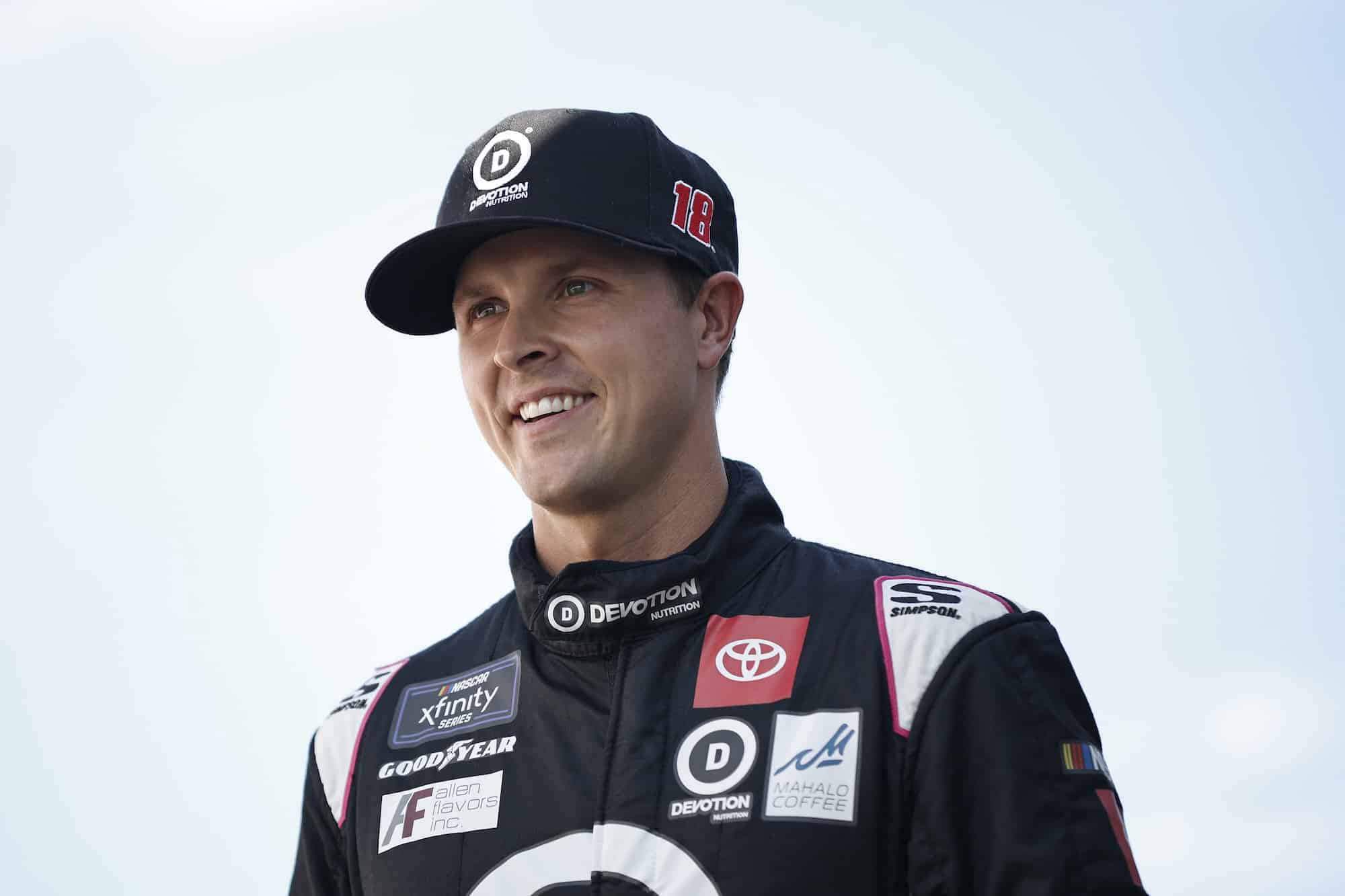 Trevor Bayne Faints During Interview After Xfinity Las Vegas Race and Describes Moment as 'Weirdest Experience'
Trevor Bayne experienced a scary moment after the Xfinity Series race in Las Vegas when he fainted during the middle of his postrace interview. He later described what happened.
After several years out of action, Trevor Bayne was given an opportunity to race a limited schedule this season in the Xfinity Series with Joe Gibbs Racing. He's made the most of those chances, earning four top-5 finishes in seven races heading into the weekend's race at Las Vegas. 
It turned out to be an eventful day for the No. 18 car in the desert, including another costly pit road penalty that forced him to drive his way through the field. While his fifth-place finish was notable, it's what happened after the race that had folks talking and concerned when the 2011 Daytona 500 winner fainted during the middle of his postrace interview.   
Trevor Bayne finishes race and faints during interview
Running a JGR car in a limited Xfinity Series schedule, Trevor Bayne had high expectations coming into this 2022 season. For the most part, he's lived up to them, finishing in the top 10 in five of the seven races he's competed. Unfortunately, pit road problems have dogged his team on multiple occasions.
It happened again on Saturday at Las Vegas when a pit crew member inexplicably fell over the wall, and the No. 18 was sent to the rear of the field for a safety violation. 
Despite that setback, Bayne battled his way back through the field and finished fifth, for his fifth top 5 of the year. However, the happiness of the driver and his team vanished moments after the race when he exited his car, began to talk with NBC's Parker Kligerman, and suddenly collapsed. 
In a second take a few minutes later, Bayne talked with the racer-reporter about what happened. 
"I'm OK," Bayne said. "We were talking and at the end of my talking I started feeling out of breath, and I was like, 'Parker, I'm going to get too close here and I'm going to pass out.' When I got out of the car, my left ear was ringing. I knocked the crush panels out so I don't know if I just got gassed. All I can say is I guess I was trying as hard as I could." 
Bayne addresses fainting
After being tended to by medical personnel and an unexpected trip to the infield care center, Fox's Bob Pockrass visited with the driver and got an update on his condition. 
"I feel OK. When I got out of the car, I felt like I needed to sit down," he said. "The last 10 laps of that race, I knocked the crush panels out of the right side and probably didn't drink enough the whole weekend out here. It's so dry and you don't realize when you're not keeping up with hydration.
"I was coming out of the car, then Parker (Kligerman) came right over and I'm doing an interview. I talk a lot so the next thing you know I was out of breath and woke up on the ground. I've never passed out in my life. That was probably the weirdest experience that I've ever had."
Doctors told him he had fainted due to being dehydrated.
Had health concerns in the past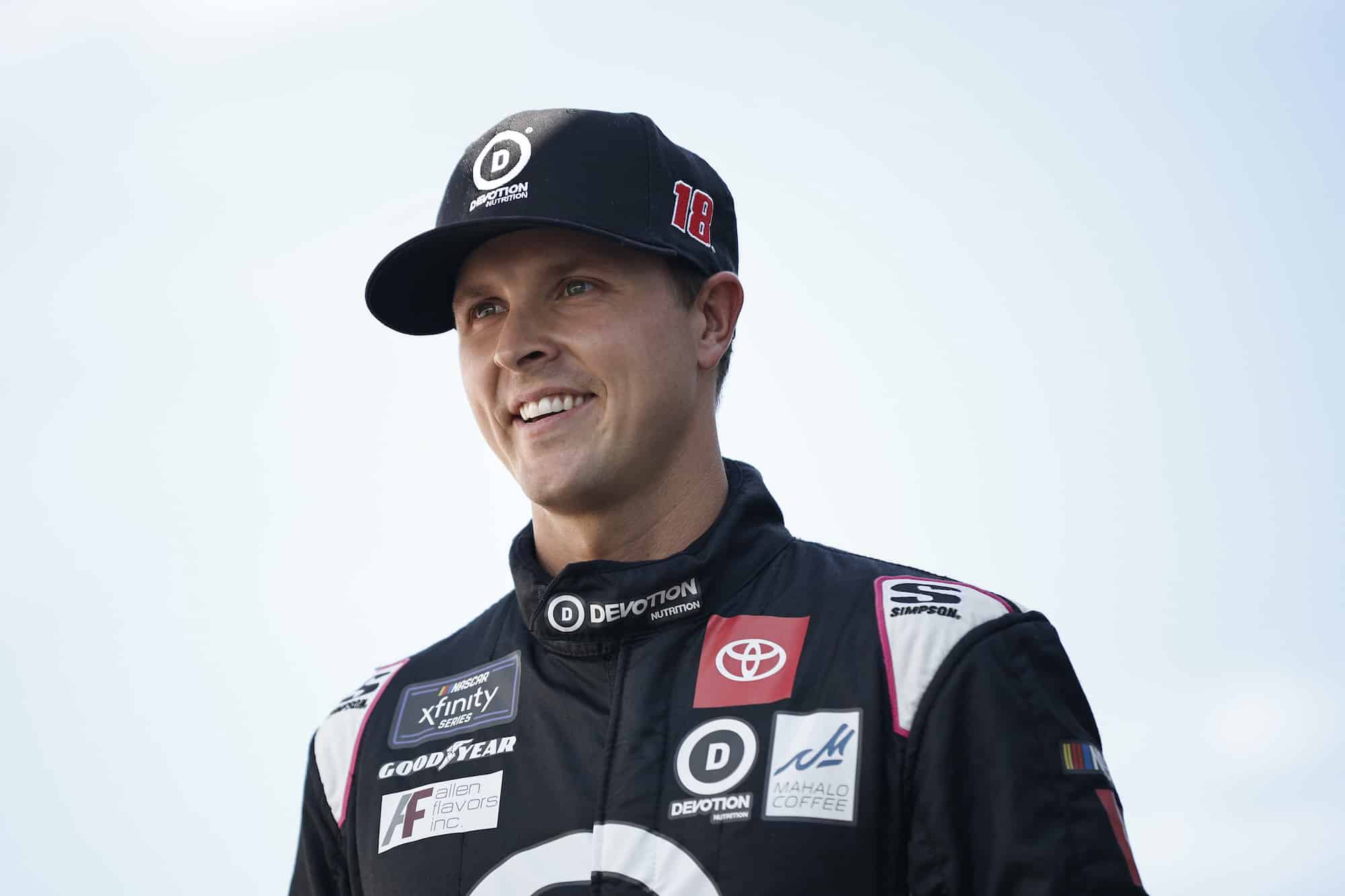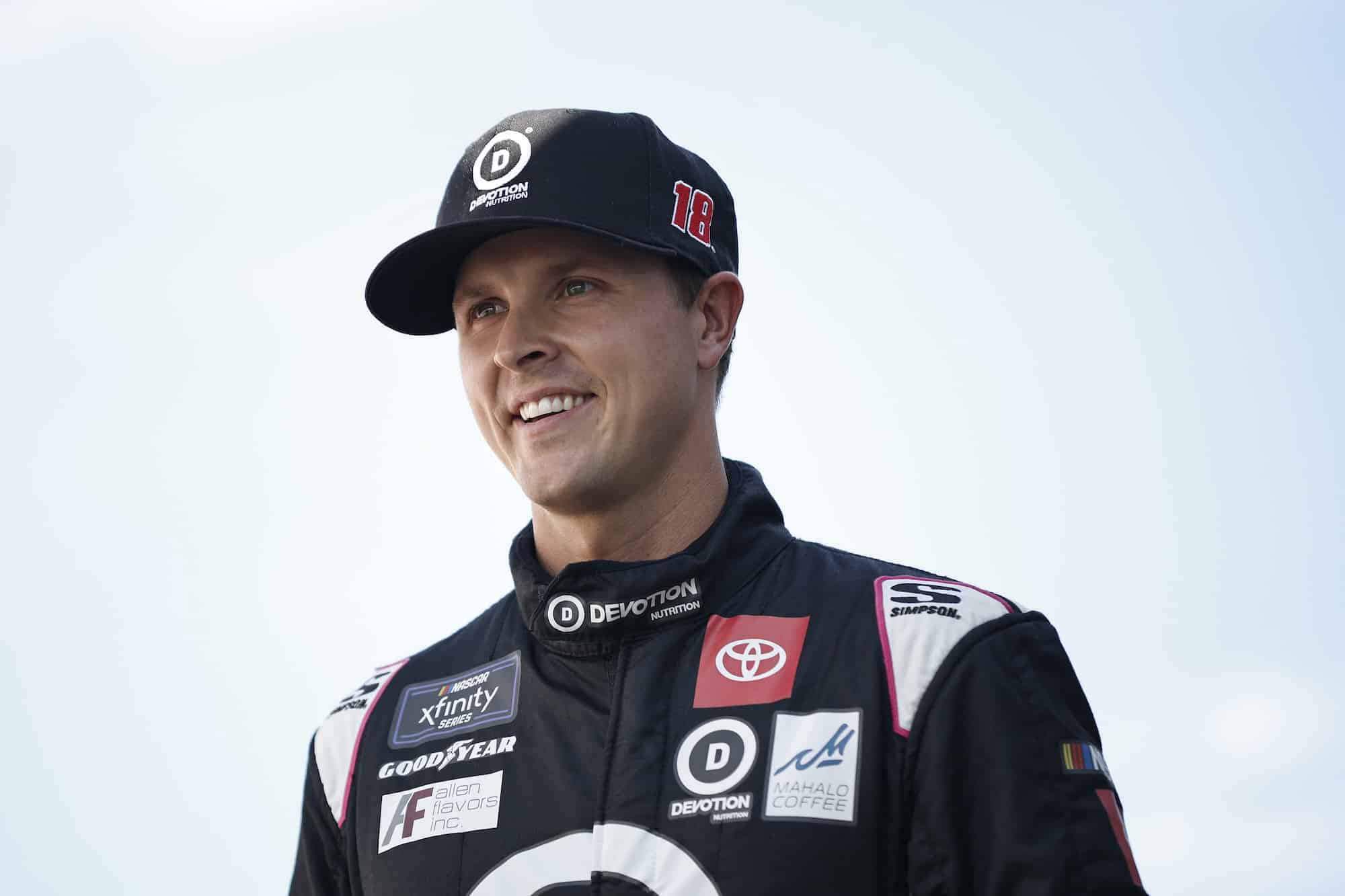 Trevor Bayne's career arc has been a wild one. In just his second-ever Cup Series race running a part-time schedule for the Wood Brothers, he won the 2011 Daytona 500. That same year, he missed five weeks in his full-time Xfinity Series schedule after being hospitalized by a spider bite. 
A couple of years later, he announced that he had been diagnosed with multiple sclerosis. However, with no symptoms, he has since suggested that was a misdiagnosis.
According to Bayne, his fainting spell after Saturday's race might have been his first experience with such a thing but medical officials told him it's not uncommon. 
In a career that's included winning the sport's biggest race as a 20-year-old, missing races due to a bug bite, and a diagnosis of a serious medical condition, what happened after Saturday's race in Vegas was just the latest interesting chapter, but one the driver would soon like to forget. That shouldn't be a problem considering he wasn't conscious when it happened.
Have thoughts on this topic? Keep the conversation rolling in our comments section below.