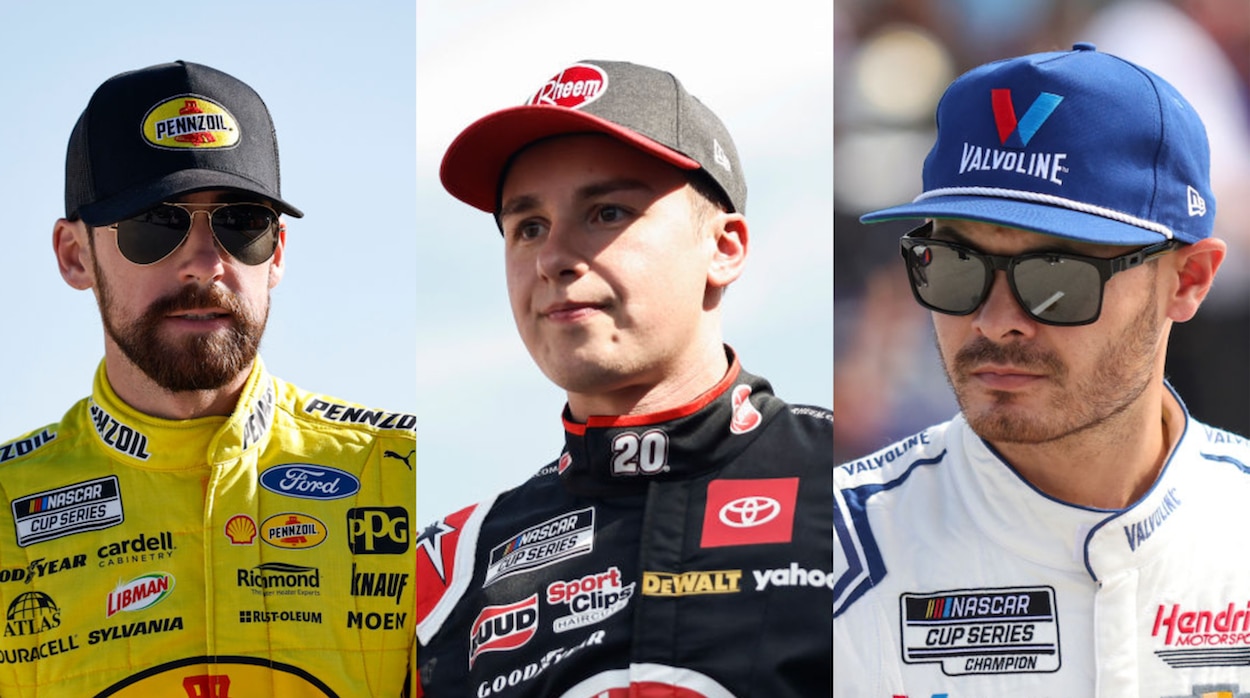 A Trio of Drivers Who've Shockingly Never Won at Martinsville — and How They Stack up for Sunday
With a crucial race at Martinsville on the horizon, who will master one of the tricker tracks on the Cup Series circuit?
Despite being widely considered one of the more difficult tracks on the NASCAR Cup Series schedule, Martinsville Speedway has its share of masters that include both present and former drivers.
Among them: Richard Petty, Jeff Gordon, Jimmie Johnson, Denny Hamlin, and Martin Truex Jr. — just to name a few. 
Then there are those who have yet to unearth the silver bullet necessary to find their way to Victory Lane at the .526-mile oval.
Let's take a look at three current drivers who — quite shockingly — have never been able to put it all together at the popular Virginia short track that's celebrating its 75th anniversary with the running of Sunday's Xfinity 500.
Martinsville Speedway remains a mystery to Kyle Larson
Kyle Larson is the reigning NASCAR Cup Series champion. He owns 19 points-paying wins at NASCAR's highest level — 13 of them since the start of 2021.
He's won on intermediate tracks, short tracks, and road courses. He's also a two-time winner of the world-famous Chili Bowl Nationals indoor midget-car race that attracts some of the country's most decorated racing talent.
Yet, when it comes to Martinsville Speedway, Larson is admittedly rather clueless. No surprise then that the Hendrick Motorsports driver was extra thankful for the two-day organizational test that NASCAR held at the paperclip-shaped oval back in August. 
"It's always good when you can get track time and can work on your car. Martinsville (Speedway) is my worst race track — I just don't have a good feel for it," a candid Larson said in a news release this week from Team Chevy PR. "Anytime I can get more laps, it helps me get into a better rhythm. For me and the type of racing I did growing up, the speed in the middle of the corner at Martinsville is so slow. I am used to trying to roll a corner as fast as possible in a sprint car or a midget or even now a dirt Late Model. 
"That's not the case at Martinsville. Usually, the driver going the slowest in the corner is turning the quick laps."
With two short straightaways and turns banked at just 12 degrees, Martinsville is indeed the slowest oval track on the Cup calendar — and it's been especially slow for Larson, whose best Martinsville finish is third, recorded back in the spring of 2016. The reigning Cup champ has only two other top-10s in 15 Martinsville starts: a ninth-place finish in the fall of 2019 and a fifth-place finish in the spring of 2021. He's finished 19th and 14th, respectively, in his last two Martinsville starts.
Fresh off a big victory last weekend at Homestead, Larson will certainly be looking to ride his hot hand into Martinsville. But if his record here means anything, don't count on this weekend being his breakthrough.
Christopher Bell is in desperate need of some Martinsville magic
Like Kyle Larson, Christopher Bell is an extremely versatile talent who's excelled in various genres of motorsports — most notably dirt, where he's a three-time Chili Bowl winner. 
The Joe Gibbs Racing driver is enjoying a career season in 2022, having not only won multiple races for the first time at NASCAR's highest level but advanced all the way to the Round of 8.
Bell, who raced his way into this stage with a clutch victory in the Round of 12 elimination race on the Charlotte ROVAL, will likely need some of those same heroics this weekend at Martinsville to earn a spot in the Championship 4.
The bad news? Bell owns nary a top-five finish in five Cup starts at the fabled Southside Virginia short track. His only top-10 — a seventh-place finish — came under the lights on a cool Saturday night in the spring of 2021, not in the Sunday afternoon heat that drivers will race in this weekend.
Perhaps Bell's most glaringly woeful Martinsville stat is this, though: He's led only nine of the 2,397 laps he's completed. Yet, for some inexplicable reason — maybe it's the fact he's been so good this year overall — Bell is curiously optimistic about his chances of a win on Sunday.
"Martinsville, we ran well in the spring," Bell said via postrace media transcript last weekend at Homestead in reference to April's Martinsville race in which he finished 20th, one lap down. "I definitely feel better about winning there than I did at the Charlotte road course."
Ryan Blaney has been close, but no cigar at Martinsville
Of the three big names yet to crack the proverbial Martinsville code, Ryan Blaney has by far the best Martinsville record — and perhaps the best shot at leaving the track this weekend with one of the ceremonial grandfather clocks awarded to race winners.
Unlike Kyle Larson and Christopher Bell, Blaney has shown consistent speed at Martinsville throughout most of his time at the Cup Series level. In fact, the Team Penske driver has finished no worse than 11th in all but one of his last 10 Martinsville starts. Even more impressive, the second-generation driver has posted a top-five finish in five of his last seven Martinsville outings and came home fourth here in the spring.
Clearly, Blaney has a legitimate reason to be upbeat, but unlike Bell and Larson, he's been shut out of Victory Lane in 34 points races this season. So if Blaney manages to prevail on Sunday, he'll put a season-long drought to bed, on top of his career-long drought at Martinsville.
Given his precarious place in the standings — Blaney, like Bell, likely needs to win to qualify for the Championship 4 — Blaney will undoubtedly leave no stone unturned come Sunday afternoon.
"We will go try to have a good run," Blaney, a seven-time Cup Series race winner, said via his postrace media transcript after last weekend's race at Homestead. "I thought we had a race-winning car there last time, and I just hope we have that same speed and can put ourselves in a position to win. That is what we have to do."
Have thoughts on this topic? Keep the conversation rolling in our comments section below.