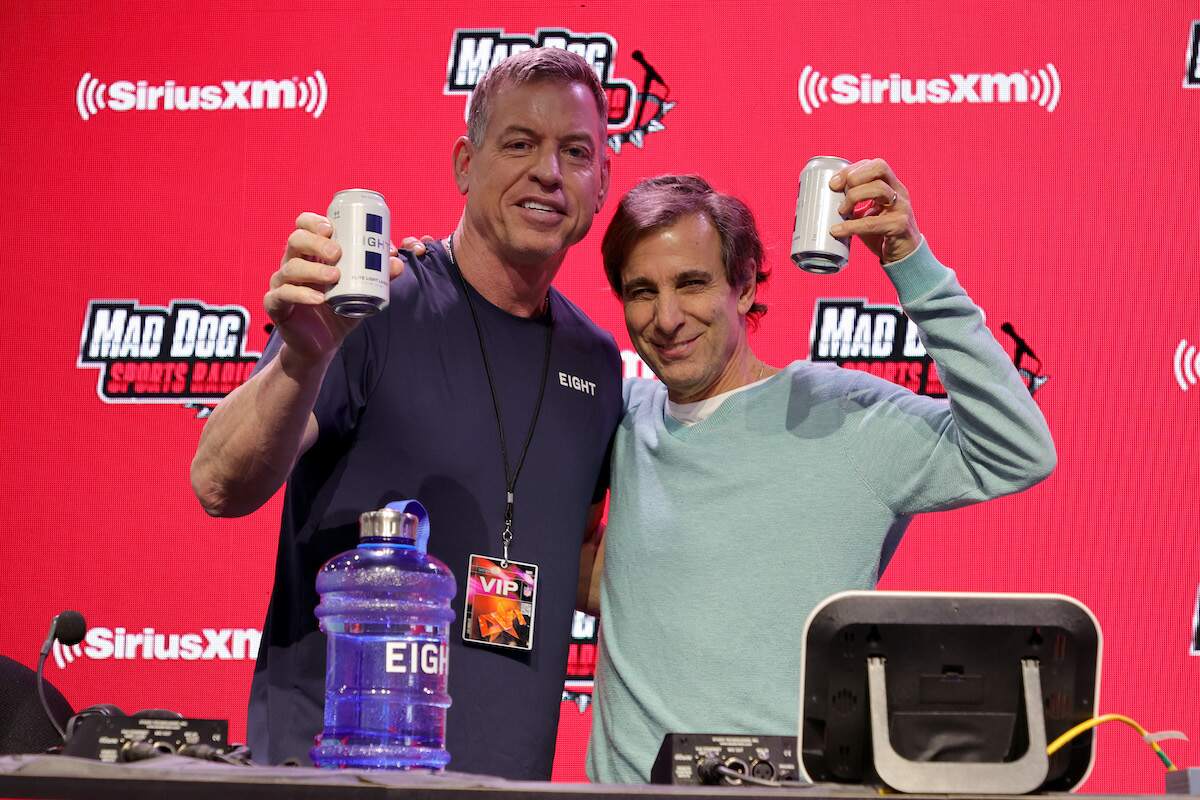 Troy Aikman Has Set Another Record in Texas With His Latest Business Endeavor
Troy Aikman's investments and businesses, with a particular focus on Texas, will make him far more money than he ever made playing for the league's notoriously stingy owners.
Troy Aikman's football career was just the beginning. The Monday Night Football commentator is more prominent than ever — and not just in the football space. The former NFL quarterback's investments and businesses, with a particular focus on Texas, will make him far more money than he ever made playing for the league's notoriously stingy owners.
His latest move is another Texas-based business. This time, the former Dallas Cowboys star is taking on the beverage industry, a niche he has a surprising amount of experience with before becoming an owner himself. And he already set a notable local record during his short time with his new low-calorie beer company.
Troy Aikman keeps on giving to the state of Texas
Football fans used to think of Aikman primarily for his feats with the Dallas Cowboys. Namely, his three Super Bowl wins. But even before leaving the league for good, the quarterback started Troy Aikman Enterprises to smooth his transition to business.
Through that entity, the football star worked with Texas businessmen, including Cowboys owner Jerry Jones, to make investments in real-estate, restaurants like Wingstop, and a car dealership. Selling cars ended up being a bust by Aikman's standards, so he disinvested from the Troy Aikman Automall in 2001.
As told in a wide-ranging interview on Joe Pompliano's YouTube channel, he also spent a lot of time working in and around the beverage industry.
"I worked for a beer distributorship when I was in college. I then moved to Dallas when I was drafted, became really close friends with one of the top beer distributors in the country, Barry and Lana Andrews, his family. Did some stuff with that distributorship over the years. Then I've done some national campaigns. So I've kinda had this loose relationship with beer over the years," Aikman told Pompliano, before slyly adding, "I like beer."
How Troy Aikman got involved with EIGHT beer
The retired QB makes far more money just in his ESPN role than most active NFL players will in a year. For him to get involved with a business, it needs to speak to him beyond just being lucrative. Huddle Up reports that helping start a new beer company, EIGHT Brewing Co., was exactly the opportunity Aikman was looking for.
Working alongside experience beverage industry leader Doug Campbell, the two set out to create a beer capable of complementing athletic health goals like Aikman's. To create such a product, they had to go beyond the average brewmaster, and look into the science.
"We partnered with Oregon State University and their food and science program," Aikman explained to Pompliano. "They've got a great beer program there. Had some top-notch people involved, and we just kept pushing the envelope."
That collaboration resulted in EIGHT Elite Light Lager, a beer with just 90 calories and 2.6 carbs. It brings more flavor into the formula than most light beers. That's how EIGHT is now the fastest-growing independent beer brand in the history of the state of Texas.
How Troy Aikman brings his NFL experience to the beverage business
Aikman's beer is receiving positive reviews from outlets like Insider. Their critic rated the beer as one of the top light beers available, with a great balance of taste, low calories, and a slightly higher ABV.
So how did EIGHT pull this off on their first try? The former Cowboy's beverage sponsorships during his NFL days were just a small part of why EIGHT worked out so well. The former Cowboy credits his NFL experience with putting value on scouting out great people to work with, who are willing to work for the greater cause of the team. 
"So, like my athletic career, you realize that if you don't have great teammates, if you don't have talented people, it's hard to be good," Aikman explained to Pompliano. "So I've learned to bet on people more than I've learned to bet on other things."
Brute forcing investment and hoping things turn out well clearly isn't Aikman's approach to business. This likely explains why, for example, he divested from that Texas dealership that bore his name. He prefers to have a close working relationship with the key figures in all of his business projects.
"Not that the things aren't important, not that — if you've got a great idea or a great product, great technology — not that those things don't still matter," Aikman clarified, "but if you don't have the people to execute it, then it's just not gonna work."